External Drive Enclosures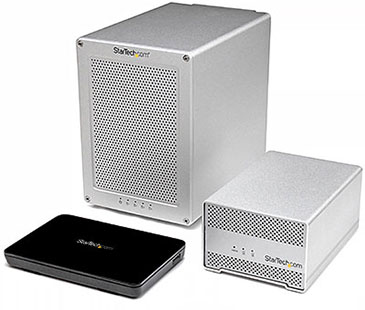 External Drive Enclosures
Our hard drive and solid-state drive enclosures make it easy to build the perfect solution for your unique storage needs. We offer a comprehensive range of enclosures that can help you:
Make your data portable and easy to access while you're on the go or on the road
Connect your older hard drives to new systems, without worrying about compatibility
Externalize your legacy drives and data
Support increased productivity with additional storage space for large files
Improve storage capacity and access for important business data
Viewing 1 to 10 of 11 Results

S252SMTB3
Add two 2.5" SATA HDDs, up to 15mm in height, to your Mac® or PC through Thunderbolt, with a well-ventilated storage solution that helps keep your drives running cool
New

S252BU313R
Turn two 2.5" SATA SSDs or HDDs into high-performance storage with RAID - for USB-C and USB-A enabled devices

SAT3510BU3
Backup and Transfer Data at SuperSpeed USB 3.0 speeds

S252BU33R
One high performance storage solution to support two SSD or HDD drives

S3540BU33E
Add four 3.5" SATA III hard drives to your computer externally through USB 3.0 with UASP or eSATA

S354SMTB2R
Bandwidth hungry? Your solution is here:
Quad-bay high capacity storage with lightning fast performance.

S3510BMU33B
Turn a 3.5" SATA HDD into an external upright UASP-supported Hard Drive with built-in fan

S3520BU33ER
Create an external dual 3.5in HDD SATA RAID array, connected through either USB 3.0 with UASP or eSATA

S352BU33HR
Connect two 3.5" SATA III hard drives to your computer through USB 3.0 with UASP in a RAID array, and charge or connect USB devices with the built-in 2-port USB 3.0 fast charge hub

S3520WU33ER
Create an external dual 3.5in HDD SATA RAID array, connected through either USB 3.0 with UASP or eSATA