Connectivity Guide Request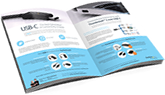 Connectivity Guide Request
Have the StarTech.com Connectivity Guide mailed to you
Please fill out and submit the following form to have the StarTech.com Connectivity Guide mailed to you. The guide will be mailed to qualified resellers only within 2-3 weeks. Or if you prefer you can download the Connectivity Guide.
If you would like to receive more than one Connectivity Guide, please contact your account manager or call 1 800 265 1844 and speak to one of our customer service representatives.
Please enter the following information exactly as you would like it to appear on all correspondence. Where possible, spelling and capitalization will be used as entered.
* denotes required information.