DisplayPort

StarTech University offers computer enthusiasts and IT professionals a chance to learn more about new technologies and innovations in the IT world. Take some time to review the material, then pass the exam to earn your printable certificate for each course.
Course 5: DisplayPort
Chapter 1: What is DisplayPort?
DisplayPort is a new license and royalty free digital display interface standard put forth by the Video Electronics Standard Association (VESA) for next generation products. Its inception aspires to address long term PC industry needs to support a standard pixel format greater than QXGA (2048 x 1536) and exceeding 24-bit color depths, suitable for the varied needs of business, enterprise, and consumers.
Originally approved in 2006, DisplayPort is a digital audio/video interconnect intended to be used primarily between external box-to-box connections, such as those between a computer and its display monitor, or a computer and a home- theater system.
In addition to box-to-box connections, DisplayPort can also be used to link internal chip-to-chip connections. For example, a DisplayPort cable may be used within a laptop to drive the display component from a display controller to the LCD screen.

With DP++ multi-mode sources, you can use our passive adapters to connect to an HDMI or DVI display.

With DP single-mode sources, you are required to use our active adapters to connect to an HDMI or DVI display.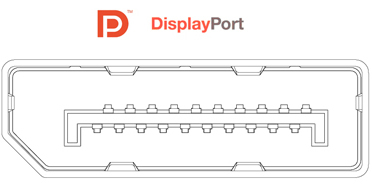 The DisplayPort Icon is a trademark of the Video Electronics Standards Association, registered in the U.S. and other countries.