Thunderbolt

StarTech University offers computer enthusiasts and IT professionals a chance to learn more about new technologies and innovations in the IT world. Take some time to review the material, then pass the exam to earn your printable certificate for each course.
Course: Thunderbolt™
Chapter 3: Dual Protocol Operation, Broad Compatibility
A key value of the Thunderbolt™ interface is its unique data throughput capability - not only can Thunderbolt be used as a medium for transferring files, it can also be used as an Audio-Video connection with astounding media transfer capabilities.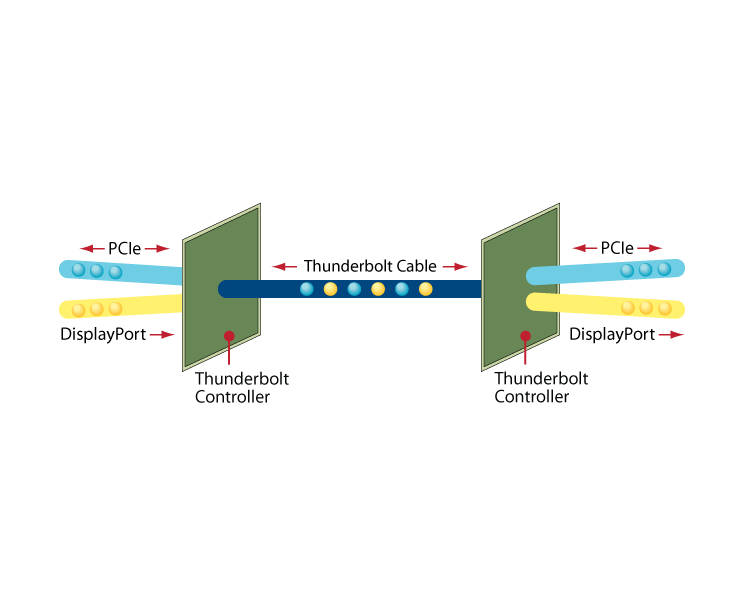 To combine high-speed data and HD video into a single interconnect, Thunderbolt leverages the capabilities of two existing I/O communication protocols - PCI Express and DisplayPort® - to provide a multi-purpose, multi-channel connection between compatible devices.

This means external devices like RAID arrays and video capture solutions can be connected directly through a Thunderbolt port, but Thunderbolt isn't limited to just storage and display connections; because Thunderbolt transfers the native PCIe protocol, essentially adding an external x4 lane PCIe slot, it enables users to expand their computer with multiple types of I/O applications.

In order to accommodate both data streams (PCIe and DisplayPort), Thunderbolt controllers are used on both output and input sides of a connection. The Thunderbolt output controller combines or "folds" the PCI Express and DisplayPort data into a single Thunderbolt data signal, which is then separated at the receiving end by the Thunderbolt input controller.

One advantage of dual protocol operation is that because Thunderbolt technology harnesses the native PCI Express and DisplayPort device drivers that are available in many of today's operating systems, no extra software development is required to use a Thunderbolt-enabled product. Similarly, because Thunderbolt utilizes the DisplayPort protocol, a Thunderbolt connector (Thunderbolt cables use the same physical connector as Mini DisplayPort) on a computer is capable of connecting with a cable to Thunderbolt products or DisplayPort devices; compatibility with DisplayPort devices is provided by an interoperability mode between host devices and DisplayPort products; if a DisplayPort device is detected, a Thunderbolt controller will drive compatibility mode DisplayPort signals to that device.