30-pin Dock Connector Cables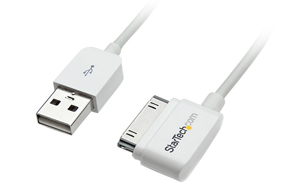 30-pin Dock Connector Cables
Our wide selection of 30-pin Dock Connector cables for Apple® mobile devices makes it easy to keep your iPhone®, iPad® or iPod® charged and synced.

Find the cables you need, including unique and uncommon lengths and colors. Our cables are:
MFi certified, so you know they'll work with your device
Backed by a lifetime warranty
Easy to connect to your iPhone, iPad or iPod, even if it's in a protective case
Different connector types are suitable for different uses:
Straight connector for regular connections
Right or left-angled connector to access your device with the cable out of the way
Down-angled connector for wall-mounted or stand-mounted applications
For our complete 30-pin Dock Connector Cables selection, please visit our European site.
Viewing 1 to 10 of 11 Results