×
Are you in the United States?
Visit our U.S.A. & International site for relevant pricing, distribution and product availability information.
Go to StarTech.com
Thunderbolt™ 3 Video Adapters
Harness the speed and power of ThunderboltC™ 3, to add seamless multi-monitor capability to your Mac or Windows devices. At an unprecedented 40Gbps of throughput, StarTech.com Thunderbolt 3 video adapters deliver the performance and portability you need to redefine your workspace, wherever you go.
Add dual 4K UHD displays through a single Thunderbolt 3 port
5K capability - Connect a single 5K display for razor sharp photo and video editing applications
Maximum portability, with a compact design and durable lightweight construction
All StarTech.com video adapters are backed by an industry-leading warranty and free lifetime technical support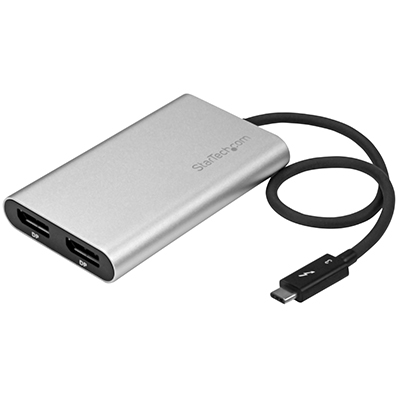 2 Results
TB32DP2T
Run the most resource-demanding applications on two 4K 60Hz displays, using your Mac or PC
$ 59.844,00 exc VAT
$ 71.214,36 inc VAT

TB32HD24K60
Run the most resource-demanding applications on two 4K 60Hz displays, using your Mac or PC
$ 80.792,00 exc VAT
$ 96.142,48 inc VAT