You are about to be transferred to our European e-commerce site
To complete your purchase you will be transferred to our EU website, which has an even greater....
DisplayPort® Converters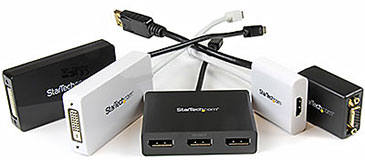 DisplayPort Converters
DisplayPort™ supports the newest display innovations, such as 4K Ultra HD, increased color depth, and multi-display setup. You can find DisplayPort on a wide range of devices, including laptops, desktops, tablets and smartphones.
We offer a complete selection of DisplayPort converters, adapters, and cables so that you can connect to your existing HDMI®, VGA, or DVI projectors and displays.
For our complete DisplayPort Converters selection, please visit our European site.
Viewing 1 to 10 of 98 Results