You are about to be transferred to our European e-commerce site
To complete your purchase you will be transferred to our EU website, which has an even greater....
Connectivity Kits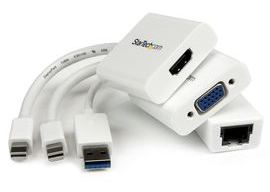 Connectivity Kits
Have you recently purchased a tablet or a newer laptop or MacBook, and you can't connect to your HDMI® or VGA display, or even connect to a wired network?
The slim and compact design of Ultrabooks, tablets and laptops only allows enough room for Mini DisplayPort and USB ports. Our kits restore essential connectivity by providing HDMI, VGA and Gigabit Ethernet connections when you need them.
For our complete Connectivity Kits selection, please visit our European site.
Viewing 1 to 10 of 11 Results