You are about to be transferred to our European e-commerce site
To complete your purchase you will be transferred to our EU website, which has an even greater....
USB Network Adapters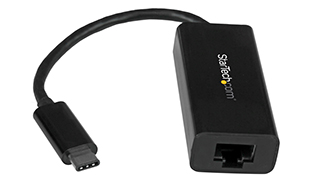 USB and USB-C Network Adapters
Our USB network adapters make it easy to add a wired network connection to your laptop, desktop or tablet. No matter how portable your device is, if it has a USB port available then our compact USB network adapters can help you connect.
Our range of USB network adapters offers features including:
USB Type-C™ connectors, providing simple network access for your USB-C™ equipped devices
Fast file transfers using true Gigabit bandwidth Support for Gigabit Ethernet (GbE) or Fast Ethernet (10/100) networks
Extremely portable designs for when you're on the move
For our complete USB and USB-C Network Adapters selection, please visit our European site.
Viewing 1 to 10 of 19 Results