Hard to Find Computer Parts

StarTech University offers computer enthusiasts and IT professionals a chance to learn more about new technologies and innovations in the IT world. Take some time to review the material, then pass the exam to earn your printable certificate for each course.
Course 1: Hard to Find Computer Parts
Chapter 4: Applications and types of hard to find parts
Here are some examples of how "hard to find" parts can help bridge gaps between legacy and cutting edge systems.
I/O cards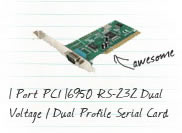 Most modern motherboards have been designed without ports that were available in previous versions. For example, it can be difficult to find a motherboard that offers new technology, such as a PCI Express interface as well as a serial or parallel port. It is not difficult, however, to find a motherboard that supports both PCI Express and PCI, therefore allowing the PCI slot to be used to add different interface capabilities.
I/O cards make use of unused ports to add necessary connectivity
Can also be used to add to existing capability (i.e. 4 USB ports vs. 4 FireWire ports)
Can offer combined capability (i.e. ), using a single PCI/PCI Express slot
Adapters/converters
Adapters and converters that bridge technologies are often times a very valuable addition to a computer system, specifically due to the cost-effectiveness and convenience that they provide. Some examples:
USB to PS/2 adapter - KVM specific (PS2TOUSB):

Although this product can be used with an end user computer system, it is used to separate a combined USB mouse and keyboard signal into two distinct signals — a PS/2 mouse signal, and a PS/2 keyboard signal. Because most KVM Switches use PS2 internal circuitry, they are incapable of using two signals from a single USB port, therefore recognizing only one of the devices.
IDE to Serial ATA Drive Motherboard Adapter (PATA2SATA):

Cost-effective — Allows proactive upgrade to SATA standard without having to upgrade the motherboard
Provides additional SATA connectivity, in place of IDE
Offers "forward compatibility"("future-proofing"), as the SATA drive can be used with subsequent motherboard installations
Finding a power supply with the necessary component connections can sometimes be difficult. For example, a computer requires a new power supply (due to normal longevity and wear and tear), but everything else in the computer is working perfectly. It would be somewhat unorthodox to replace the contents of the computer, simply because a power supply has been exchanged.
Power adapters:

Provide cost-effective way to broaden connection compatibility
Reduce criteria for power supply purchasing decisions (i.e. connector types don't need to prohibit a user from buying a less expensive power supply, as an adapter can be used in place)
Makes use of an otherwise unused connection