Hard to Find Computer Parts

StarTech University offers computer enthusiasts and IT professionals a chance to learn more about new technologies and innovations in the IT world. Take some time to review the material, then pass the exam to earn your printable certificate for each course.
Course 1: Hard to Find Computer Parts
Chapter 2: If it isn't Broken, Why Fix It!
As the example in the previous section illustrates, when there is a shift in technology older equipment often gets left behind, which presents a common dilemma that systems builders must weigh in their decision to "upgrade" — if older technology does what it's supposed to do, and there are no major performance upgrades offered by the newer technology, why switch to something else?
Instead of having to replace the original mouse, hardware manufacturers devised ways of connecting older (classified as legacy) devices to newer systems, specifically through the use of adapters and converters; but, because so many users simply made what they felt was a necessary upgrade, the demand for adapters was not sufficient enough for them to be commonly found on store shelves — earning the classification of "hard to find".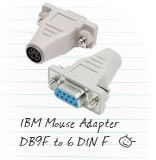 In the case of the outdated mouse, users can purchase a DB9F to 6 DIN M adapter that eliminates the need to buy a brand new mouse, and stick with a technology that already suited their intended applications. This way, a mouse upgrade wouldn't be necessary until the newer interface provided benefits that the older one did not. For example, it is very rare if not impossible to locate a three-button or click-wheel mouse with a serial connector; users who wish to take advantage of the three-button or click-wheel design would therefore have to upgrade to a PS/2 mouse, regardless of whether or not an adapter could be used.