Powered USB

StarTech University offers computer enthusiasts and IT professionals a chance to learn more about new technologies and innovations in the IT world. Take some time to review the material, then pass the exam to earn your printable certificate for each course.
Course 7: Powered USB
Chapter 2: Features & Benefits
Features
PoweredUSB extends the USB standard by adding a second connector for power on top of the already-familiar data connector. The connectors are stacked one on top of the other in a single plastic housing that is noticeably larger than those used for basic USB. Three versions of PoweredUSB are available to support three unique power requirements. They are often - but not necessarily - differentiated by color as follows:
| Color | Volts | Watts |
| --- | --- | --- |
| Beige or Ivory | 5 | 30 |
| Teal | 12 | 72 |
| Red | 24 | 144 |
All three flavors of PoweredUSB can function at up to 6 A per connector, compared to traditional USB which operates at 5 V and 0.5 A. Each PoweredUSB receptacle uses a unique polarizing key to prevent users from accidentally plugging a device into the wrong receptacle.
Data throughput matches that of the well entrenched USB 2.0 standard - namely 480 Mbps and, like USB 2.0, is downward-compatible with the earlier 12 Mbps USB 1.X spec. At this time, PoweredUSB does not support the more recent SuperSpeed USB 3.0 standard because the products that currently use PowerdUSB would not typically gain any benefit from the increased sustained throughput that USB 3.0 allows. Largely because of this, participating vendors have not yet indicated their plans for eventually upgrading PoweredUSB to incorporate USB 3.0-compliant data rates (4.8 Gbps) and devices.
Like USB 1.X, 2.X and 3.X, PoweredUSB devices and supporting connectors are hot-pluggable, and support Plug-and-Play features built into virtually all modern operating systems. While host-side (male) connectors and (female) receptacles are well-defined, peripheral-side connectivity standards are not universal, and different vendors may have somewhat unique connectors and receptacles.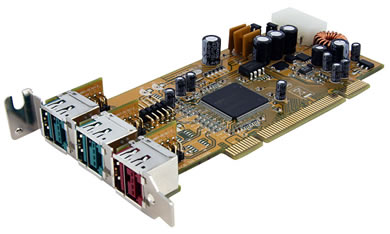 Shown above: PoweredUSB host side receptacles - StarTech 2 Port 12V 1 Port 24V Dual Profile PCI Powered USB Card
Benefits
By combining both data connectivity and power into a single-cable, single-connector solution, PoweredUSB allows retailers to minimize the amount of clutter at a POS location. The payoff isn't limited to simple neatness, as the cleaner environment also presents fewer points of failure, resulting in greater reliability and less downtime
PoweredUSB host receptacles are also backward-compatible with USB 1.X and 2.X devices, so the data-only connectors can easily plug into the data side of a spare PoweredUSB receptacle — which is good news for retail or similar environments challenged with juggling multiple devices and supporting older peripherals.
This industry-accepted solution is a significant improvement over the proprietary hardware and connectivity solutions that were once the norm. Before PoweredUSB, buyers typically had to acquire all their equipment from a single vendor, and had to commit to that vendor's vision over the complete product lifecycle. Lock-in can be an expensive, limiting prospect for any business, especially retailers looking for cost-effective, industry-supported POS solutions. PoweredUSB has been a catalyst in the transition away from vendor-specific technologies.
This cost-saving advantage extends to retailers with limited budgets, as it allows them to upgrade their personal computer to a POS-compatible computer to connect newer peripherals without buying a brand new computer. This budget-friendly means of upgrading even a low-end PC into a full-blown POS machine by adding inexpensive PoweredUSB adapters makes this a compelling option for retailers hoping to break away from expensive, vendor-specific solutions.