Powered USB

StarTech University offers computer enthusiasts and IT professionals a chance to learn more about new technologies and innovations in the IT world. Take some time to review the material, then pass the exam to earn your printable certificate for each course.
Course 7: Powered USB
Chapter 1: What is PoweredUSB?
PoweredUSB is an extension to the Universal Serial Bus connectivity standard that addresses the two key shortcomings of conventional USB:
Power USB 1.X and 2.0 only support devices at 5 Volts and up to 0.5 Amps. While this is more than sufficient for low-power devices like keyboards, mice and flash drives, peripherals with greater power requirements - including external hard drives, printers and scanners — require external power supplies.
Robustness Conventional USB connectors are not positively locked into their corresponding plugs, making them relatively easy to jar loose.
In typical use, these limitations have not been much of a hindrance. Billions of USB-based devices have been sold, and the standard is extremely successful and entrenched. In point-of-sale retail environments, however, the requirement for a second connection for power as well as an external adapter brick could be an obstacle. In the high-traffic, rough-and-tumble world of the in-store checkout kiosk, there simply isn't room for adapter bricks and extra cables on the floor — and little tolerance for cables disconnecting every time a device is moved or bumped.
PoweredUSB addresses these shortcomings by incorporating power and data connectivity in a single-cable design, by supporting the kind of higher-draw devices — like receipt printers and bar code scanners — typically seen in retail, and by incorporating a locking mechanism in the connector to keep everything properly secured. It is also often referred to as Retail USB, USB Plus Power or USB + Power.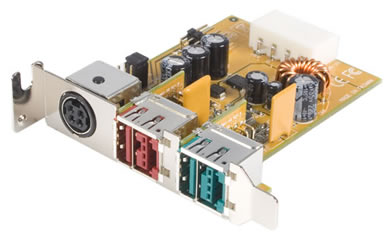 Shown above: StarTech 2 Port Low Profile 12V 24V PoweredUSB Adapter Card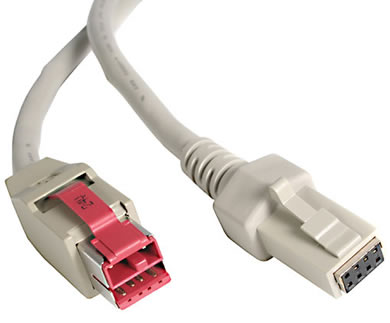 Shown above: StarTech 10 ft 24V 2x4 PoweredUSB Cable