Thunderbolt

StarTech University offers computer enthusiasts and IT professionals a chance to learn more about new technologies and innovations in the IT world. Take some time to review the material, then pass the exam to earn your printable certificate for each course.
Course: Thunderbolt™
Chapter 2: Speed and Scalability
As computers continue to evolve from their days of simple word processing and data organization, and converge further into uses geared more towards multimedia and data sharing, the increasing richness of data has sparked the demand for new and improved ways to move data from points A to B. Whether it's backing up or sharing files, or editing and streaming multimedia files, data needs to move faster. Simply put, Thunderbolt provides a way to move data, that is easy to use and more importantly - fast.

How does Thunderbolt compare to other common I/O interface technologies? At a theoretical 10Gbps (bi-directional), it's the fastest I/O connection to date, compared to such interfaces as USB 3.0 (5Gbps), eSATA (SATA 2.0: 3Gbps, SATA 3.0: 6Gbps) and FireWire 800 (800Mbps). Plus, because it offers dual channel performance (10Gb of data per second both into and out of each port, simultaneously), data can be transferred to and from a Thunderbolt device simultaneously at 10Gbps (in theory), with far fewer bottlenecks than with I/O interfaces that utilize only a single stream of data.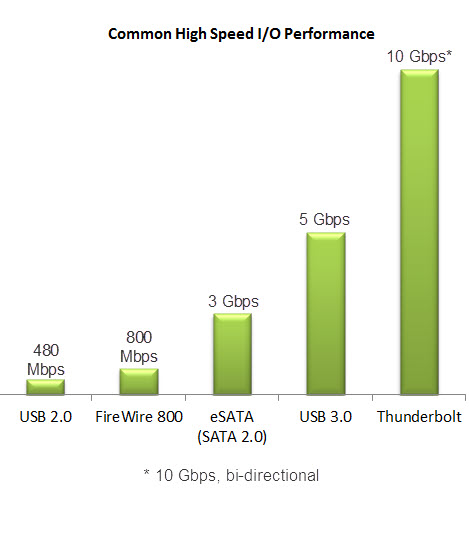 Another innovation of Thunderbolt when compared to other I/O technology, is its support for a daisy-chain topology (of up to a total of seven devices). Compatible Thunderbolt devices, such as external RAID arrays will feature two ports to join a daisy chain with other compatible peripheral devices such as monitors, cameras, etc.
Next — Chapter 3: Dual Protocol Operation, Broad Compatibility