Specialized Cables

StarTech University offers computer enthusiasts and IT professionals a chance to learn more about new technologies and innovations in the IT world. Take some time to review the material, then pass the exam to earn your printable certificate for each course.
Course 4: Specialized Cables
Chapter 4: Specialized Cables
A "specialized" or custom cable is a cable that has been designed for use in a specific, customized project.
Some examples of custom cables would be:
Cables built to non-standard lengths
Cables with customized connector pin out designs
Cables utilizing atypical connectors based on the intended environment (i.e. Industrial and medical settings)
Cables with customized molding including proprietary logos etc.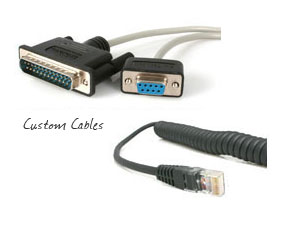 Some of the specialized cables that we've designed and constructed for customers include:
Project: High Tech Hydra Cable
This project required that we design a cable that offered a high quality connection between a specialized digital projection device and a proprietary PCB (Printed Circuit Board), while maintaining a compact cable footprint and providing optimum durability as well as simple installation. Based on the environment into which these cables would be installed also meant factoring in resistance to cable strain and potential signal degradation.
Based on the customer's requirements, we engineered a cable that combined easily identifiable connectors, including RCA and minijack A/V, PS/2 keyboard and dual serial (RS-232) data lines into a single, optimally shielded harness. Due to the length and combined weight of the assembly, specially sourced thin gauge wire was used, bundled within a molded PVC jacket that would provide a lightweight, compact product at a very competitive cost.
Project: USB Digital
Here, our customer required a cable that would provide an internal USB type 'A' connection for a custom control module, which would terminate in an external molded USB type 'B' connector. It was critical that the cable be able to withstand the strain resulting from repeated usage and re-positioning.
To suit the customers unique needs, we designed and prototyped a strongly shielded USB A-B cable, which would lock perfectly into the groove in the customer's molded enclosure. Custom strain reliefs were then molded to fit on the inner and outer surfaces of the enclosure to ensure that the cable would remain securely positioned while still allowing complete flexibility. The look and feel of the finished product were enhanced by the inclusion of the customer's logo on the cable molding.
Project: USB Pigtail
Our customer was in need of a well shielded, external USB type 'A' connection, that would act as a conduit between a proprietary A/V device and desired USB-capable devices. Of particular importance was the requirement that the exposed cable withstand the stress of repeated bending, in order to allow for flexible placement and maneuverability.
The resulting cable was a well shielded USB 'A' type cable that would fit snugly into the desired enclosure. The cable was designed with enhanced shielding throughout the length of the cable, with the portion that would fit inside the enclosure stripped and tinned to allow for quick assembly on the customer's production line. To minimize inevitable wear on the cable yet maintain practical flexibility, custom molded strain reliefs were employed at the enclosure entry point.
Project: Security
Challenge: To provide a cable harness for internal use in proprietary closed circuit video equipment, that allowed for quick and fool-proof installation as well as easy replacement in the field.
Here, custom cut and zip tied wiring bundles were used with the required IDC type connectors, creating a single, compact and easily installable harness. Color coded wire and clearly labeled connectors were provided, to ensure error free installation.