Hard Drive Accessories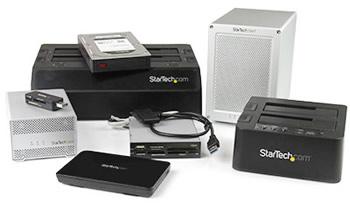 Hard Drive Accessories
How do you keep your data safe and accessible in today's complex IT environment? StarTech.com can help. We provide hard-to-find parts that enable easy data access and management for your storage devices, including:
Drive duplicators and enclosures
Hard drive drawers
Drive docks
Our versatile solutions bridge multiple interfaces or technologies, including legacy (i.e. IDE, SATA I/II/III, USB, eSATA etc.).
You'll find our full product range below.
Media Review
"StarTech.com makes it easy to build custom portable hard drives that are perfect for transporting and safekeeping large files."