It's just like having an external video card for your desktop computer, laptop or netbook! After installing the drivers, simply connect the external video adapter to your computer through the USB 2.0 port then connect your monitor to the video out port on the adapter. That's it... now you're ready to multi-task!
With our external USB DVI or USB VGA adapters:
You can combine multiple USB Video Adapters to increase your desktop viewing area and productivity
Adding monitors is easy! Regardless of computer form factor (e.g. laptop, micro ATX), you can add monitors externally through USB, without having to worry about space limitations within the computer case
You can connect a second display or multiple displays much quicker and simpler than having to open the case for conventional video card installation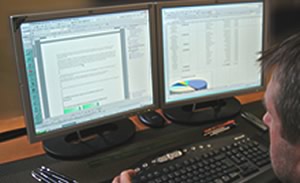 Improve productivity with a multi-monitor workstation.
Cost-effective versatility
Purchasing a motherboard with dual video card expansion slots or a dual head video card for general or business application use is overkill. A USB Video Adapter provides a much more convenient and cost-effective alternative for adding a second display or multiple displays. An external video adapter also offers a portable solution that lets you swap monitor connections between multiple computers and operating systems on-the-fly — especially important in the case of laptops or netbook computers!
Create multi-display workstations
In small office or home office (SOHO) environments, USB VGA or DVI Graphics Adapters offer you a cost-effective way to boost productivity, without the hassle or expense of upgrading the computer with a replacement or additional video card.
No Compromises
One limitation of laptop/notebook computers is the inability to expand system capability by installing add-on/expansion video cards. USB VGA and DVI Video Adapters overcome this shortfall through the convenience of external USB installation — so you don't have to compromise scalability for the sake of portability!
Perfect for commercial environments
Many call centers opt to perform a mass installation of drivers off a central network, simply connecting a USB Video Adapter to each computer in order to add a secondary monitor to their agents' workstations. This provides a much che3per (and less time-consuming) way to duplicate/extend agent screens for more efficient multi-tasking.
For Point-of-Sale/Point-of-Purchase solutions, a USB-connected Video Adapter is ideal for kiosks and customer check-outs, because they allow merchants to configure dual displays at the point-of-purchase: one monitor for the employee-facing POS and another for the customer-facing marketing material.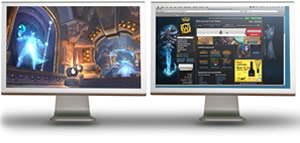 Impress your Guild or Party Members with your vast knowledge of the instance or raid!
What about Gaming?
Although they can't be used as a primary gaming display or to expand playable area, USB Video Adapters can be used quite effectively to stay productive while gaming. Keep your game resources such as wikis or chat rooms open on the second display without interrupting your in-game experience. Ideal for keeping instance walk-thrus or quest resources open while playing World of Warcraft®, for example.