Digital Signage

StarTech University offers computer enthusiasts and IT professionals a chance to learn more about new technologies and innovations in the IT world. Take some time to review the material, then pass the exam to earn your printable certificate for each course.
Course 8: Digital Signage
Chapter 5: Digital Signage Hardware
Aside from the content presented through digital signage, in order to properly control the various signal paths that make up an effective digital signage configuration, specialized hardware is required to make the necessary connections.
StarTech.com specializes in connectivity and signal management hardware, enabling users to fill a gap or complete their overall digital signage solutions with a broad selection of digital signage hardware, broken down into 5 major categories: Audio/Video converters and scalers, audio/video switchers, audio/video extenders, audio/video splitters, and audio/video cables/connectors:
Audio/video converters and scalers
Video converters convert a video signal from a PC, media player, DVD player etc. into a format that is suitable for the display being used. Video converters can be used when trying to convert analog video to digital video or vice versa, or to connect a legacy device with a new display or older display to a new media player.
A video converter modifies a signal from one type to another. For example, our VGA to HDMI Video Converter with Audio (VGAHD2HDMI) allows you to convert analog audio/video to HDMI, avoiding the cost to upgrade your video output device for displaying content on an HDTV.
A second function that can be performed when converting a video signal from one format to another is scaling. Whereas a video converter outputs exactly the same resolution that is inputted into the device, a video converter/scaler can be used to scale the aspect ratio of the video output in order to match the native resolution of the display/monitor. For example, our Professional VGA to HDMI Audio Video Converter (VGA2HDMIPRO) not only converts VGA video into HDMI, but also automatically scales the VGA signal into the optimum resolution for the display/monitor being used.
Audio/video switchers
A video switcher is a fairly simple product, which allows you to connect multiple video sources to one display and switch/toggle between those devices. An example of a popular switch is our 4 Port VGA Video Audio Switch with RS232 control (VS410RVGAA - shown below), which allows you to switch between four distinct video (and audio) sources for display on one monitor and also provides serial control of connected devices and monitors.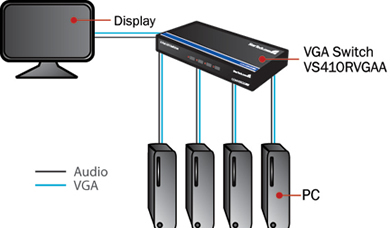 Audio/video extenders
A video extender is extremely useful in digital signage applications as it can be used to overcome typical signal distance limitations, in order to create the ideal digital signage layout. StarTech.com has a full range of extenders (VGA, HDMI, DVI, Component, and S-Video), all of which use Cat5 Ethernet cabling for longer distance requirements and to simplify installation.
Cat5 Ethernet wiring is often already installed in many locales, so in many cases video extension can be integrated into an existing Ethernet network. If Cat5 cable isn't already installed, Cat5 is particularly easy to work with, as it can be terminated on-site.
Extending a video signal can be as simple as using a point-to-point extender, such as our VGA Video Extender over Cat5 - Point to Point - UTPE Series (ST121UTPEP) or VGA Video Extender over Cat5 - ST121 Series (ST121UTP), to devices more suitable for larger applications, which extend video to multiple locations, such as our UTPEA series point-to-multi-point extenders (shown above), like the 8 Port VGA and Audio over Cat 5 Video Extender (ST128UTPEA) and the corresponding receiver, the VGA Video Extender over Cat 5 Remote Receiver with Audio (STUTPEALR).
Audio/video splitters
An audio/video splitter simply distributes one source video signal to multiple displays, and is commonly used for digital signage signal distribution. Unlike extenders, however, splitters are typically used for shorter distances, offering direct connection between the source and display.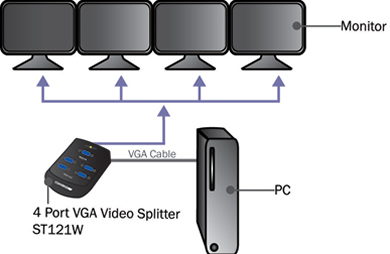 Shown above: ST124W 4-port VGA splitter connectivity
We offer DVI and HDMI splitters, as well as several types of VGA splitter including an entry level series (L Series), mid-level (W Series), and professional level (Pro Series).
Audio/video cables/connectors
In order to distribute the video (and audio) signal(s) from a digital signage media player, a variety of cables are used, based on the different components/devices within the configuration. To ensure that the video and audio signals are optimally delivered, high quality audio/video cables are essential. While it's important to remember that a video cable will not improve the quality of video signal being used, a high quality cable will provide the best signal possible.
StarTech.com offers a wide range of A/V cables for any connection, as well as Cat5 cables for our VGA extenders, available in different lengths and colors.