StarTech.com
HDMI to VGA Video Adapter Converter with Audio for Desktop PC / Laptop / Ultrabook - 1920x1080
Convert an HDMI® video signal to VGA, with discrete audio output
Supports resolutions up to 1080p
2-channel analog audio output
Easy to use with no software required
Compact, lightweight design
Same Day Shipping
on in-stock items from USA if ordered by 5pm ET*
Details
* Product appearance and specifications are subject to change without notice.
* Same day shipping is only available for orders shipping within the United States.
HDMI to VGA Video Adapter Converter with Audio for Desktop PC / Laptop / Ultrabook - 1920x1080
Customer Reviews
3.2

(

10

reviews)


3.2

out of 5 stars
Tell us what you think of this product.

Need a little help getting started? Check out our review guidelines.
(

2

stars)
It does not appear to work
By:
segabor
on

04/28/2018
Just bought this adapter to be able to connect my Raspberry Pi 3 to an Acer VGA monitor. First attempts brought no success without external power. After plugging in my cellular charger Rpi screen shown up for about 2 secs then display went black. The same happened when I connected the monitor to my decent MacBook Pro laptop. Now I'm stuck and don't know where to go now without proper documentation. Would it be possible that external power is not enough?
Comment
Helpful?
Yes -

0
No -

0
Report
Response from StarTech.com:
Sam, Customer Service
on 4/30/2018 4:08:40 PM
Thank you for leaving your feedback on HD2VGAA2. We apologize that it isn't working for you! Since it works for a few seconds before cutting out, it sounds like it may be having power-related problems or simply be a faulty unit. We encourage you to reach out to our Technical Advisors for troubleshooting. We're available 24 hours a day, 5 days a week, at 1-800-265-1844 or https://www.startech.com/Chat.
(

4

stars)
Easy plug and play
By:
Djluis673
on

04/16/2018
I got this product for test and it is small and easy to use. I tested it with Dell, HP and Asus without a problem as good plug and play product. The only issue was on the Lenovo laptop which I had to reboot it to work. I recommend this adapter. Disclaimer: I received this product in exchange for an unbiased review.
Comment
Helpful?
Yes -

1
No -

0
Report
(

3

stars)
Works best with external power.
By:
Nick_105
on

04/16/2018
My Dell and 2016 Macbook Pro work just fine with this adapter. Even passing it through a USB-C to HDMI adapter on my 2017 Macbook works. No drivers, it just works. Don't try to go over FHD though. On my Chromebook and older HDMI enabled laptops though, it required external power to be stable. I just used a small USB to mUSB cable, and it worked. Also usable with a USB charging brick (nothing major). Build is solid, but took a couple stars due to the lack of ANY documentation in the box. Most of us know to go online and look, but.... I leave this in one of our conference rooms (has a VGA projector), with the USB cable attached. No complaints from users!
Comment
Helpful?
Yes -

0
No -

0
Report
(

5

stars)
Fast and Helpful
By:
NickD_CA41
on

03/13/2018
I have tested this adaptor with a different combination of computers, monitors and projectors without any big issues. The adapter comes in a small box the size of a cell phone but the thickness of two. The box is very difficult to open and the adapter sits in a flimsy tray within the box. The packaging was all wrecked removing the adaptor for the first time. The adapter has a VGA port on one side and the other side has a 3.5mm audio port, HDMI cable and Micro USB-B port. The adaptor says that is doesn't require any power so I am unsure why it has a USB port on. There are no included instructions in the box, on the box or on the web site to provide more information. When I first connected this adaptor to my computer I was shocked how quickly it was working. If I connected the HDMI port first to my computer then almost instantly of connecting a monitor the video and sounds were working. If I connect the VGA cable first, then audio and video start within 3 to 4 seconds as does any normal HDMI monitor. The sound and picture from this dongle were crisp, clear and without any delay. When I first played copy protected content (i.e. Netflix) the dongle stopped working and I had to disconnect then reconnect and it started working again. I have not been able to reproduce this issue since but I thought it would be worth noting. This adaptor starts working very quickly. I had doubts about converting HDMI to analog but my mind has been changed since using this adaptor. I received this product in exchange for an unbiased review.
Comment
Helpful?
Yes -

0
No -

0
Report
(

4

stars)
Good adapter not very good documentation with it
By:
macphoto19704
on

03/11/2018
Overall I am very happy with this product the video portion worked without issue for me. I plugged it in and the video worked just fine with my projector. The audio did function fine and did give me the results I was after. What I did not like was the lack of any documentation with this product. There is a micro usb on the product with no reference as to what it is for. (turns out after doing some investigating that some units may require the additional power) Now this would be nice to know before buying this device. And for those of us who need to know what every port is...I would like explanation so I dont spend time having to find an answer. Overall it works. I had no issues. Documentation is an issue as even the website did not reference. I received this product in exchange for an unbiased review
Comment
Helpful?
Yes -

1
No -

0
Report
(

5

stars)
HDMI - VGA Adapter with Audio
Functional Adapter that removes the need for a separate Audio adapter. Nice crisp resolution. It is as simple as plug and play
Comment
Helpful?
Yes -

0
No -

0
Report
(

1

star)
Not working!
Just received this today, as soon as I plug it onto my mac book pro, the laptop screen starts flashing, indicating it is receiving signals from the external monitor but also losing it all the time. Changed several VGA cables but no difference. Changed to apple mini DP to VGA adapter and that works fine.
Comment
Helpful?
Yes -

0
No -

0
Report
Response from StarTech.com:
Brian, Customer Support
on 1/19/2018 1:23:25 PM
Thank you for sharing your review of our HD2VGAA2. We apologize for the problems you've had so far and would like to help. When using this adapter with MacBooks, we recommend using the USB cable to provide additional power for our converter. Some MacBooks don't provide enough power over just the HDMI connection. We hope this helps. If you would like to troubleshoot further, please call 1-800-265-1844 or chat live with us at https://www.startech.com/Chat
(

1

star)
Comment
Helpful?
Yes -

2
No -

2
Report
(

2

stars)
Not working at 1920x1200
By:
juseless
on

07/31/2017
I have dual 1920x1200 VGA monitors that worked fine with a dual VGA graphics card. I now have a GTX1060 graphics card which only has HDMI outputs so I thought this device would save me from buying new monitors. The problem is that the graphics card detects the monitor as being 1920x1080, and I would have no problem even running the monitors in that mode, except that with the NVIDIA GTX 1060, and this Startech device, the display ends up going way offscreen cutting off about 250 pixels of the edge of the screen on 3 sides, so it's basically not usable. Going into the NVidia custom resolution and forcing 1920x1200 fixes things a little but no much (about 150 pixels lost on 3 sides). I have also tried playing with numerous front porch and retrace clock counts and nothing helps. If there is a way to get this device to work at 1920x1200 it certainly isn't obvious how one would go about doing that. Maybe it works with some monitor combinations, but not the ones that I have (KDS K-24MDWB)
Comment
Helpful?
Yes -

0
No -

0
Report
Response from StarTech.com:
Brian, Customer Support
on 8/2/2017 12:48:44 PM
Hi, Thanks for sharing your review of our HD2VGAA2. We're very sorry for the confusion, unfortunately this adapter does not support 1920x1200. We are in the process of removing 1920x1200 from our list of supported resolutions. I noticed your KDS display also has DVI inputs. Please consider exchanging this adapter for our HDDVIMM3 adapter cable instead. It will work at 1920x1200. We sincerely apologize for the inconvenience this has caused. Thank you.
(

5

stars)
Works Great
I bought this to use at our local Junior College to tie into their audio video system from my non VGA laptop. Took off and worked like as advertised and the audio was excellent as well.
Comment
Helpful?
Yes -

1
No -

1
Report
What is the function of the Micro USB connector ?
Helpful?
Yes -

0
No -

0
Report
By:
Ignatius Reily
on

01/07/2016
Hey, Iashen- the Micro USB is a way to provide power for better conversion for devices with weak HDMI output. If I understand right (and I could be wrong) it might be necessary for D/A audio conversion, too.
Helpful?
Yes -

0
No -

0
Report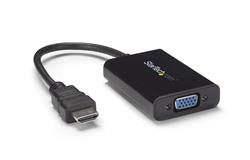 HDMI to VGA Video Adapter Converter with Audio for Desktop PC / Laptop / Ultrabook - 1920x1080
Product ID: HD2VGAA2