StarTech.com
Mini DisplayPort to DisplayPort Multi-Monitor Splitter - 3-Port MST Hub
Use this adapter to connect three independent displays to a single mDP 1.2 port
Maximize your productivity by simultaneously multitasking on three different displays
Get astonishing picture quality with support for resolutions up to 4K at 60Hz
Output video to virtually any display with support for low-cost DVI, HDMI or VGA video adapters
View More
VESA and DisplayPort certified
Compatible with DP 1.2 graphics cards such as AMD Radeon with Eyefinity Technology
Plug-and-play installation
Same Day Shipping
on in-stock items from USA if ordered by 5pm ET*
Details
* Product appearance and specifications are subject to change without notice.
* Same day shipping is only available for orders shipping within the United States.
Mini DisplayPort to DisplayPort Multi-Monitor Splitter - 3-Port MST Hub
Customer Reviews
3.3

(

15

reviews)


3.3

out of 5 stars
Tell us what you think of this product.

Need a little help getting started? Check out our review guidelines.
(

1

star)
Very Disapointing
By:
patcar13
on

04/13/2019
I bought this to work with the Surface Studio 1 and the Samsung CHG90. it is a no go and there is very little information about which display adapters/driver pairs actually work with the device. I am sure when it works it is great, but when it does not it takes hours to test everything to find there is not solution.
Comment
Helpful?
Yes -

0
No -

0
Report
Response from StarTech.com:
Stefan, StarTech.com Support
on 4/22/2019 8:08:21 AM
Thank you for reviewing our MSTMDP123DP, we apologize it is not working well. One potential issue here is the monitor you have is able to use very high resolution and refresh rates (3840x1080 @144Hz native). If possible, try to bring the refresh rate to 60Hz or below to ensure the bandwidth of the MST hub is not exceeded. In addition, if you were wanting to connect just that one monitor, using a Mini DIsplayPort to DisplayPort adapter may perform better than an MST hub, as that would allow for higher refresh rates and resolutions direct to your Surface. If you still encounter issues please call 1 800 265 1844 or click the green chat live button in the top left of the website.
(

1

star)
Only one monitor with Surface pro 3
Just got this in and installed it on my Surface Pro 3 - it supports a second monitor - and the third monitor winds up displaying the same as the second (assuming the surface pro display is monitor one). Bought this because I assumed Star Tech would simply work - very disappointed.
Comment
Helpful?
Yes -

0
No -

0
Report
Response from StarTech.com:
Stefan , Customer Support
on 12/13/2018 12:09:49 PM
Hello! Thank you for reviewing our MSTMDP123DP, we apologize it is not working for you. A few steps to try first here are to make sure the surface is fully updated with Windows updates, and to see if you can change the second external monitor to "Extended" instead of mirrored in your Windows Display Settings. There is also a scan button on the back of the unit that can help with detection issues. Please reach out to our support team at StarTech.com/chat or 1 800 265 1844 . our Technical Advisors are available 24/5 to assist! Thank you,
(

5

stars)
Great Splitters
By:
MazzucaJoe92
on

09/08/2016
I received this free mini display port splitter to review and it`s been working great - no problems at all. I typically run 2 monitors, but this has allowed me to bump that up to 3 - super useful. Picture quality has been great throughout the time that I`ve used this product. Easy to use, just plug it in and it works, way better for multitasking.
Comment
Helpful?
Yes -

15
No -

6
Report
(

4

stars)
Nice product! Works perfectly
I received a free sample of the Star Tech Mini Display Port to Display Port MST Hub to review and found it to be of very good quality. It worked perfectly on my Elitebook laptop at work with Windows 7. I just plugged in all monitors (3 24" monitors) , then plugged it into the computer. There are a few noises when they are booting up, but then all four monitors (including the laptop) working perfectly. It took a little while to configure the resolutions and positions and setting the wallpapers for all the monitors, but is was very easy. I was able to play 1080p 60fps videos on all four monitors simultaneously without any issues. Overall I would give this item a positive rating.
Comment
Helpful?
Yes -

1
No -

0
Report
(

4

stars)
Increased Productivity
By:
soccergeek12
on

08/31/2016
I absolutely love the 3-Port Multi Monitor Mini DisplayPort to DisplayPort MST Hub that I was selected to try out for free. As a software developer this allowed me to easily have multiple software programs open to write code, test the code on a separate screen, and then check the data on the third screen. I`m sure my boss will like me being more productive as well. I`ve only had this product a little while and I`m already wondering how I ever was able to do it all with just one screen. Once I got all the correct adapters for my monitors the setup was a breeze. I will definitely be recommending this to others I work with as well.
Comment
Helpful?
Yes -

1
No -

1
Report
(

4

stars)
Useful once I got it working - needed an adapter
By:
Nicole D
on

08/31/2016
The Startech display port works as expected once I got it up and running. I found that I needed a HDMI adapter which would have been nice to have been included in the instructions. I found out by visiting the Startech.com website. Then I went on a quest to find the right adapter which was hard to discern from the site. I saw the picture of it but no link to the actual product or product number. I ended up using the website Help chat which was helpful but I was told to get a Display Port to HMDI converter cable that in the end didn`t work. Luckily I found the related adapter easily on a popular ecommerce website (since it was an option on the cable product page) and ordered that at the same time figuring I would try that if the cable did not work. Btw, if you need to connect to HDMI the correct adapter is StarTech.com DP2HDMI2 DisplayPort to HDMI Video Adapter Converter Model Number: DP2HDMI2 . Knowing this ahead of time would have saved me a lot of time and frustration. It also would be helpful if this display port had a power indicator on it. As I was troubleshooting I found myself wondering if it was getting power with no way to tell for sure (until I finally got it working).
Comment
Helpful?
Yes -

0
No -

0
Report
(

4

stars)
By:
G Wilds
on

08/29/2016
Comment
Helpful?
Yes -

0
No -

1
Report
(

4

stars)
It worked
By:
tater5001
on

08/28/2016
So I received a free sample of the Mini DisplayPort to DisplayPort Multi-Monitor Splitter - 3-Port MST Hub in order to complete a review. And first things first, while DisplayPort is an extremely underrated technology, HDMI has become the standard for HD display chords, so a majority of people will find the HDMI version of this product to be significantly more useful. That said this product aimed to turn a single mini DisplayPort into 3 DisplayPorts, allowing for a computer to use 3 additional monitors. This splitters gets the job done and it succesfully integrates into Windows 10 display settings extremely well. Additionally, the product has a solid, compact design, which you notice right when you take it out of the box. One negative is to use the splitter, you have to use its included power supply, which is pretty bulky. My favorite secondary feature was the multiple power adapters, which allowed the splitter to be used all over the globe! And as far as design, the material used for the cord leading to the mini DisplayPort was extremely firm and stiff, which lead me to believe it would last a long time (I`ve only had the product for 3 weeks). Lastly, I never needed to use the integrated scan function and there wasn`t any instructions in the provided manual, so that seems like a wasted capability. Overall, StarTech`s Mini DisplayPort Splitter worked as advertised and successfully expanded one mini DisplayPort to 3 DisplayPorts!
Comment
Helpful?
Yes -

0
No -

0
Report
(

5

stars)
Overall happy with product, works as I expect
By:
Steve H
on

08/24/2016
I received this splitter after agreeing to provide an honest, accurate review of this product. I work in an IT field and my job frequently requires the use of multiple monitors on more than one computer so I was looking forward to giving this product a try. I`ve been using it for just over a week with one of my work laptops that has a mini-display port. It runs Windows 7. I typically use three monitors at once with this machine. This is easy to do at work where I have a docking station. At home I do keep a docking station around but it takes up too much space on my desk so I`m not a big fan. I like this device as it is relatively quite small. There isn't much to do in regards to setting it up. I just plugged in the display port cables from my monitors into the splitter and the mini display port into my laptop. The device does need to be plugged in for power. It comes with several different adapters for power. I live in the US so I simply had to identify the correct adaptor for the splitter and attach it. In all it was very easy. I've been using it for a week now. I haven't noticed any problems. My monitors all display as they should. If I had one request, it would be to make the Mini DisplayPort cable longer. It`s a fairly minor concern.
Comment
Helpful?
Yes -

0
No -

0
Report
(

1

star)
Only detects one monitor at a time
By:
scubajim
on

09/20/2015
This had promise but on a surface pro 3 w/o docking station, the MSTMDP123DP only detects 1 of 2 27" Samsung displays.
Comment
Helpful?
Yes -

2
No -

1
Report
Response from StarTech.com:
Customer Support, Customer Support
on 10/8/2015 5:55:05 PM
Dear Jim, Thank you for taking the time to review our MSTMDP123DP MST Hub. We are sorry to hear you are experiencing this issue and we would like to offer some help. This model of MST hub has a "Scan" button located on the back, does pressing this remedy your display issue? Do you have any other cables or monitors you can test with our hub? If possible are you able to test the hub with other computer systems that would be able to support MST? To ensure your Surface Pro 3 or any MST enabled device performs optimally with the MSTMDP123DP, please be sure you are using the latest system firmware and drivers for your video card. These can be found through Windows updates, and depending on the update settings may be found in the "Optional Updates" section. Are you able to provide the exact model number for the displays being used, which version of the Surface Pro 3 is used, and the type of cabling/adapters that are being used to connect to the displays? We are always here to help with our free lifetime technical support. If you would like further assistance with our MST hub then please get in touch with us and reference case #332-284735 so we can further assist you. You can also reply here and we will be sure to follow up. Thank You, Customer Support StarTech.com http://www.startech.com/support
(

4

stars)
Works great, with a catch.
By:
Sparkie
on

09/04/2015
I bought several of these from CDW. Lots of informative pics including one with the Surface Pro. What wasn't mentioned is the included (but not pictured) A/C adapter is required to power the splitter. Not a big deal for some, but in my case was an issue.
Comment
Helpful?
Yes -

1
No -

0
Report
(

1

star)
Useless with ASUS N550JK and 2x acer CB280HK
Does not work reliably with Windows 8.1 on ASUS N550JK and 2x acer CB280HK. There must be a magic order of actions to power it on, plug in the monitors and recognise them in windows. But it isn't working for me. I got it to work only once, and it was stunnign with two 4K2 displays in portrait mode. Buyt I walked away from my desk to get lunch and it hasn't worked since. your mileage may vary. but prepare for no miles at all.
Comment
Helpful?
Yes -

1
No -

0
Report
Response from StarTech.com:
Customer Support, Customer Support
on 5/25/2015 11:36:11 AM
Hello, Thank you for taking time to leave some feedback on the MSTMDP123DP. We're sorry to hear you had a poor experience with the unit and would like to help. The MSTMDP123DP hub should function in your setup with two 4K monitors, following the normal setup order. Since the hub is working intermittently for you, it sounds like it may be faulty; we apologize for this inconvenience. It seems you have already spoken with our Technical Advisors regarding this issue, and it was recommended to exchange the hub. If you have done so, could you inform us of your experience with the new unit? Quality is very important at StarTech.com and we take issues like this seriously. If you require further assistance, please feel free to get in touch with us and kindly reference case number 377-231494. Thank you, Customer Support StarTech.com http://www.startech.com/techsupport
(

4

stars)
So far so good
By:
SurfacePro
on

04/13/2015
Just got it and it has been plug and play with my Surface Pro 3. I haven't tested daisy chaining Display Port or use with a variety of monitors, but so far it displays to my Dell 28" P2815Q via Display Port as expected. I may bump up/down the stars after I test it some more.
Comment
Helpful?
Yes -

0
No -

1
Report
(

2

stars)
Sketchy at best
By:
pwaters
on

03/10/2015
I bought the hub doesn't work as well as promoted on StarTech web site. Sketchy at best with setting up with my Surface Pro3. Every day is an adventure to get my two 27" BenQ monitors up and displaying. I am constantly resetting my display options to get it to work. This waste time in the morning up to an hour a day. In a nut shell doesn't work out of the box.
Comment
Helpful?
Yes -

11
No -

0
Report
(

5

stars)
Works Great
By:
dstroope
on

11/11/2014
I bought this to connect to 24" 1080P monitors to my SP3/dock. Works well, and has no problem with the the monitors native resolution. Plug and Play so setup was as easy as plugging everything in.
Comment
Helpful?
Yes -

1
No -

0
Report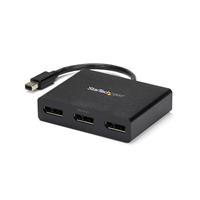 Mini DisplayPort to DisplayPort Multi-Monitor Splitter - 3-Port MST Hub
Product ID: MSTMDP123DP