StarTech.com
DisplayPort to HDMI 4K Audio / Video Converter – DP 1.2 to HDMI Active Adapter for Desktop / Laptop Computers – 4K @ 30 Hz
Connect an HDMI monitor to a DisplayPort video source
Supports video resolutions up to 4K
Fully compliant with DisplayPort 1.2 revision
Supports HDMI 4K @ 30 Hz
View More
Compact, lightweight design
Plug-and-play installation
No power adapter required
Active DisplayPort conversion
Same Day Shipping
on in-stock items from USA if ordered by 5pm ET*
Details
* Product appearance and specifications are subject to change without notice.
* Same day shipping is only available for orders shipping within the United States.
DisplayPort to HDMI 4K Audio / Video Converter – DP 1.2 to HDMI Active Adapter for Desktop / Laptop Computers – 4K @ 30 Hz
Customer Reviews
3.7

(

11

reviews)


3.7

out of 5 stars
Tell us what you think of this product.

Need a little help getting started? Check out our review guidelines.
(

5

stars)
Comment
Helpful?
Yes -

0
No -

0
Report
(

5

stars)
Excellent
This adapter worked flawlessly for me to connect my desktop display port to my HDMI monitor.
Comment
Helpful?
Yes -

0
No -

0
Report
(

5

stars)
Quick and Simple in a Nice Package
By:
NickD_CA40
on

03/13/2018
I have tested this DisplayPort to HDMI dongle on a few computers with different resolutions and it has been working well for weeks. The adaptor comes in a small zip lock bag. It is slightly longer than my hand from wrist to finger tip. It is made of very nice materials with smooth modern glossy black ends and a strong yet flexible cable. The adaptor plugs into the DisplayPort jack on the computer or docking station then allows an HDMI cable to be connected to it. Both sound and video were converted without any issues. I tested multiple resolutions including above 1080p and all worked well. Once connected video and audio came just as quickly as if I didn't have an adaptor connected at all. This adaptor was easy to use, just plugged it in and it started working. I received this product in exchange for an unbiased review.
Comment
Helpful?
Yes -

0
No -

0
Report
(

5

stars)
Small adapter very useful
By:
macphoto19703
on

03/11/2018
I used this adapter with a new small form factor system and found it worked really well My desktop did not have HDMI but did have Displayport. I found this cable to be simple to use, just plug and worked, with a simple HDMI cable and voila it was up and running. I had no issues with resolution and picture quality was great. I like the small cable on the adapter vs some other products that have just the adapter. I found the flexibility of the cable easier to work with and I had less restrictions on making cables all fit because of this. Overall i would recommend this product for its ease of use and its solid build I received this product in exchange for an unbiased review
Comment
Helpful?
Yes -

0
No -

0
Report
(

1

star)
Didn't work
By:
Peter1292
on

06/19/2017
Didn't work at all. Tried two different screens and laptops and different DP ports without success. Other DP cables working fine though.
Comment
Helpful?
Yes -

0
No -

0
Report
Response from StarTech.com:
Malcolm, Customer Support
on 6/22/2017 2:21:37 PM
Thanks for sharing your experience with us. We hope we can help. While it's possible your adapter is faulty, We also wanted to check what resolution and refresh rate you are using with the adapter? This adapter only supports up to 4K at 30Hz. If your tested displays are using 4K @ 60Hz, that may explain why it wasn't working. We also sent an email to you at the address left with your review.
(

4

stars)
Worked well was easy to use. Met my needs
The product worked well for me. I had no issues using it at all. It was simple and easy to use. I would recommend this product.
Comment
Helpful?
Yes -

0
No -

0
Report
(

5

stars)
Great Features!
By:
KdawgRhino
on

09/08/2016
I received a free sample of this displayport adaptor and it`s been working great - displaying high quality video resolutions and audio. It`s compact and hassle-free, ready for plug-and-play like the website claims. All sound and picture are very crisp and I`m fully satisfied.
Comment
Helpful?
Yes -

0
No -

0
Report
(

4

stars)
Convenience does come in small packages
This review is for a Displayport (Male) to HDMI(Female) cable adapter. It arrives packaged in a clear Zip-loc bag with branding , some graphics and text. The graphics clearly show the type of ports the cable has for a consumer to understand exactly what he is buying. There is also a QR code provided which can be scanned to see the tech specs. Inside the zip-loc bag is cable in all its glossy grandeur with both the dongles wrapped in plastic to keep the shine intact and also the male adapter has a removable plastic casing protecting the port`s gold plated contacts. Full marks on the packaging. The cable itself is a short one(approx 5` barring the adapters) and is convenient from my viewpoint since all but one of my devices have an HDMI output port. Hence this being a short cable can be stored with that single laptop all the time without worrying about its storage space. Both the dongles are of heavy duty plastic and look great in the glossy finish. Using these is extremely straight forward and only takes plugging into the Displayport of the laptop. From then on its the regular practise of plugging the HDMI cable from the monitor into the input(in this case, the female HDMI port on the cable). This is better than the direct dongles(without the wire in between) with the ports on either sides of a single plastic body. The reason is that due to size of the dongles, there is a lot of pressure on the laptop`s ports and there are chances of damaging the ports. With this, the wire is flexible and hence does not put much pressure on the laptop`s ports. The biggest advantage of this is that I do not have to buy a separate monitor or use a separate cable to be inserted into the back of the monitor.This is exactly(and more) what I was looking for. I was provided a free sample for review and feedback purposes. The review is based on my initial impressions and usage of the product for weeks and the rating is based on its ease of use, convenience, precise fit and the overall build quality weighed against its list price of around $37. Given that this saves a lot more dollars of a monitor`s cost and provides convenience with good build quality which outweighs its price, however it is available for lower prices on other sites. Hence I suggest a GREAT buy rating for the product but a GOOD rating based on the price on this site.
Comment
Helpful?
Yes -

0
No -

0
Report
(

1

star)
screen keep blacking out
By:
adamski
on

10/21/2015
I bought this on the 19th September as it allowed me to use the correct screen resolution for my wide screen, however since using it my screen keeps blacking out randomly; i now have to use my laptop with direct hdmi to hdmi. This adapter needs to be better quality to work as it should.
Comment
Helpful?
Yes -

1
No -

0
Report
Response from StarTech.com:
Customer Support, Customer Support
on 11/4/2015 11:17:10 AM
Hello Adam, Thank you for taking the time to review our DP2HD4KS DisplayPort to HDMI adapter. We are sorry to hear about the display issues and we would like to offer some help. Did the DP2HD4KS adapter have this issue since you had received it, or did it only start happening after using the adapter for a while? If possible are you able to test using our adapter with another display? It is good that you have tested the display using a direct HDMI connection to the computer to confirm both the display and the HDMI cable are working correctly. If you have the option available, would you also be able to try the adapter with another computer system? This would help to narrow down possible issues with the hardware. These troubleshooting steps and more can be found in this support article from the support page for this adapter: http://www.startech.com/faq/video_adapters_general#DP2HD4KS We are always here to help with our free lifetime technical support. If this did not resolve your issue, please get in touch with us and reference case #332-296761 so we can further assist you. You can also reply here and we will be sure to follow up. Thank You, Customer Support StarTech.com http://www.startech.com/support
(

1

star)
Do not purchase this adapter
By:
MrSanchez
on

07/14/2015
We purchased a couple of these adapters for our workstations that only have a Display Port output. It transfers video with no problem but for being a HDMI, it should transfer sound as well. We had to do a lot of troubleshooting in the beginning to get the sound working and after countless of hours it finally got it going. Then a month went by and the sound suddenly stopped. Stay away from this product. Save your time by purchasing a workstation with an actual HDMI output.
Comment
Helpful?
Yes -

2
No -

1
Report
Response from StarTech.com:
, Customer Support
on 7/23/2015 9:33:22 AM
Dear MrSanchez, We are sorry to hear about your continuing audio troubles when using our DP2HD4KS video converter. When experiencing intermittent functionality with an adapter such as the DP2HD4KS, it is important to test all possible connections. If you have not done so already, please have a look at our online troubleshooting FAQ, seen here: http://www.startech.com/faq/video_adapters_general#DP2HD4KS. Another step when working with DisplayPort connections is to verify that you are running the most up to date drivers for the video card. Please connect with your PC manufacturer or video card vendor for any available updates. We have seen driver updates correct issues with DisplayPort connectivity in the past. Please do not hesitate to connect with us again via chat, phone, or e-mail and we will be happy to assist you further. In the event the adapter is faulty, replacing your unit via the product's two year warranty will not be a problem. Thank you, Customer Support StarTech.com http://www.startech.com/techsupport
(

5

stars)
Works as advertised.
By:
foosart
on

03/12/2015
Good quality adapter that performs exactly as advertised. Really like the flexible adapter, useful in tight spaces.
Comment
Helpful?
Yes -

0
No -

0
Report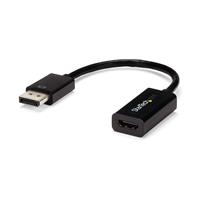 DisplayPort to HDMI 4K Audio / Video Converter – DP 1.2 to HDMI Active Adapter for Desktop / Laptop Computers – 4K @ 30 Hz
Product ID: DP2HD4KS