StarTech.com
USB to DVI Adapter – 1920x1200
USB 2.0 External Video & Graphics Card | Multi-Monitor | USB-Powered | Supports Windows®
Supports resolutions up to 1920x1200
Includes DVI to VGA Adapter and supports the use of DVI to HDMI adapters
Works with desktop and laptop computers
No power adapter required, easy installation
Same Day Shipping
on in-stock items from USA if ordered by 5pm ET*
Details
* Product appearance and specifications are subject to change without notice.
* Same day shipping is only available for orders shipping within the United States.
USB to DVI Adapter – 1920x1200
Customer Reviews
3.6

(

12

reviews)


3.6

out of 5 stars
Tell us what you think of this product.

Need a little help getting started? Check out our review guidelines.
(

3

stars)
it's Ok
By:
MichaelP
on

08/05/2019
I was not expecting blazing speed, but this is painfully slow. This is for a third display, and I can drag a window from this one across the middle to the far one, and it is still visible on this display. I also have the problem with the pointer disappearing when you leave the display and come back. It has to hover over some responsive control before the pointer appears.
Comment
Helpful?
Yes -

0
No -

0
Report
Response from StarTech.com:
Matt, Customer Support
on 8/8/2019 9:46:23 AM
We're sorry to hear about the difficulties you're experiencing with our USB2DVIE3. These issues can often be solved by disabling Hardware Acceleration on your computer as well as ensuring that you're using the latest drivers for the adapter from our website, and the latest drivers for your computer from the PC manufacturer's website. If you require any assistance, please feel free to contact us at www.startech.com/support where our Technical Advisors are available 24 hours a day, 5 days a week.
(

4

stars)
Display works, but mouse disappears
By:
CWAHTECH
on

01/31/2019
Just installed 2 USB2DVIE3 adapters on a HP laptop. Looked good at first - set the proper transition from monitor to monitor for the 3 displays monitor -laptop - monitor. Mouse arrow suddenly disappears on the side monitors. Reappears when the usb adapter is disconnected and reconnected, but after a couple mouse transitions the arrow disappears (right click's work, but no arrow) on the two monitors on the Startech adapters.
Comment
Helpful?
Yes -

0
No -

0
Report
Response from StarTech.com:
Brian, Customer Support
on 2/1/2019 2:03:44 PM
Thanks for sharing this feedback with us. We suspect this may just be a display arrangement or driver issue. We would be happy to look into this problem with you. Please feel free to live chat or call us so we can look into this. We've also emailed you directly about this situation. We hope to hear from you soon!
(

2

stars)
Worked gerat for windows but not Ubuntu
By:
svantej
on

07/21/2017
Worked out of the box form Windows. Really great! When booting into Ubuntu though it does not respond and I can't find any drivers available.
Comment
Helpful?
Yes -

0
No -

0
Report
Response from StarTech.com:
Brian, Customer Support
on 7/31/2017 3:57:51 PM
Thanks for sharing your review of our USB2DVIE3. We're sorry for any confusion, we list the supported operating systems on our Technical Specifications. This model is designed for Windows only. Our USB32DVIPRO is supported in Ubuntu 14.04, and 16.04. If using one of those Linux distributions. Thank you.
(

5

stars)
Got the job done
By:
Melanie h
on

01/10/2017
This product worked great to set up a second monitor at home for my work from home job. I was please that it was easy to set up and a quality product. At one time the screen froze but I unplugged and re plugged in and the problem solved quickly. I was sent this item for free in exchange for an honest opinion. Hands down a breeze to connect and makes my job much easier.
Comment
Helpful?
Yes -

1
No -

0
Report
(

4

stars)
Pretty Satisfied!
I'm pretty satisfied with the adapter, but I do want to note that I received the adapter as a free sample. I think it's pretty self explanatory to set up, but the length of the adapter could be longer. For the most part, the adapter served its purpose, but there were a few times where I experienced display issues!
Comment
Helpful?
Yes -

0
No -

0
Report
Response from StarTech.com:
Barry, Customer Support
on 1/9/2017 12:29:14 PM
Hello, Thanks for reviewing our USB2DVIE3 display adapter. We have several very helpful FAQs on our site that may assist in correcting the "display issues" you encountered while using this adapter. You can also speak with our technical advisors directly. They would be happy to help. Thank you
(

4

stars)
Easy to use
By:
carol13
on

12/07/2016
I was pleased with the adapter`s performance. I should mention that I received a free sample of this item to review. Installation was simple and the 2nd monitor worked fine. The USB connection was an easy way to add a 2nd monitor, however this did mean I had one less USB port to use for other things. I also wish the USB cord was slightly longer to allow more options where to place my computer and monitor. Overall I was happy with this adapter, but wish it was also compatible with Mac.
Comment
Helpful?
Yes -

1
No -

0
Report
(

5

stars)
I received this adapter for free in exchange for my honest opinion, and it was just what I have been looking for. At work, we use up to 3 monitors at a time and with just a laptop at home, I could never really take advantage of our work-from-home option, as switching back and forth between windows is next to impossible for our projects. After receiving this adapter though, I can happily say that my work week is much less stressful now that I have the freedom to work from my home computer. It was very easy to install the drivers and I have not had any issues thus far with performance. It brought up a perfect 2048x1800 display on my second monitor and has remained stable and reliable.
Comment
Helpful?
Yes -

2
No -

0
Report
(

5

stars)
Never had a single problem with it.
By:
thezuur
on

10/12/2015
I use this device at work, connected to a docking station that shares 4 users. None of us have any problems. Very happy with it.
Comment
Helpful?
Yes -

0
No -

0
Report
(

1

star)
Don't bother just get a new video card
Bought a few of these for a client that had a mix of workstation and form factors. Thought it would be a easy solution to get dual monitors on all their workstations. The performance of this device is not very good. Users are just coping and pasting text from a word doc to email not like they are trying to game with them. Tech support recommends disabling Aero and all the eye candy features to get it to work somewhat better. I personally wouldn't use it so it's hard for me to sell it to my clients. #shouldofjustgotnewvideocards
Comment
Helpful?
Yes -

6
No -

0
Report
(

5

stars)
Saves using a graphics card
By:
jackallcodemanager
on

12/19/2014
Super little device to cheaply give you a 2nd screen, newer PC's might have display ports, but until then this is great. Very occasionally a browser window from one screen may jump to the other on my w7 machine. I'm not sure what clicking the "fixed position" mode does on the software that came with it. I will buy more for other PC's & laptops.
Comment
Helpful?
Yes -

1
No -

0
Report
(

4

stars)
Super easy install, works fine
Got this for a client who wanted a 3rd monitor on his laptop for sticking outlook on. It's a USB monitor adapter so you can't expect to do anything fancy.. works fine. The install took about 2 minutes and worked properly right away.
Comment
Helpful?
Yes -

2
No -

3
Report
(

1

star)
Mac NOT supported
By:
youngberg
on

01/23/2014
Why this company would make only some of their products available for Mac and then some not is beyond me.
Comment
Helpful?
Yes -

4
No -

14
Report
Response from StarTech.com:
David S., Customer Support
on 2/19/2014 4:01:41 PM
Thanks for your feedback. Since not all of our products are currently compatible with the Mac OS, we recommend checking the Technical Specifications section on each product page under OS Compatibility, or contacting our Tech Support team. If you're still looking for a USB to DVI adapter that's compatible with Mac OS, you might want to check out a similar product - our USB2DVIPRO2 (www.startech.com/USB2DVIPRO2) as an alternative.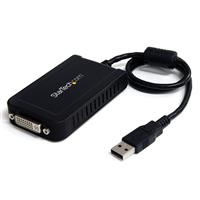 USB to DVI Adapter – 1920x1200
Product ID: USB2DVIE3