StarTech.com
Headset adapter for headsets with separate headphone / microphone plugs - 3.5mm 4 position to 2x 3 position 3.5mm M/F
Turns a 3.5mm audio output port into two distinct ports – one 3.5mm headphone jack and one 3.5mm microphone port
Compact design for maximum portability - a great solution to have on hand in your laptop bag
Lightweight, yet sturdy design that can easily be plugged in when required
Headset not included
Same Day Shipping
on in-stock items from USA if ordered by 5pm ET*
Details
* Product appearance and specifications are subject to change without notice.
* Same day shipping is only available for orders shipping within the United States.
Headset adapter for headsets with separate headphone / microphone plugs - 3.5mm 4 position to 2x 3 position 3.5mm M/F
Customer Reviews
3.6

(

12

reviews)


3.6

out of 5 stars
Tell us what you think of this product.

Need a little help getting started? Check out our review guidelines.
(

2

stars)
Shooting video with samsung phone
I bought this adapter to shoot video. I wanted to use an external mic and headphones. The mic works but the headphones do not. Am I missing something? Hooking up the mic is the most important part so there is that but I sure would love it if the headphones worked.
Comment
Helpful?
Yes -

0
No -

0
Report
Response from StarTech.com:
Matt, Customer Support
on 10/22/2019 5:54:23 PM
We always try to ensure our customers have exceptional experiences with us and our products and we apologize for the problems you're experiencing with our MUYHSMMF. This adapter should work with standard headphones and a microphone on a Samsung phone and we'd like to speak with you further to help get this working properly for you. Please contact us at www.startech.com/support where our Technical Advisors are available 24 hours a day, 5 days a week to provide support.
(

1

star)
Not a (1) 4-position to (2) 3-position splitter
By:
nothappyhere
on

09/29/2018
I was having problems with this connecting a microphone. I cut the microphone side cable and only discovered two wires and no shield. Seems to me this is a (1) 4-position to a 2-position and maybe (I haven't cut that side open) a 3-position splitter.
Comment
Helpful?
Yes -

0
No -

0
Report
Response from StarTech.com:
Nick V., Customer Support
on 10/1/2018 4:42:00 PM
We're sorry to hear that you're having difficulties with our MUYHSMFF. This adapter does have two 3-position connectors, however, the microphone side only needs two wires since the audio output is split to the other 3-position connector. Different 4-position devices may use different wiring standards, which may explain why you weren't able to get your microphone working. Our MUYHSMFF uses the "CTIA" wiring standard. If you ever have problems with a StarTech.com product, please do not hesitate to contact us at 1-800 265-1844. One of our advisors would be happy to help!
(

4

stars)
Worked great, until it didn't.
By:
4thidLerch
on

09/20/2018
The fact that I was able to obtain the exact splitter I was searching for easily on Amazon from StarTech was GREAT ! Unfortunately, I've had 2 exact items fail in different ways in less than a year.
Comment
Helpful?
Yes -

1
No -

0
Report
(

5

stars)
Works great for external mic on Samsung Galaxy S5
Bought this splitter so I could use an external microphone to record videos on my Galaxy S5. Initially the phone didn't see the mic but after a visit to chat.startech.com and a bit of reconnecting a few times, it saw it and works fine. Appears well built.
Comment
Helpful?
Yes -

0
No -

0
Report
(

3

stars)
Doesn't with iPhone and iPad
By:
Ravn202
on

01/05/2018
Why not just say right on websites DOES NOT WORK WITH APPLE PRODUCTS. Rather misleading when you say it works with smartphones rather than informing buyers only works with some smartphones and not iPhones and iPads.
Comment
Helpful?
Yes -

0
No -

2
Report
Response from StarTech.com:
Brian, Customer Support
on 1/16/2018 3:38:20 PM
Thanks for sharing your feedback on our MUYHSMFF audio adapter. We apologize for the confusion regarding what devices it will work with. We've made a note on our Technical Specifications explaining how our adapter is configured. We also wanted to mention this adapter will work with most newer Apple products but it's important to check how your specific Apple product is configured.
(

5

stars)
I got this just before my trip to a conference in California and I didn't want to use a Bluetooth anymore. I tried it with my Samsung and it works very well. I only had 1 problem only where I could hear some cracking noises but the problem has gone away. I tested it as well with my kids Ipads and there was no problem. This is a good product for a good price. "I received this product in exchange for an unbiased review."
Comment
Helpful?
Yes -

0
No -

0
Report
(

5

stars)
Nice simple splitter
By:
NickD_CA4
on

02/05/2017
I have been using this product for a few weeks. It allows me to connect separate headphones and microphone to my laptop with a single jack for both. I have also tested it on my iPhone and works well for the same purpose. The product comes in a nice little bag and is very small and discrete. The cable is well made, both sturdy and flexible. The connectors fit well and hold cables nicely. The only issue I have is the images one the ends indicating microphone port and headphone port are hard to read. Not a big issue as once you figure it out you are likely to leave everything connected. So far I am happy with this product and will use it regularly. I received this product in exchange for an unbiased review.
Comment
Helpful?
Yes -

0
No -

0
Report
(

2

stars)
It sort of works
I bought this for my Logitech G230 headset so I could use it on my Asus Zenbook which only has one audio jack. But it crackles and sometimes stops working or the microphone stops working but the audio is doing fine.
Comment
Helpful?
Yes -

4
No -

0
Report
(

3

stars)
It works but.....
This adapter works as it should but sometimes there can be a harsh crackling sound, I assure it isn't my headset as I have tested it on another computer with a split mic and headphone input.
Comment
Helpful?
Yes -

3
No -

3
Report
(

3

stars)
Broke Quickly
Had it for about a month. I bumped the male part and it won't play sound in my left ear AND i can't use my microphone.
Comment
Helpful?
Yes -

6
No -

3
Report
Response from StarTech.com:
Customer Support, Customer Support
on 5/4/2015 2:53:14 PM
Hello Sam38, Thank you for providing feedback on the MUYHSMFF headset adapter. We're sorry to hear the unit stopped working for you, and we would like to offer our assistance. If you have not done so already, can you try utilizing the cable with another CTIA compliant headset to see if the issue persists? If other CTIA headsets also fail to work properly, then the adapter may have become faulty. If this is the case, please feel free to get in touch with us and reference case number 303-225766. This product is backed by a lifetime warranty, and it would be our pleasure to send you a new unit. Thank you, and we hope to hear from you soon. Customer Support StarTech.com http://www.startech.com/techsupport
By:
Zboyzmom
on

03/18/2016
Seems to be a common issue with the adapters. Had to buy them for each of my boys gaming headsets and they both started experiencing trouble after a couple weeks. Unfortunately, I can't find them available for purchase in any of the electronics stores I've checked.
Helpful?
Yes -

0
No -

0
Report
(

5

stars)
Great product - great service!
This is a very useful product for using a cell phone to output calls to capture for broadcast on KNSJ. We have purchased several of them and will be buying more in the future.
Comment
Helpful?
Yes -

2
No -

1
Report
(

5

stars)
Great quality product; a little on the expens side
We purchased 35 of these adapters for our computer lab. Our recently purchased all-in-one computers have combined 4-position sockets for headphone/microphone, but our headsets come with two separate 3-position jacks for headphones/Mic. So we needed these adapters to split the combined input jack. PROS: High-quality build and material; great quality throughput both for Mic and headphones; timely delivery thanks to express delivery option. CONS: Price; we could purchase them at retail store at $7.99; but they could not provide the quantity we wanted in time. So we had to buy directly from Startech at a higher price.
Comment
Helpful?
Yes -

10
No -

3
Report
By:
Guy Who Bought Something
on

12/03/2014
Quality is plenty good enough, and I was able to find it on the StarTech site in less time than it would have taken to get the idea across to a RadioHack employee.
Helpful?
Yes -

0
No -

0
Report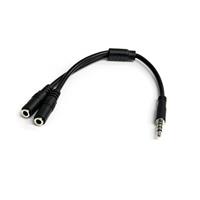 Headset adapter for headsets with separate headphone / microphone plugs - 3.5mm 4 position to 2x 3 position 3.5mm M/F
Product ID: MUYHSMFF