StarTech.com
Dual-Monitor USB 3.0 Docking Station with HDMI & DVI/VGA
Laptop Docking Station | USB 3.0 | TAA Compliant | Mac & Windows®
Connect dual monitors using either HDMI + DVI-D, or HDMI + VGA combinations
Connect devices with 3 USB 3.0 ports
Connect to wired networks with the built-in 10/100/1000 Mbps compatible RJ45 Ethernet port
TAA compliant GSA schedule purchases
Same Day Shipping
on in-stock items from USA if ordered by 5pm ET*
Details
* Product appearance and specifications are subject to change without notice.
* Same day shipping is only available for orders shipping within the United States.
Dual-Monitor USB 3.0 Docking Station with HDMI & DVI/VGA
Customer Reviews
3.1

(

9

reviews)


3.1

out of 5 stars
Tell us what you think of this product.

Need a little help getting started? Check out our review guidelines.
(

2

stars)
USB Devices Keep Dropping
Connecting Docking station to monitor, wired keyboard, wireless mouse and printer via a StarTech switch SV231DDVDUA (2 Port DVI VGA Dual Monitor KVM Switch USB with Audio & USB 2.0 Hub) with StarTech cables. On initial connection everything works through the dock, but after several minutes the keyboard, mouse and printer drop (USB Device Failures). Video stays connect with 1 monitor via DVI connection. Tried loading set-up software from site rather than disk provided and different USB ports, but same results. Another manufacturers docking station work fine with the switch. Like StarTech and would like to resolve, but not working well at this time.
Comment
Helpful?
Yes -

0
No -

0
Report
Response from StarTech.com:
Brian, Customer Support
on 1/9/2019 11:12:09 AM
We're sorry that the combination of products has not worked as expected. This combination of devices will work together but it is a more complex configuration. You will need to use the HDMI and VGA video ports on the dock as VGA and DVI cannot be used at the same time with this model If you are using a wireless or gaming keyboard and mouse, we suggest connecting those devices to the 2 USB hub ports on the KVM switch. We would be happy to go through the configuration and discuss some troubleshooting steps with you. To speak with a member of our Technical Support team, please call us toll-free at 1-800-265-1844 or chat live with us at StarTech.com/Chat.
(

1

star)
Not for mac
By:
Not happy camper
on

12/06/2018
It stopped working and it's not been fixed. No two screens and no audio feature on newest iOS update.
Comment
Helpful?
Yes -

1
No -

0
Report
Response from StarTech.com:
Sam, Customer Support
on 12/26/2018 2:22:44 PM
Thank you for your feedback on USB3SDOCKHDV. We're sorry it stopped working for you and want to help. This laptop docking station is compatible with macOS 10.6 - 10.12 and macOS 10.14. If you are using macOS 10.13, we suggest upgrading to macOS 10.14 to restore full functionality. If you're using an operating system within the range mentioned above, there may be other factors contributing to the issues you're seeing. We recommend reaching out to our Technical Advisors for troubleshooting assistance at 1-800-285-1844 or www.startech.com/support. We're available 24 hours a day, 5 days a week, to provide support.
(

3

stars)
Great functionality but kiling CPU usage
I've tried a number of different docks and this is one of the best available, but it has caused significantly increased CPU usage to the extent that multi-tasking ability is constrained.
Comment
Helpful?
Yes -

0
No -

0
Report
Response from StarTech.com:
Sam, Customer Support
on 5/24/2018 10:15:46 AM
Thank you for your feedback on USB3SDOCKHDV. We apologize for the performance issues you've had with it. It's unusual for this dock to use a lot of resources, so we'd like to look into this further to determine the source of the problem you're experiencing. We have Technical Advisors available 24 hours a day, 5 days a week, through www.startech.com/support. A great step to take in the meantime is updating your drivers for USB3SDOCKHDV to the latest available. The latest drivers are available here: https://www.startech.com/USB3SDOCKHDV#dnlds
(

3

stars)
Mostly works, but freezes once day
By:
Leapy99
on

05/20/2018
I have 4 of these docking stations for our small business. The docking stations are generally good and work fine. However, overtime I am noticing that the docking stations are starting to freeze about once per day. The only way of fixing this is to unplug the docking station and plug it back in or restart the computer. Both of which are annoying. Also the S/N I have for the product does not match anything in Startech's database making it difficult to get support. Hopefully they will contact me when they see this review...
Comment
Helpful?
Yes -

2
No -

0
Report
Response from StarTech.com:
Sam, Customer Support
on 5/22/2018 10:44:05 AM
We're sorry for the problems you've had with USB3SDOCKHDV. We will reach out to you to help find out the problem and get your setup working as quickly as possible. Our support options can be found at www.startech.com/support. To find product-specific options, please use the Product ID of your unit: USB3DOCKHDV.
(

4

stars)
Works great minus one problem
Bought this device for two work computers. Works very well, easy to install if you follow instructions. Took some fiddling around with monitor brightness/contrast settings to get it right but the picture is great now. Only one problem I'm experiencing with both setups is the keyboard/mouse lags. When connected through the dock, my Microsoft wireless keyboard/mouse combo lags quite a bit and I'm not able to use it that way. I've had to revert back to plugging that directly into the laptop, which sort of defeats the purpose of the dock as I now have zero available USB ports on my laptop. If anyone has a solution for this it would be greatly appreciated!
Comment
Helpful?
Yes -

0
No -

0
Report
(

3

stars)
Audio quality
I have this dock for more than a year. It works ok. Time to time displaylink software get out date and requires updates. Audio capabilities ( Speak Sound and Mic) are sub par and almost useless. I have to use either laptop's mic or external Bluetooth mic.
Comment
Helpful?
Yes -

0
No -

0
Report
Response from StarTech.com:
Brian, Customer Support
on 11/6/2017 6:10:58 PM
Thanks for sharing your review of our USB3SDOCKHDV. We're very sorry that the audio quality was underwhelming. Did you find this was the case when using the 3.5mm jacks or with the HDMI port as well? We typically find the quality is very respectable so perhaps your docking station is faulty. We would like to help the best we can. Feel free to chat with one of our Technical Advisors at chat.startech.com.
(

4

stars)
Great docking station.
I have purchased five docking station in the past few months. Each one was a plug and play install. Systems work great. There is a small issue with one unit not connecting to the ethernet. I'm sure it's a minor issue and can be easily corrected when I have time to get to units location. All in all, if I need more units I will be ordering them from you guys.
Comment
Helpful?
Yes -

0
No -

0
Report
(

3

stars)
Very nice when it works..
have problems to connect to my external monitors often. Had it for a few years and tried to update drivers etc but not working as it should.
Comment
Helpful?
Yes -

1
No -

0
Report
(

5

stars)
Works Seemlessly
By:
Catherine
on

03/16/2015
My first experience with Startech was using their 2.0 USB docking station, which caused problems when trying fix the external monitor resolution. I had gone back to Startech and got support from their online help team, who has always been great in handling my questions. They were able to identify a resolution compatibility issue and suggested using the new 3.0 dock. I went along with the suggestion and tried the 3.0 USB dock..... and it is working great! It's been working for about a month now, no problems with resolution, no problems with connecting all the other various peripheries for the work station. I would highly recommend this dock to anyone looking for a simple, and sleek solution to their office or home working station. Next time I need a docking station, I will be getting this one from Startech as it is working perfectly!
Comment
Helpful?
Yes -

12
No -

6
Report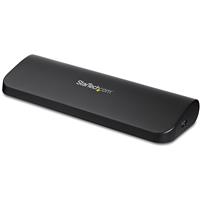 Dual-Monitor USB 3.0 Docking Station with HDMI & DVI/VGA
Product ID: USB3SDOCKHDV