StarTech.com
Dual 4K Monitor Thunderbolt 3 Dock with 3x USB 3.0 Ports
Laptop Docking Station | Mac & Windows® | USB-C to DP Cable | 85W PD
Connect dual UHD 4K monitors (DisplayPort and Thunderbolt 3 USB-C) to your MacBook Pro or Windows Thunderbolt 3 laptop
Easy to set up and ready to go with no driver installation required
Connect your USB devices with 3x USB 3.0 ports - 1x USB-C and 2x USB-A (including 1x Fast-Charge)
View More
Power and charge your laptop with Power Delivery 2.0 (up to 85W)
Add wired network connectivity with the Gigabit Ethernet RJ45 port
For easy setup, a 6 ft./1.8 m USB-C to DP cable is included
Same Day Shipping
on in-stock items from USA if ordered by 5pm ET*
Details
* Product appearance and specifications are subject to change without notice.
* Same day shipping is only available for orders shipping within the United States.
Dual 4K Monitor Thunderbolt 3 Dock with 3x USB 3.0 Ports
Customer Reviews
3.3

(

10

reviews)


3.3

out of 5 stars
Tell us what you think of this product.

Need a little help getting started? Check out our review guidelines.
(

3

stars)
Mostly good, but problem with ethernet
Use this with MacBook Pro 13 (2018 model). Everything works nicely except for ethernet. I get to choose Thunderbolt Ethernet on the Mac but do not get any IP nor can us it by assigning my own IP. My switch sees the device, and the hardware handshake is OK. (green light on) If I put an Apple USB->Ethernet dongle in the USB-port on the Dock the same ethernet-cable immediatly work on that connection. But on the internal ethernet on the Dock it does not. Mac OS High Sierra 10.13.6
Comment
Helpful?
Yes -

0
No -

0
Report
Response from StarTech.com:
Sam, Customer Support
on 11/30/2018 4:00:15 PM
Thank you for your feedback on TB3DK2DPPD. We apologize for the issues you've had with it and appreciate the troubleshooting you've done so far. We recommend reaching out to our Technical Advisors at www.startech.com/support for troubleshooting assistance to get everything working as it should be. We're available 24 hours a day, 5 days a week, to provide support.
(

1

star)
Does not work with Macbook Pro 15 Mojave
By:
rraheja
on

10/18/2018
Got it to connect to a Dell Displayport to my Macbook pro 15 running the latest Mojave OS. The power via USB-C works great. Unfortunately, nothing else does. The USB-C to Displayport is not recognized at all - the Macbook gives an error that the thunderbolt device is not supported. My display also has an HDMI in, so I used Apple original HDMI-USB-C adapter and still the same error. I then connect the display directly to the Macbook and it works flawlessly, including sending the power through the Apple adapter. So at this time, the dock is acting as a super-expensive power supply!
Comment
Helpful?
Yes -

0
No -

0
Report
Response from StarTech.com:
Brian, Customer Support
on 10/19/2018 10:14:12 AM
Thanks for sharing this feedback. We're sorry our docking station hasn't worked well and we'd like to help. We'd like to know more about your configuration so we can closer look into the issue you are seeing. Specifically which year your MacBook Pro is from. We have free Technical Support ready 24 hours, 5 days a week, should you encounter any problems. We can even arrange a remote support session to look at the issue along with you. To contact our Technical Support team, please click on Support at the top of this web page.
(

1

star)
Power Supply is VERY noisy
By:
jbrewer9811
on

07/02/2018
Had this unit for a few months and all was well until I networked it with a few other computers in my studio. AWFUL noise and static/crackles/whining coming through my audio monitors. Started trouble shooting to narrow down the culprit and its the cheap power supply on this dock. If I switch to the supplied Apple power supply, all is golden but I have to plug all my devices straight into the MacBook Pro which defeats the purpose of the dock. If anyone has any ideas how to fix this PLEASE enlighten me!
Comment
Helpful?
Yes -

1
No -

1
Report
Response from StarTech.com:
Malcolm, Customer Support
on 7/3/2018 11:22:48 AM
We apologize for the issue you're experiencing with the TB3DK2DPPD and power adapter in your setup, and would like to look into this further. I've reached out by email, so we can gather more details and work towards a solution.
(

4

stars)
Best one out there, but...
By:
EvanF18
on

04/10/2018
I bought this to use with my Macbook Pro 15, 2017. After reading the issues that primarily involved (Windows) drivers and cabling, I paired it with a Nekteck TB3 cable to the dock, and a Club3d CAC-1066 DP cable to a ThinkVision L27q (4k, 60Hz). Plus a Cat6 cable and a Logitech wireless USB receiver. Audio jacks are recognized and work fine. Can't speak to dual displays, but if you do, watch what HDMI port you use on your monitor, not all of them support 4k60Hz. (Ran into that with a Samsung 4k monitor + Radeon Pro card.) Here's my gripe, and I'm not sure where the breakdown is: The USB 3.0 ports on the monitor do not work unless the monitor is driven by the USB 3.0 connection, not DP. When both DP and USB cables are connected, the MBP thinks there are three displays, even though I only have one selected (obviously). Maybe its a firmware issue with the L27u, maybe the Dock, maybe the MBP. Not sure. This means that I can't plug in my factory USB soundbar, the Logitech receiver, or anything else into the 4 USB ports on the monitor. And since there's only 2 USB 2.0 ports on the dock, it limits the number of devices I can use at once. Just something to think about, but overall its a very good dock. Looks great on my desk too!
Comment
Helpful?
Yes -

2
No -

0
Report
(

4

stars)
Love this little thing!
Use it mainly with my Macbook. Tested with a friend's Dell. In both cases, it just worked. Small, flat, hardly noticable. Feeds power through just fine, drives 4k via DP without an issue. Added 2nd HDMI monitor via adapter cable, and that was no issue either! Sometimes on the Macbook, after coming out of sleep, I need to disconnect the dock and reconnect, and then all is well. But it's not consistent, and not frequent. What I'd like to see is Mac compatible docks that have an option in the driver to tell OSX to disable/dim the built-in screen. But that's a wishlist, not a fault of this little beastie. Power pass through is appreciated, as I can leave my adapter in the bag, drop the computer on the desk and connect ONE cable. Would like to see an additional USB-C and USB-A on the front of the dock, as I tend to connect a thumb-drive and charge my phone, but I can work around that. Just a 'nice to have'. If there was a way to make this backward compatible with TB2... THEN it would be perfect. :) Overall though, SOLID build, decent port placement, great size, and near flawless performance (other than the reconnect/sleep thing I mentioned). I received this product in exchange for an unbiased review. And have already purchased an additional one for the Mrs.!!
Comment
Helpful?
Yes -

3
No -

4
Report
(

2

stars)
Makes me appreciate my Mac
By:
CJ Chicago
on

10/08/2017
Purchased to work with my HP Spectra x360 15in 2017. It does not work with two monitors out of the box with the supplied drivers. Windows 10 Pro 64 is up-to-date, computer is up-to-date with all Intel and HP updates.. I am waiting for a reply from technical support. Everything works perfectly when I plug in my Mac. So I know it is not a cable issue. It is my Windows 10 work computer I need it for. It works with 1 monitor attached. I can get two external monitors to work if I plug one into the computer's HDMI port, but that is not why I purchased it.
Comment
Helpful?
Yes -

0
No -

0
Report
Response from StarTech.com:
Malcolm, Customer Support
on 10/9/2017 4:27:08 PM
Thanks for sharing your experience with us. We hope we can help. In order for two monitors to work, one needs to be connected to the DisplayPort port on the back of the dock, and the other to the Thunderbolt 3 (Type-C) port also on the BACK of the dock (beside the DP port). The Type-C port on the front of the dock is data-only and cannot be used for a monitor connection. We have also replied to your support email with some further questions. We also have Technical Support Advisors available 24 hours, 5 days a week for live support by chat or phone.
(

5

stars)
Amazing for Mac. *Verify your PC Hardware*
By:
Andrew11
on

09/15/2017
This docking station is just what I've been waiting for, something to free up my AC adapter and allow a one-cable connection for everything. While it didn't work for my USB-C equipped Ultrabook (make sure your hardware has a Thunderbolt3 controller; if it doesn't, then all you will get is power) it worked flawlessly with my MacBook Pro, no drivers to install, no issues whatsoever! Construction is what I've come to expect; solid and well built, connectors are sturdy and there is a generous power supply with all the international plug ends. My only comment would be that there are no power lights; not on the Power brick or the dock itself. But that is far from a complaint. This thing is awesome. I received this product in exchange for an unbiased review
Comment
Helpful?
Yes -

0
No -

0
Report
(

4

stars)
Solid Build and Nice Looking Device
By:
NickD_CA25
on

09/14/2017
I have used this docking station for a few weeks with just my Lenovo T470 laptop and it works very well. I have attempted to connect other devices (that don't have Thunderbolt 3) but none of them work. The dock comes in a box about the size and weight of a brick. It was much heavier than I expected. Both the dock itself and the large power supply are equally heavy. The dock is made of medal and is very study and nicely built. The doc is about the same size as a large laptop power brick, which it comes with to power itself and the host device. I very much like the look of this dock on my desk. It has both a USB-C and USB-A 3.0 port on the front as well on the back it has these two ports again plus network, display port and headphone out then power, microphone and USB-C in. The doc connects very quickly when Windows has started. Only a couple of seconds and everything is working great. The docking station was able to keep my computer charged without any problem. My complaint with this product is it pretty much doesn't work with anything that does not have Thunderbolt 3. I tried using it with many other USB-C devices but nothing would work (charging, display, USB or network). I can get all of these working with single purpose USB-C adaptors but not this dock. This docking station does a very good job and looks very nice. It will likely replace every docking station in my office at some point in the future once all laptops support Thunderbolt 3. I received this product in exchange for an unbiased review.
Comment
Helpful?
Yes -

0
No -

0
Report
(

4

stars)
Power delivery dock all in one!
I needed a dock instead of unplugging and plugging back in the cables everytime I needed to take my notebook with. This Thunderbolt dual 4k docking station from StarTech has surpassed my expectations. The quality metal build and compact size is just what I was looking for. The grey color also matches the Apple MacBook. I received this product in exchange for an unbiased review."
Comment
Helpful?
Yes -

0
No -

0
Report
(

5

stars)
Nice solidly built thunderbolt 3 Docking station
By:
macphoto197000
on

09/10/2017
What a great little dock! So the first thing you will notice that that this dock has some weight to it. I have tried some competitors docks before and some are much lighter. Now I prefer the fact that this has some weight and I found it helped to keep all the cables etc where I want them and not where the cables wanted to go. This dock offers multiple thunderbolt 3 ports, Displayport, Usb-3.0, ethernet and audio in/out along with power delivery. I tested this with my MacBook pro and found it worked like a charm. I tested with my external monitor and had no issues at all. Now I could not test at 4k as my monitor does not support it. But at 1080P this unit worked perfectly. This is a great options for people who want to leave all the cables hooked up and just plug the laptop in and off we go! I would recommend this unit to anyone looking for a well built and solid dock. Far better then most of the competition. "I received this product in exchange for an unbiased review"
Comment
Helpful?
Yes -

0
No -

0
Report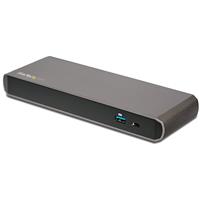 Dual 4K Monitor Thunderbolt 3 Dock with 3x USB 3.0 Ports
Product ID: TB3DK2DPPD