StarTech.com
Dual-4K Docking Station with 6 x USB 3.0 Ports
Laptop Docking Station | Mac & Windows® | DisplayPort & HDMI | 4K 60 Hz
Connect your Mac or Windows laptop to dual-4K 60Hz monitors (2x DisplayPort, 2x HDMI, HDMI + DP)
DisplayLink certified DL 6950 chipset supports both USB-C and USB-A port equipped PC laptops
Connect more USB devices with 6 x USB 3.0 (Type-A) ports
View More
Add wired network connectivity with the Gigabit Ethernet RJ45 port
Multiple audio connections with separate 3.5 mm headphone and mic input audio jack ports
Same Day Shipping
on in-stock items from USA if ordered by 5pm ET*
Details
* Product appearance and specifications are subject to change without notice.
* Same day shipping is only available for orders shipping within the United States.
Dual-4K Docking Station with 6 x USB 3.0 Ports
Customer Reviews
4.4

(

7

reviews)


4.4

out of 5 stars
Tell us what you think of this product.

Need a little help getting started? Check out our review guidelines.
(

4

stars)
Great, you don't need anything more, except...
By:
bebedotno
on

08/08/2019
How come you didn't added charging and SD card into this device - otherwise it's the perfect adapter for the Mac Book Pro! Works great with my Lacie disks Works great with two 4K LG screens (3840x2160 60Hz) Mouse and Keyboard (I prefer the wired mouse)
Comment
Helpful?
Yes -

0
No -

0
Report
(

4

stars)
Lots of ports and just works!
By:
Nick_107
on

06/11/2018
Small, lots of ports, sturdy, and worked without me doing anything on both my Dell (Windows), and Macbook. If it worked with Linux, had an extra USB-C port, and delivered power over USB-C, it would be the perfect dock for me! C'mon guys... I need to add an extra USB-C adapter to get power to the Macbook using this dock? Add a second, power-delivering port, and call it a day! Other than power, my only complaint is that the USB-C port that it does have, for connecting a laptop, is on the back. Since I have to switch cables to connect my laptops, and I "mount" my docks towards the back of the desk with other devices in a stack, having to reach behind and swap cables is annoying. If I had this dock on a shared desk, I'd hear about it from the users! Anyway, on to the positive.... Small, sturdy, LOTS of ports (compared to my other USB3 and TB3 docks!), and fast throughput. Connected three different laptops in total, and no driver pause or installs for me (maybe I already have the DisplayLink drivers from before?). Video is flawless at full resolution, I've played games, done some Blender and Photoshop stuff.... So now this dock is part of the mounted stack on my desk! If it delivered power, I'd probably take my TB3 dock out since this works just fine with my Macbook now, and HAS MORE PORTS!!! :)
Comment
Helpful?
Yes -

2
No -

0
Report
(

5

stars)
So many ports!
By:
andrewxs11
on

05/24/2018
This is a really versatile docking station. Depending on what monitors you have, you invariably have to look at adapters for something or other, or you are tied to only using one device. This dock lets you connect different host machines (USB 3.0 or USB-C) to a wide variety of monitors. I was impressed with the 4 USB 3.0 ports in the front, I thought all these ports would make it look crowded, but it's very slick and everything works. I can go between my 2 laptops and connect to everything I need. This would be a great option for Hoteling stations, where people don't all have the same hardware. Setup is very easy and every Win10 machine I've connected finds all the drivers quickly and efficiently. I received this product in exchange for an unbiased review
Comment
Helpful?
Yes -

0
No -

0
Report
(

4

stars)
Universal Dock that Never Lags
By:
NickD_CA47
on

05/18/2018
I have tested this dock using several laptops both with the USB-A and USB-C connections. Each time it took a while to install but performed great afterwards. The dock comes in a box about half the size of a breakfast cereal box lengthwise. The dock is made out of plastic but looks very premium and could be mistaken for metal before touching it. The dock has 6 USB ports, 2 HDMI, 2 DVI, 1 Network and Mic/Speaker ports for audio. To use the dock you need to plug it in using the supplied AC adaptor and have the power switch turned on. The port to connect to a computer is a USB-C port and it comes with both a USB-C to USB-A cable and a USB-C to USB-C cable. When I fist connected this dock to a new computer using USB-C nothing seemed to happen. I waited a bit for installations to occur but none went. After trying a few things, I found that I needed to have my laptop already connected to the internet, then on next connection it downloaded all necessary drivers and was working within minutes. On a different older computer using USB-A cable, I got a message "USB device not recognized". After waiting a couple minutes for the computer to download and install all drivers, it was working without any issues. The displays are very fast through the dock and during my testing I never noticed any lag or choppiness from the displays. Connecting the dock after everything was setup was quick and simple, although I still get the USB error when it's connected but everything seems to work without any issues. This dock is not a Thunderbolt dock so it will not charge your laptop and will install a new USB video card for display output. The computer will need to be connected to power for charging with a separate cable. Little rocky installation but once it got going it works really great. It has lots of ports and performs quickly. I received this product in exchange for an unbiased review.
Comment
Helpful?
Yes -

5
No -

0
Report
(

5

stars)
Excellent Dock!
By:
ShawnO_1
on

05/16/2018
Setup is simple and one can be up and running very quickly. It astounds me that the unit can have so many ports while remaining so compact. The rubber feet grip the desk nicely and with it's small size it is unobtrusive on the desk. Works as expected to power two additional monitors. Disclaimer: I received this product in exchange for an unbiased review.
Comment
Helpful?
Yes -

0
No -

0
Report
(

5

stars)
Excellent Dock
This docking station has all the ports you need for a laptop. It has enough weight and grip that it did not slide around on my desk due to cable weight. I really enjoyed having 6 USB3.0 ports.
Comment
Helpful?
Yes -

0
No -

0
Report
(

4

stars)
Great features, and well built
By:
Macphoto1970_5
on

05/13/2018
This is a great docking station for people who want simple and easy connection. This dock is well built and has just enough weight to it to sit firmly on the desk with cables as to not move around too much. I have tried similar docks from other manufactures and this one tends to stay in one place better. I like the simplicity of a simple connection of usb-c or usb 3.0. I had no issues with hookup to my windows based laptop and found everything worked as planned. The monitor resolution and image was great when used and I could see no artifacting at all. I appreciate the ethernet port as so many laptops are dropping this feature but in the office having a solid hard wired connection is always a nice addition. Overall the quality is excellent. I received this product in exchange for an unbiased review
Comment
Helpful?
Yes -

1
No -

0
Report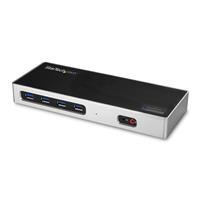 Dual-4K Docking Station with 6 x USB 3.0 Ports
Product ID: DK30A2DH