StarTech.com
Dual Monitor USB 3.0 Docking Station - 6x USB 3.0
Laptop Docking Station | Mac & Windows® | HDMI & DVI | DVI to VGA Adapter
Connects your Mac or Windows laptop to dual monitors: HDMI + DVI, or HDMI + VGA
Connect more USB devices with 6x USB 3.0 (Type-A) ports including 2x Fast-Charge ports
Add wired network connectivity with the Gigabit Ethernet RJ45 port
DVI to VGA adapter included to connect to a legacy VGA display or projector
Same Day Shipping
on in-stock items from USA if ordered by 5pm ET*
Details
* Product appearance and specifications are subject to change without notice.
* Same day shipping is only available for orders shipping within the United States.
Dual Monitor USB 3.0 Docking Station - 6x USB 3.0
Customer Reviews
4.9

(

7

reviews)


4.9

out of 5 stars
Tell us what you think of this product.

Need a little help getting started? Check out our review guidelines.
(

5

stars)
Mobile docking station!
By:
sgto416
on

12/21/2017
The USB 3.0 Dual Monitor Docking Station works great and it has the following ports: DVI-I HDMI 2 * 3.0 A fast-charge 4 * 3.0 A Ethernet GB headphone jack Phenominal for the home office or if you travel to different sites it will give you the ability to setup your workspace in no time. The build of the docking station is extremely sturdy and you can feel the quality when you lift it. I received this product in exchange for an unbiased review.
Comment
Helpful?
Yes -

0
No -

0
Report
(

5

stars)
Plug and play, works great.
I needed a dock that would allow me to use two displays and an Ethernet port and this dock has filled that need plus more. I didn't know it before ordering but having two always on USB ports means I don't have to bring my phone charger with me any more. I just charge it off the USB ports on the dock which was actually surprisingly fast. I've used this dock on my work laptop (Windows 10) in addition to my personal Mac and both times it was as simple as plug and play. Small and lightweight, you can definitely carry this around and use it as a USB hub too. If I had one negative thing to say it would be that the LED indicator light on the front is very dull and hard to see in a lit room. Some people might like that though. I received this product in exchange for an unbiased review.
Comment
Helpful?
Yes -

0
No -

0
Report
(

5

stars)
Great USB3 Docking Station
By:
Andrew11
on

11/10/2017
This docking station met and exceeded my expectations. I have 2 laptops that I use with it, and both set up and performed beautifully. There are more than enough ports for all of my devices and the unit is solidly constructed and heavy enough not to slide around my desk. I was so confident in its performance I once brought it into a conference room when a video adapter was needed, the presenter plugged in and was presenting in seconds, and also charged his phone with the fast-charge USB port! This unit "covers all the bases" with DVI port and VGA adapter, HDMI and 6 USB ports. I received this product in exchange for an unbiased review
Comment
Helpful?
Yes -

0
No -

0
Report
(

5

stars)
The easiest docking station you can use
By:
WG Bill Ryan
on

11/09/2017
I received this in exchange for an impartial review. Admittedly, I wanted it anyway so I hopped on the opportunity. I don't use monitors anymore, I have three large Smart TVS and my laptop monitor. It's an Acer VX15 which bills itself for it's high quality graphics. However to do what I need, I have two additional video cards. It has a USB C port, three USB ports, a HDMI port and a card reader. I travel non-stop and it's a nightmare, a NIGHTMARE, packing up and coming home b/c of all the hubs and all the video displays. To power things, I have extra USB video cards BTW and I run very short on usb ports. It took a minute to unpack this. I laid out my chords, powered it up and had it all set up in under 6 minutes. It was so easy that I'm sure anyone, without the instructions, could figure it out and do it well without any effort. However it's very well suited to people that travel a lot or have to take their laptops or tablets with them. Ok, so 1, 1 USB port is all it takes to power all of this. It took one port, gave me 6 USB ports, gave me another HDMI Port and runs USB 3.0. Only complaint is that it's very compact so the usb ports are a little tight, but honestly, it verges on a 'good problem'. I can't pretend I'm not overly fond of StartTech b/c of the luck I've had with their other items (In fact, I use two other StartTech products to power this setup). But it's saved me a good 10 minutes of packing time and 15 of unpacking time. And when I have to unpack, plugging in one chord instead of going through the whole ritual (and literally, it used to be a ritual to pack and unpack) is just divine. Well done. It runs a little hot sometimes, nothing much. And I didn't mention, you don't get the 'weak power' note when you are charging with it, b/c it is a charging station. Yes, it's that good.
Comment
Helpful?
Yes -

0
No -

0
Report
(

4

stars)
Universal Dock with Lots of Ports
By:
NickD_CA32
on

11/07/2017
I have been testing using this docking station as the primary dock for my laptop at work for the past few weeks and it has been working well. The docking station comes in a box about half the height of a shoe box. It felt heavier than I expected in the box, however once I removed it the weight was all in the AC adaptor and not the dock itself. The dock has 6 USB ports (2 on the front and 4 on the back), HDMI port and DVI port (the DVI port does both analog VGA and normal digital DVI), headphone jack and Ethernet jack. There is no microphone port and as the dock uses USB-A 3.0, it requires my laptop to be connected separately to a charger. The dock includes the DVI to VGA adaptor as well as multiple ends for the power cord to use in different countries. The power cord ends can all be inserted at 90 degrees so the AC adaptor can be plugged into the wall or power bar in different directions. When I connected the dock it for the first time it didn't seem to do anything then after 15 seconds or so I got a notice that the USB device I connected was not recognized. I went to the StarTech website to download the drivers for the dock, however before they finished downloading everything seemed to be working. The next time I re-connected the dock the warning still came up so I installed the drivers. This didn't seem to help as I kept getting the same warning. A few days later the warnings stopped coming up. I also noticed that the USB ports are extremely tight to the point I thought I was breaking something when inserting them, but they work fine once you force a USB plug in. The dock works great, nice and quick after the first day or two with it. I dislike the HDMI port as I can't find any "office" computer monitors with such a connector, but I can get an adaptor for this. I have not been able to make this dock slow down, it just work fast. I received this product in exchange for an unbiased review.
Comment
Helpful?
Yes -

0
No -

0
Report
(

5

stars)
Most Excellent Docking (USB 3.0) Station
By:
wizzard
on

11/07/2017
This has become part of my essential computer tools and is used daily and I am loving it. It will work on any computer with a USB 3.0 port. It is well made. It comes with power adapters for difference countries, a USB 3.0 cable to connect to your computer, a manual, and a VGA to DVI adapter. It has Display Link drivers available for Windows and Mac (beta drivers also work in High Sierra). All work well. I have not tested any 4K display devices so can not comment on this or workability of this. This docking station provides all the essentials of USB ports (4 on back, 2 on front) as well as HDMI, DVI (via to dvi with included adapter), gig ethernet. 1 port on the front and 1 port on the back can be used to charge USB devices even when the docking station is not plugged into a computer, while the other ports are available when plugged into a USB 3.0 port. Stepping down from USB 3.0 to USB 2.0 may cause performance issues and non working of some USB devices due to speed differences. Well made and truly functional docking station and I, for one, will not part with it. This has been tested primarily on a MAC (under High Sierra) but has also been tested on Windows 10. Note: I received this product in exchange for an unbiased review.
Comment
Helpful?
Yes -

0
No -

0
Report
(

5

stars)
A Great Dual Monitor Docking Station
By:
JHR63589
on

10/26/2017
I have been in the AV/IT Integration space for over 30 years. I found this unit easy to setup and use on my Dell, HP and Toshiba Laptops. The unit installs quickly and is compatible with a variety of operating systems, which I tested. There was no tearing of the video or audio sync issues during my testing. It was easy to set up dual displays by connecting to one HDMI and one DVI monitor. Plus, the dock includes a DVI to VGA adapter, so you can connect your VGA monitor in place of a DVI monitor. Overall, I found the unit to be reliable, easy to use and of high quality. What is Included: 1- Docking Station 1- USB 3.0 Cable 1- DVI to VGA Adapter 1- Universal Power Adapter 1- Quick Start Guide Note: "I received this product in exchange for an unbiased review."
Comment
Helpful?
Yes -

0
No -

0
Report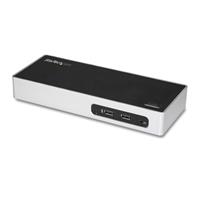 Dual Monitor USB 3.0 Docking Station - 6x USB 3.0
Product ID: DK30ADD