StarTech.com
USB Stereo Audio Adapter External Sound Card with SPDIF Digital Audio and Stereo Mic
Add an SPDIF digital audio output and standard 3.5mm audio/microphone connections to your system through USB
96KHz / 24-bit Hi-Fi USB Audio
S/PDIF digital output with AC3 (Dolby Digital) and DTS pass-through support
5.1 Surround Sound supported (Windows® only)
View More
3.5mm headphone/microphone ports
4 position TRRS headset with Mic supported
Hardware volume knob and Bass/Treble boost EQ switch
LED sample rate indicators
16in attached USB cable
Same Day Shipping
on in-stock items from USA if ordered by 5pm ET*
Details
* Product appearance and specifications are subject to change without notice.
* Same day shipping is only available for orders shipping within the United States.
USB Stereo Audio Adapter External Sound Card with SPDIF Digital Audio and Stereo Mic
Customer Reviews
4.8

(

11

reviews)


4.8

out of 5 stars
Tell us what you think of this product.

Need a little help getting started? Check out our review guidelines.
(

5

stars)
Works great with Win 10
By:
Impressed
on

11/28/2019
Have 2 of these, Microsoft for same reason made installation is tad fiddly - its pnp & then reboot to install correct drivers. USB Advanced Audio Device and USB PnP Sound device If you use portable Kodi you also need to select correct device after reboot.
Comment
Helpful?
Yes -

0
No -

1
Report
(

5

stars)
Excellent Card
By:
orion39
on

10/20/2019
I bought this card recently from Amazon. It resolved 2 problems that I was having with my integrated sound card. Music playback was fine with my integrated sound card, but the volume for internet news broadcast was low. Then I had to turn my volume up high and I had a problem with hum. This card resolved both problems. I would say that my volume for the internet new has been doubled. Also, StarTech has many unique components. Their assistance when inquiring about products, is outstanding.
Comment
Helpful?
Yes -

0
No -

0
Report
(

5

stars)
Works with macOS Mojave and macOS Catalina Beta!
By:
candotude
on

08/29/2019
For those trying to get optical 5.1 surround sound out of your newer Mac, this is the sound card to buy! I recently replaced my older 2011 iMac and the only thing I missed about the old computer was the built-in 3.5mm analog/digital output that supported encoded Dolby AC3/DTS 5.1 surround sound passthrough. To avoid changing out my old receiver, which still provides great surround sound, I needed an optical TOSLINK SPDIF output to play my iTunes movies. I just had to select "Prefer AC3 Passthrough" as the output in iTunes or the new Apple TV app in macOS Catalina Beta.
Comment
Helpful?
Yes -

0
No -

0
Report
(

5

stars)
Works on MacOS 10.14 Mojave!
By:
Roman Court
on

06/08/2019
Connect and choose "USB Advanced Audio Device," then "Encoded Digital Audio" for AC3 output from iTunes. No apparent Safari (Plex, etc.) support, YET.
Comment
Helpful?
Yes -

2
No -

0
Report
Response from StarTech.com:
Matt, Customer Support
on 7/12/2019 10:51:51 AM
We only officially support the ICUSBAUDIO2D up to Mac OS 10.8 currently, since functionality is limited on later versions
(

5

stars)
Easy to install, works very well
My internal sound card died, and I decided to give this a try. The first thing I noticed was the headphones that seemed to have no bass were great. Plenty of volume. Software for customizing more would be nice, but for the quality it produces is not really needed.
Comment
Helpful?
Yes -

0
No -

0
Report
(

5

stars)
Small with Big Features!
This is a very small (it surprised me, I thought it would be a lot bigger) external USB sound card with lets you have great sound for both headphones and for normal cheap microphones (more so than if you connect them to your microphone in on your motherboard sound card (or any internal sound cards I've ever tried). If you need great sound for your PC or laptop and you're on a budget (and even if you're not on a budget), this is the one for you.
Comment
Helpful?
Yes -

0
No -

0
Report
(

5

stars)
Best sub-$100 home theater/stereo investment ever
By:
Bumpin it
on

11/05/2017
I run a tri-amp system that predominantly plays all channel stereo from my .flac library. I am most definitely an audiophile and there is certainly a SQ improvement using this device. I have a 3.5mm spdif to optical audio hooked straight to amp 1 as opposed to laptop media port (? Is that what it's called) to HDMI to TV then optical out to amp 1. I recommend setting the main volume to 85% player at 100% then adjust amps from there. Last night I set up Dolby Atmos for headphones free trial plugin, enabled 7.1 virtual surround and hooked my velodyne cans to this device. I was blown away with the AC3-encoded Valerian and the city of 1000 planets swarming around the headphones. Top notch product, startech. Hurry up and make an android app/plugin so I can enjoy my .flacs on my LG g5 with neutron! Also, send me some devices to review on my blog. You guys rock!
Comment
Helpful?
Yes -

1
No -

0
Report
(

5

stars)
Works great!
I had trouble getting it to work with Windows 10 Pro x64, but after using chat in StarTech support, the tech used a remote admin program that worked better than TeamViewer 12 (which I use often to help friends). The whole ordeal, from first contact to end was less than 10 minutes and it's working great (and no longer generically). I think the problem was that I ran the setup.exe file in the root folder, which failed, then device manager / update driver / point to (again) root with "check subfolders" which usually works for everything, but neither worked. The tech did the dev. mgr / update driver thing, but pointed directly to "Vista x64" instead.. I think it was grabbing an XP driver when I let it choose for itself. If anyone has this problem, try pointing to Vista x64 before calling the tech. Either that or I had a corrupt .zip, although I watched the tech download the very same file I did. Either way, the sound quality is far superior to the MB.. (ASRock Killer Fatal1ty 990FX) which has a pretty decent card built in to begin with. Best $30 I spent in a while. Now to plug in my Audio-Technica HD headphones!
Comment
Helpful?
Yes -

0
No -

0
Report
(

5

stars)
Works as you would expect
By:
exrutruop
on

11/15/2016
I purchased this adapter a month or so ago with the primary goal of getting an optical output out of my Windows 10 PC. It works like a charm. Obviously, I was looking to get high quality output. This too was delivered.
Comment
Helpful?
Yes -

1
No -

0
Report
(

3

stars)
Beware Windows 10 users
By:
Christen314
on

09/05/2016
This seems like a great product but I get an error when I try to install on my windows 10 laptop. Because I cannot install the driver, I have to plug in the device then plug headphones into it in order to hear any sound. Wish they would update for windows 10.
Comment
Helpful?
Yes -

8
No -

2
Report
(

5

stars)
Great Sound Again
By:
jayengee
on

01/18/2016
I had bought two new laptops running Windows 10 both, however, only had a single audio socket for a headset and not proper stereo line inputs. As a result when trying to record my old LP records I would get prominent tick, tick, tick sounds with the music quietly underneath it. I eventually found and ordered a StarTech Stereo Audio USB External Sound Card with SPDIF Digital Audio. After a bit of changing inputs and setting the input as a USB microphone and output as the laptop's normal speakers the sound is perfect again. The search was not easy as I didn't really know what to look for - many USB adapters are not stereo, and this is. I got mine from Span.com as I'm in the UK.
Comment
Helpful?
Yes -

3
No -

1
Report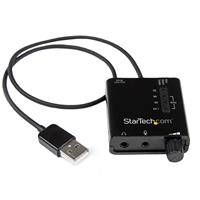 USB Stereo Audio Adapter External Sound Card with SPDIF Digital Audio and Stereo Mic
Product ID: ICUSBAUDIO2D