StarTech.com
4-Port USB 3.1 (10Gbps) Card - 4x USB-A with Two Dedicated Channels - PCIe
Add four USB Type-A ports with two independent 10Gbps channels to your computer, through a PCI Express slot
Provides four external USB 3.1 ports on two independent bus channels
Transfer files and access USB 3.1 devices faster, with up to 10Gbps throughput
Optional LP4 or SATA power connector provides up to 900mA per USB port
View More
Cost-effective backward compatibility
Compliant with UASP (USB Attached SCSI Protocol) Revision 1.0
Compliant with Universal Serial Bus 3.1 Specification Revision 1.0, and Universal Serial Bus Specification Revision 2.0
PCIe x4 interface compliant with PCI Express Base Specification Revision 3.0
Same Day Shipping
on in-stock items from USA if ordered by 5pm ET*
Details
* Product appearance and specifications are subject to change without notice.
* Same day shipping is only available for orders shipping within the United States.
4-Port USB 3.1 (10Gbps) Card - 4x USB-A with Two Dedicated Channels - PCIe
Customer Reviews
3.7

(

6

reviews)


3.7

out of 5 stars
Tell us what you think of this product.

Need a little help getting started? Check out our review guidelines.
(

1

star)
Does not work on Ubuntu 18.04 LTS
By:
Andrew R
on

10/18/2019
This card has problems on the 4.14 Debian kernel. The usb devices do not enumerate. The syslog reports the following message: [ +10.081019] xhci_hcd 0000:03:00.0: Abort failed to stop command ring: -110 [ +0.001749] xhci_hcd 0000:03:00.0: xHCI host controller not responding, assume dead [ +0.000004] xhci_hcd 0000:03:00.0: HC died; cleaning up [ +0.000097] xhci_hcd 0000:03:00.0: Timeout while waiting for setup device command [ +0.414449] usb 3-2.2: device not accepting address 79, error -108 [ +0.000063] usb 3-2-port2: couldn't allocate usb_device This error seems to follow the ASmedia chipset. In contrast, Fresco Logic USB controllers seem to work. I have 3 of these startech cards, and they are totally useless for Ubuntu 18.04 LTS.
Comment
Helpful?
Yes -

0
No -

0
Report
Response from StarTech.com:
Matt, Customer Support
on 10/22/2019 4:00:05 PM
Hello Andrew, We pride ourselves on our high-quality standards and are sorry to hear you had a less than pleasant experience with our PEXUSB314A2V. Unfortunately, this card is currently only supported in LTS versions of Linux from kernel 2.6.x to 4.11.x and it looks like you're using it in kernel 4.14 which may be the reason for the issues you're seeing. We'd be happy to speak with you further regarding this issue to help confirm this or find out what else might be causing the problem. Please feel free to contact us for assistance at www.startech.com/support where our Technical Advisors are available 24 hours a day, 5 days a week to provide support.
(

1

star)
junk
no support for latest linux kernels, and keeps loosig connection
Comment
Helpful?
Yes -

0
No -

1
Report
Response from StarTech.com:
Stefan, StarTech.com Support
on 4/25/2019 1:49:44 PM
Thanks for sharing this feedback. We're sorry our PEXUSB314A2V hasn't worked well, and we'd like to help. We do not expect this behavior as long as a supported kernel of Linux listed on the web page of the card is being used (Linux 3.5 to 4.11.x LTS), so we would like to know more about your configuration so we can look into the issue further and help troubleshoot to get it working! We have Technical Support Advisors ready 24 hours a day, 5 days a week. To reach one, please call 1 800 265 1844 or click the green "Chat Live" button in the top right of the website.
(

5

stars)
Easy to install and does the job
By:
Djluis13
on

01/20/2018
Running out of USB? Well, this product is for you then. This card is an easy product to install just like other Startech installs and great speed. I'm really enjoying to have it instead of the USB 2 and I can do data transfers with a full USB 3.1 speed and boot from one of my external drives as well. I tested with Windows 7, 10 and 2012 and I had no problems. Great work Startech! "I received this product in exchange for an unbiased review"
Comment
Helpful?
Yes -

0
No -

0
Report
(

5

stars)
Probably faster than your internal drives anyway!
Theoretically, this card can pump through the full USB 3.1 speed to your USB3.1 external. If course, you have to have internal storage that can hit 10gbps or 1.25GBps to do that... My USB 3.1 dual MSATA RAID0 device comes close, but still doesn't max this card's ability. My internal storage didn't come close (and I don't have an 8 drive SSD RAID0 to test with (Startech, wanna help a tester out?!?!?) . The drivers worked fine in Windows. Didn't have to do anything in Ubuntu or CentOS, it just worked. No Mac tower to test with. Definitely add the external power to the card if you are using all 4 ports with devices drawing power. Inter-port transfers are faster than any device I had. So essentially, this device removed the USB interface as the bottleneck with storage. :) I received this product in exchange for an unbiased review
Comment
Helpful?
Yes -

0
No -

0
Report
(

5

stars)
Excellent speed easy Windows setup
By:
macphoto_1970
on

08/13/2017
This is a nice little USB 3.1 card for anyone needing to add a high speed card to a tower. I tried this card in 2 different machines under 2 different OS's and had some different results. For Starters I decided to try this in my older Mac Pro and hoped that it would work. I did not .. I should have paid more attention to the requirements as the newer OS's are not supported. which is a shame because this would be a great card in an old mac. However after some experimentation I decided to put this card into a PC and see what it was meant to do. I put this into my custom PC working off on older Z87 chipset and it worked beautifully with very fast speed and great performance. Installation is simple and easy and the driver had no issues. I tested the card with multiple hard drives and dedicated USB 3. drives had a really good performance. Older devices worked as expected. So in conclusion. The card works great in a PC. Not in a mac unless running older outdated software ( new drivers would be awesome for mac!!) but the card itself is good, simple and fast I received this product in exchange for an unbiased review.
Comment
Helpful?
Yes -

1
No -

0
Report
(

5

stars)
Works great!
There isn't much to say other than this product works exactly as you'd expect and no less. It's an excellent purchase to get an additional USB 3.1 ports on a desktop PC. I'm using all four ports with four USB hard drives with no issues and transfers are pretty fast on the USB 3 capable hard drives. I received this product in exchange for an unbiased review.
Comment
Helpful?
Yes -

0
No -

1
Report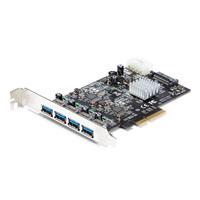 4-Port USB 3.1 (10Gbps) Card - 4x USB-A with Two Dedicated Channels - PCIe
Product ID: PEXUSB314A2V