StarTech.com
10-Port USB 3.0 Hub with Charge and Sync Ports - 2 x 1.5A Ports
Add ten USB 3.0 ports, including two charging downstream ports, to your computer
Boost your system's capabilities and turn one USB 3.0 port into ten
Fast-charge your smartphone or tablet, using two charge-and-sync ports with 1.5A output
Charge a variety of mobile devices, including Apple and Samsung Galaxy devices, with support for USB Battery Charging Specification 1.2
View More
Includes a 48W universal power adapter
Multi-platform compatibility, with no drivers required
Slim and sleek black enclosure
Built-in on/off power button
SuperSpeed USB 3.0 throughput up to 5Gbps
LED indicators for port status
Supports plug-and-play, hot-swap, and hot-plugging
Backward compatible with USB 2.0 and 1.x devices
* Product appearance and specifications are subject to change without notice.
* Same day shipping is only available for orders shipping within the United States.
10-Port USB 3.0 Hub with Charge and Sync Ports - 2 x 1.5A Ports
Customer Reviews
4.2

(

10

reviews)


4.2

out of 5 stars
Tell us what you think of this product.

Need a little help getting started? Check out our review guidelines.
(

5

stars)
By:
JVAZQUEZ
on

10/09/2018
Comment
Helpful?
Yes -

0
No -

0
Report
(

5

stars)
USB ports as far as the eye can see!
By:
ShawnO_11
on

09/17/2018
This hub is a great addition for my cluttered desk. With proper placement and cable management it cleaned up and centralized all my USB cables I previously had running to front, back, and side USB ports. The fast charge ports are clearly marked and accessible and are great for connecting a cell phone or tablet. Though it might not be initially evident, one is able to charge devices with the non-fast charge ports when connecting the hub to a PC, albeit slowly. External power requirements often serve as a deterant for me on products like this with 10 ports and fast charging it is easy to makes this an exception. I received this product in exchange for an unbiased review.
Comment
Helpful?
Yes -

0
No -

0
Report
(

5

stars)
Love it.
You can never have enough USB ports but this comes close. Easy to install and works great. I am not a big fan of having to use an external power source but having 10 usb ports is worth it.
Comment
Helpful?
Yes -

0
No -

0
Report
(

3

stars)
It just works. Best if mounted.
By:
Nick_134
on

09/14/2018
OK, negatives first. --My unit arrived with the rubber feet only on one side, and the hub is really light, so it moved all over the place. The rubber on the two corners WAS slippery too. Replaced all four feet with a bit of non-slide shelf liner. Stays put. --The mounting holes on the back are slotted such that if you mount the hub horizontally with the 8 ports facing down, it will come loose when you plug anything in (I prefer the cords to face down when mounting something like this sideways--so this one is more preference. Now the good: --It just works. The charging ports do exactly as described, and function even if there's no computer connected. --Connected to a computer (which is on), I was able to trickle charge on more than just the 2 "charging" ports, so nice touch there. --Port separation is good, so all ports could be used at one time. --Full speed. :) --Indicator lights being up on the slanted peak is great. Can see them from almost any angle. Oddly enough, this was a standout feature for some reason. I received this product in exchange for an unbiased review.
Comment
Helpful?
Yes -

0
No -

0
Report
(

5

stars)
Mount it!
By:
andrewxs11
on

09/14/2018
This is a great USB hub for people with a lot of USB devices. Whether it's USB memory keys or peripherals, after using it for a week I would highly recommend mounting this on a surface with the 8 USB ports along the edge of that surface. After the 3rd cable, you need to pick up the entire unit to either remove or add devices. Trust me, it gets old fast! On the bottom of the Hub, there are mounting holes for screws (which are not included, 5mm screw-heads fit great, about 2-3mm gap from the surface) or, some good thick 2-sided tape. A little planning will go a long way to ensuring that whatever you're charging, copying or syncing will be done in a very efficient and (non-cable-tangled) way! I received this product in exchange for an unbiased review
Comment
Helpful?
Yes -

0
No -

0
Report
(

5

stars)
Aewsome USB 3.0 Hub
Well my prayers have been answered. This is the an uber usb 3.0 hub / charger. I run mostly on laptops that have few usb ports of any kind. Now I can connect up to 10 USB devices as well as being able to full charge on 2 of them. This device needs to be plugged in, no device drivers need to be installed on windows or mac for it to work - just needs power for full functionality as the USB 3.0 does not provide enough power to support the full functionality. Right now I have charging 2 phones (iPhone and android), and have 5 usb devices plugged in. My computer has never been so happy. I am using a variety of usb devices and adapter based on SD, microsd, etc. I have used USB hard drives as well without issue. Conveniently this device comes with a soft power switch and needs to be plugged in for full functionality. With it's glossy black exterior and blue LED lights to indicate enabled ports, it looks great. Delivery was fast and painless. It comes with international power plug adapters. I found the box it came in could have been a little smaller but no biggee as cardboard is recyclable. I have tested this on Windows 10 and Mac OSX without an glitches or problems. This products comes with StarTech's great 2 year warranty and lifetime tech support. Online manuals as well if you don't like the included manual. All in all, this is the best of the best as far as USB 3.0 hubs go. I will never go wanting for a place to plug in a USB device. Well done. I received this product in exchange for an unbiased review.
Comment
Helpful?
Yes -

0
No -

0
Report
(

4

stars)
Nice 10 port docking station
By:
macphot01970_82
on

09/02/2018
Overall i found this product does what it is intended to do. I was happy that Startech had included wrapped around the unit a "read before use" to explain the Fast charge functions otherwise I really would not have understood the meaning or how it functions. Good work Startech for explaining this!! The dock works well and I had no connection issues at all it works pretty flawlessly. My only complaint is i find this hub too light. I find light hubs and docks move too much when you plug in cables. The dock ends up moving by the force on the cables. I want the dock to stay in one place and the cables to be moved. A little more weight to the dock and it would stay in one place. Overall can't complain about function. I received this in exchange for an unbiased review.
Comment
Helpful?
Yes -

0
No -

0
Report
(

4

stars)
USB 3.0 hub
The USB 3.0 give the speed and flexibility with 10 ports to charge phones, iPads, and other devices. The build quality is excellent and packaging to help describe contents is always a plus. Also smaller than I thought is always a bonus.
Comment
Helpful?
Yes -

0
No -

0
Report
(

5

stars)
Excellent USB Charger and Sync
By:
hubj8752
on

08/19/2018
I have been in the AV/IT Integration space for over 30 years. I found this unit easy to setup and use on my Microsoft, Android and Apple devices. This unit has the ability to simultaneously fast-charge up to ten mobile devices. The unit supports various small and large devices (1.5A). The unit installs quickly with no additional drivers or software required, and is compatible with a variety of operating systems, which I tested. The syncing feature worked flawlessly on both my Windows devices and Apple Devices. A great unit for both home and office. I would love to see an smaller automobile version of this product. What is Included: 1 - 10-port USB 3.0 hub with charge & sync ports 1 - USB 3.0 host cable [80 cm/31.5 in.] 1 - universal power adapter 4 - universal power adapter (NA/JP, UK, EU, ANZ) Note: "I received this product in exchange for an unbiased review."
Comment
Helpful?
Yes -

0
No -

0
Report
(

1

star)
*
I Bought this 10 port hub on Amazon, hooked up an external hard drive, I could not get all the files and folder to copy to my external drive for backup many of them were missing this is very disastrous for me. any solutions?
Comment
Helpful?
Yes -

0
No -

0
Report
Response from StarTech.com:
Malcolm, Customer Support
on 7/3/2018 5:08:43 PM
We apologize for this odd behaviour you've experienced with our ST103008U2C and want to look into it further with you. I've reached out directly by email and can troubleshoot with you there.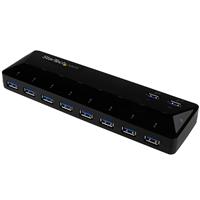 10-Port USB 3.0 Hub with Charge and Sync Ports - 2 x 1.5A Ports
Product ID: ST103008U2C