Can't find the product you need? Our support team is standing by to help you find the right solution or recommend replacement products. Click
here
for live chat.
StarTech.com
Dual M.2 SATA Adapter with RAID
Install two M.2 SSDs into a 2.5" bay to create high-performance storage with configurable RAID
Install two M.2 NGFF SSDs into a single 2.5" SATA bay and build a powerful RAID array
Supports RAID 0, RAID 1, spanning, or JBOD
Add M.2 SSD performance to any computer system by converting M.2 to SATA
View More
Protect your M.2 (NGFF) SSDs in any 2.5in application with enclosed housing
Supports TRIM to help ensure stable performance of your M.2 SSDs
Supports SATA I/II/III (up to 6Gbps)
2.5in SATA form factor housing
Broad compatibility with support for the most common SATA M.2 SSDs (2230, 2242, 2260, 2280)
Not compatible with M.2 NVMe or AHCI PCI-Express SSDs
* Product appearance and specifications are subject to change without notice.
* Same day shipping is only available for orders shipping within the United States.
Dual M.2 SATA Adapter with RAID
Customer Reviews
3.1

(

7

reviews)


3.1

out of 5 stars
Tell us what you think of this product.

Need a little help getting started? Check out our review guidelines.
(

2

stars)
Could of been great
By:
Henmarty
on

06/19/2019
I bought this for the sole purpose of running in an external caddy to be ran in jbod mode thinking that i could run drive 1 as an enterprise windows to go drive and to have drive 2 configured with microsoft deployment toolkit with other winpe based tools such a shame this is not possible as this would of been an otherwise excellent product such a shame
Comment
Helpful?
Yes -

0
No -

0
Report
Response from StarTech.com:
Matt, Customer Support
on 6/24/2019 11:08:09 AM
We're sorry to hear our 25S22M2NGFFR was not suitable for your setup. For this enclosure to work in JBOD mode, the SATA controller that It's connected to must support Port Multiplier otherwise only one or neither drive will show up. Most external enclosures are designed to use a single drive so they will not have Port Multiplier support.
(

3

stars)
Good for Linux and Windows
By:
RootAlex
on

01/08/2019
This device is good for Windows or Linux computers but for Macintosh it is awful, I bought one and did the raid 0 on two Toshiba 128 gb with APFS and got and average sequential read speed of 8~9mb and 234mb write. But on my Windows I did get read speed of 1400mb and write 240mb.
Comment
Helpful?
Yes -

3
No -

0
Report
(

1

star)
JBOD mode just doesn't work
By:
Pablomep
on

11/15/2018
I was so interested in using two different size, different manufacturer M.2 SSD's in my one SSD slot laptop. I thought it was just plug-and-play, but the second SSD never appeared listed in a windows installation session, even using DISKPART. So I thought it was a configure-first issue, and bought a SATA to USB adapter. Only a waste of money. The device can be configured and seen as SPAN (one large drive made of the sum of the two physical drives) or as individual drives if they're alone in any of the slots, but as soon as they're put together and configured in JBOD mode, only the drive connected in the slot #1 is viewed by the OS. Such dissapointing and a waste of time and money. Bought some time ago, I don't think I can return it
Comment
Helpful?
Yes -

2
No -

2
Report
Response from StarTech.com:
Sam, Customer Support
on 11/16/2018 11:59:31 AM
Thank you for your feedback on 25S22M2NGFFR. We apologize that JBOD isn't working for you and want to help. Connecting multiple independent drives over a single SATA connection requires Port Multiplier. If the host SATA port you're connecting 25S22M2NGFFR to doesn't feature Port Multiplier, it will only be able to see a single drive in the enclosure. If you need a SATA controller which features Port Multiplier, we recommend an add-on card such as our PEXSAT32.
(

5

stars)
Excellent
By:
1nivek1
on

07/18/2017
This is an excellent device that was easy to setup. It even came with a small screw driver. I replaced my hard drive in my laptop with it and immediately noticed a significant increase in speeds.
Comment
Helpful?
Yes -

0
No -

0
Report
(

5

stars)
Great for M.2 Upgrades
By:
Andrew11
on

07/14/2017
I always thought that upgrading a laptop with an M.2 drive would be a long way off, but it seems like you blink and it's time! Now I don't have to worry about what to do with that smaller drive, I can hand-me-down to another machine with a standard SATA bay. The adapter itself is very well designed and equipped; you can put any physical size 'drive' into either of the 2 slots, and it feels very sturdy and secure. I didn't bother with the RAID ability since 2 drives suit me just fine, but it's good to know it's there available down the road! I received this product in exchange for an unbiased review
Comment
Helpful?
Yes -

0
No -

0
Report
(

5

stars)
Good adapter - Nice option for older system
By:
Macphoto
on

07/13/2017
Used this adapter in a fairly new Lenovo computer and found that the speed gains were impressive. This adapter is easy to use. This is partially because it is hard to mess us M.2 installs as they only fit one way. I set the jumpers to span as for this purpose I just wanted one big drive out of the 2 I installed. Everything went without a problem and I was running very quickly. Overall this is a good adapter
Comment
Helpful?
Yes -

1
No -

0
Report
(

1

star)
Seems like a good idea
By:
Julio2r
on

07/25/2016
I bought this adapter in hopes to utilize the sata m.2 drives that I had ordered instead of the pcie version. The idea seems like a good one, other than the fact you RAID 0 (2) M.2 drives capable of speeds of up to 540 MB/s and sequential write speeds of up to 500 MB/s to be bottle necked into a 600 MB/s interface? Why RAID for that sliver of performance? The drive seems extremely unstable in my laptop, not sure if it is jostling of being transported about or what ,but I'm having issues maintaining my data on it. I've had the laptop refuse to boot on 2 separate occasions do to "hardware issues", i.e. the drives moving around in their allotted slots or dropping of the partitions all together. Finding it difficult to justify this very expensive set up.
Comment
Helpful?
Yes -

4
No -

11
Report
Response from StarTech.com:
Barry, Customer Support
on 7/28/2016 4:16:33 PM
Hello, Thank you for reviewing our 25S22M2NGFFR adapter with RAID. We would like to offer some assistance. You are correct the maximum throughput supported by a SATA III interface is 600MB/s, and it does limit the advantage of using two fast SSDs in RAID 0 over a single SATA III connection. This unfortunately is a limitation of the SATA III standard. The enclosure does also support other RAID modes, including RAID 1 (mirrored), JBOD (Just a Bunch of Disks), and BIG (Spanning or Concatenation). The intermittent issue you're seeing with the drive disconnecting is certainly not expected behaviour. Are both of the M.2 drives securely screwed into the enclosure, using the posts at the correct length for the specific SSDs you're using? Also, is there extra space in your laptop's drive bay that would allow the whole 25S22M2NGFFR to move around and possibly disconnect? We hope this has been helpful. In the event you need further assistance, please do not hesitate to contact support directly using any of the options available on the Support page linked above. Thank you, Customer Support
TRIM command does not pass through to connected SSDs in RAID 0. What is the point of splitting the interface into two SSDs without TRIM. Performance will be poor as times go.
Helpful?
Yes -

0
No -

0
Report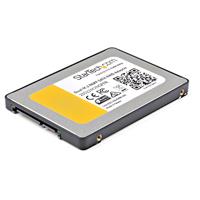 Dual M.2 SATA Adapter with RAID
Product ID: 25S22M2NGFFR