StarTech.com
Dual-Bay 2.5" to 3.5" SATA Hard Drive Adapter Enclosure with RAID
Install two 2.5" SATA drives into a 3.5" drive bay and get increased performance or data redundancy with RAID
Upgrade your system performance by installing two 2.5" SSDs/HDDS in a 3.5" drive bay
Features hardware RAID - RAID 0, 1 plus JBOD and spanning to enhance drive performance or add redundancy
Installs easily into internal or external 3.5" drive bays
View More
Supports SATA I, II and III (up to 6Gbps)
TRIM support for stable performance
Durable aluminum housing
* Product appearance and specifications are subject to change without notice.
* Same day shipping is only available for orders shipping within the United States.
Dual-Bay 2.5" to 3.5" SATA Hard Drive Adapter Enclosure with RAID
Customer Reviews
4.3

(

6

reviews)


4.3

out of 5 stars
Tell us what you think of this product.

Need a little help getting started? Check out our review guidelines.
(

3

stars)
No software to indicate disk error in windows
By:
besamsam
on

08/29/2019
I set up a Raid1 to install 2 pcs 1TB HDD for protection. Due to its enclosure is installed inside the PC case. But it doesn't have any software can install in the windows system that can check/indicate the status of the disk and/or warning when HDD error.
Comment
Helpful?
Yes -

0
No -

0
Report
(

5

stars)
Perfect for SSD's
By:
_shamca_
on

03/26/2017
I like the idea of getting 2x240Gb SSD's into the one space my Mac Pro had remaining, to use as storage for Lightroom cache & catalog files. Once I loaded up the drive with 2 SSD's, I selected Raid0 (just wanted to stripe together for more capacity) by setting the slider found on the end of the product. The unit claims to be OS independent and when I plugged it into the mac, there was nothing else to do. Apple's Disk Utility recognized it as a single drive and there was no additional configuration to do to accommodate the raid functionality; it's all handled internally by the unit and no software was required. The unit was well made, came with screws and the mounting holes were in standard locations. I was provided this device for review purposes.
Comment
Helpful?
Yes -

3
No -

0
Report
(

4

stars)
So much in well though of product
By:
NickD_CA8
on

03/18/2017
I have used this hard drive enclosure and it is working well for most of my needs. I have inserted 2.5" SATA disks from multiple manufactures and multiple size for testing. This enclosure is the same size as an internal 3.5" disk drive and styled to look similar. It is very light when there are no drives in it even though it is made of sturdy plastic and metal with built-in RAID controller. The end easily opens to be able to slide two 2.5" drives inside of it. The end that opens has a built in lever to eject the 2.5" drives and when closed the cover pushes the 2.5" drives into the connector. The other end with the connector has a small 4 position switch for changing the setup of the disk that are inserted. Coping files to the drive was very quick and seemed similar to if the drives were connected independently. The drive has 4 different modes to choose from for saving data to the two drives. 1) BIG: This just spans the data across several disks. Disk of any size can be used and the total available space is the total from both drives (250GB + 500GB = 750GB). If the drives are removed from the reader, the data which was stored on that disk is still available. If the drives are re-inserted in a different order, it doesn't seem to matter and all data is now available again. 2) RAID-1: This is essentially a mirror of the two drives to provide redundancy if one fails. If using different size drives, the size available is the total of the smallest disk (250GB + 500GB = 250GB). If I copy files to the disk in this setup, then remove and re-insert just one disk without the enclosure I am able to read all the data. This is the best option for protecting your files. 3) RAID-0: This is similar to BIG where you have a span of data across the disks. The difference is the total available space is the smallest drive x2 (250GB + 500GB = 500GB). Also, when the drives are removed the data is not available. If I put them back in the caddy in different places, the data was available. 4) JBOD: Just a Bunch Of Disks. Each disk connected should be displayed in the operating system as a separate disk of its own size. During my testing only the disk in the slot at the top of the enclosure would show up in the operating system. I didn't troubleshoot this much, but I figured if I were using this option, I would just connect the disk directly. So far, other than with the JBOD setting, I have not had any problems with this enclosure and it works well. I received this product in exchange for an unbiased review.
Comment
Helpful?
Yes -

2
No -

0
Report
(

4

stars)
Interesting Product
By:
JPthompson
on

03/14/2017
Interesting product. It's something you wouldn't really imagine would work right but it does. All four modes (BIG, raid-1, raid-0, JBOD) worked flawlessly when tested on Windows 10. I'm currently running two SSDs in RAID-0 for a storage drive at the moment. If your mother board doesn't support Intel RAID then this is a cheap way to get RAID features in a budget machine. Pros: Works great, solid construction and materials. Cons: Having a difficult time finding a good use case for the product. I received this product in exchange for an unbiased review.
Comment
Helpful?
Yes -

1
No -

0
Report
(

5

stars)
WOW! Awesome item! Couldn't be happier
By:
Macphoto
on

03/12/2017
What a great little product! I have been working with computers for years and this little item was perfect for a project I had. How to get 2 - 2.5 1tb drives into my old Mac Pro. This was perfect! For one thing because it has all the normal 3.5" holes it fits the carriers with ease (this is a problem for Older Mac pro users- we always have to buy expensive adapters) The enclosure gives you the options of Big, Raid 0 , Raid 1, or JOBD. So big is just that one large volume, Raid 0 is a striped raid for fast data access, Raid 1 is a mirrored raid(whats on drive one is on drive 2) and JOBD (just a bunch of drives). Now for my Mac Pro upgrade I used the Raid 0, I was looking for a use of 2 - 1tb 2.5" drives I had and wow..did this work great. put the drives in flip the switch to the appropriate spot and format in Disk Utility and it was ready to go. I decided to use that as a fast boot drive and it did not disappoint. I would love to try this one day with 2 SSD's to see the difference. All I can say is that this device is easy to use. Works as it should! The quality of the build is excellent and I could not be happier. "I received this product in exchange for an unbiased review."
Comment
Helpful?
Yes -

1
No -

0
Report
(

5

stars)
Works Great!
By:
Dwardo_69
on

03/07/2017
I had two spare 2.5" hard drives that I pulled from dead laptops and used this enclosure. I put the hard drives into the enclosure, put it into JBOD mode to make the two hard drives act as one big one and installed it into the computer with the supplied mounting screws. After hooking the enclosure up to appropriate ports, I turned the computer on. The Windows OS found the drives quickly and installed the necessary drivers. After I formatted the drives, they were ready to be used. Now I have more storage space on my computer. The enclosure is light but it seems to be made well and sturdy. The access speeds were good and as expected. The supplied mounting screws were a nice touch. The manual was straight forward but it does not mention what each mode does. IE JBOD, Raid 1, Raid 0. Overall, great unit that does what it's meant to do. I received this product in exchange for an unbiased review.
Comment
Helpful?
Yes -

0
No -

0
Report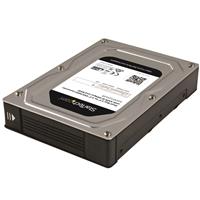 Dual-Bay 2.5" to 3.5" SATA Hard Drive Adapter Enclosure with RAID
Product ID: 35SAT225S3R