StarTech.com
USB 3.0 SATA Hard Drive Duplicator & Eraser Dock - Standalone 2.5/3.5in HDD & SSD Eraser and Cloner
Clone a 2.5in/3.5in SATA drive without a host computer connection, or dock the drives over USB 3.0 for easy access
Supports 2.5in and 3.5in form factor SATA hard drives (HDD) and solid state drives (SSD)
Standalone Sector-by-Sector hard drive duplication
Stand alone single pass overwrite erase
View More
SuperSpeed USB 3.0 compliant host interface, with up to 5 Gbps of data bandwidth
High Speed USB 2.0 compliant host interface, with transfer rates up to 480Mbps
Supports SATA revision I/II/III (1.5/3.0/6.0 Gbps) drives
Plug-and-Play and Hot-Swap compatible
Universal Power Adapter (NA/UK/EU)
Built-in LED progress bar
* Product appearance and specifications are subject to change without notice.
* Same day shipping is only available for orders shipping within the United States.
USB 3.0 SATA Hard Drive Duplicator & Eraser Dock - Standalone 2.5/3.5in HDD & SSD Eraser and Cloner
Customer Reviews
3.5

(

12

reviews)


3.5

out of 5 stars
Tell us what you think of this product.

Need a little help getting started? Check out our review guidelines.
(

5

stars)
I am an IT Tech and have been using this duplicator for many years and it has worked great. The reason for any failure is 99.99999 % is user related. Either the Hard Drive they are trying to clone is defective or the main one is they are trying to clone to a Hard Drive that is smaller than the original one (ie: 750 gb to 500 gb). The issue of programs not working after a clone is one issue I have never come across. I also have cloned Sata to SSD and using the USB interface to clone M.2 to SSD using cloning software. Before you use this product or any other device, understand the working of the device first. Do your research first.
Comment
Helpful?
Yes -

0
No -

0
Report
(

1

star)
Doesnt Pickup HDD
Every time i plug a HDD into this thing it doesnt pick it up, swithch to an SSD and it lights right up.
Comment
Helpful?
Yes -

0
No -

1
Report
Response from StarTech.com:
Matt, Customer Support
on 6/6/2019 12:57:10 PM
We're sorry to hear our SATDOCK2REU3 is not working with HDDs in your setup. If the HDDs are brand new they may need to be initialized in Disk Management before they can be used. We would be happy to help get this working for you. Please contact us at www.startech.com/support where our Technical Advisors are available 24 hours a day, 5 days a week to provide support.
(

5

stars)
great features for a low price
By:
HJMosser
on

04/12/2019
feels a little flimsy, but duplicated a 1 TB Sata drive in under an hour.
Comment
Helpful?
Yes -

0
No -

0
Report
(

4

stars)
Pretty good duplicator, but...
Used many times over the last year or so. When it works it's fast and great. Sometimes though, when cloning the last LED lights solid. No clue as to why it can't start duplication... I can try another and it works fine. The source HDD boots and runs fine in host computer. Irksome.
Comment
Helpful?
Yes -

0
No -

0
Report
(

1

star)
Does NOT Duplicate the Hard Drive
I bought this last week, and tried to clone a laptop hard drive. The duplication process said everything worked fine, but the disk did NOT get duplicated. It booted up, but some of the programs no longer work. I'm returning it, and writing a review on Amazon. I won't be buying another Startech product.
Comment
Helpful?
Yes -

0
No -

2
Report
Response from StarTech.com:
Stefan , Customer Support
on 12/13/2018 2:13:05 PM
Hello! Thank you for taking the time to review our SATDOCK2REU3 duplicator dock. We apologize the dock did not meet your needs in cloning your drive and are sorry to hear you had to return the product. You mentioned it did complete and booted properly, which usually means the drive copied fully, as it is a complete recreation of the drive sector by sector, so it will either completely succeed or fail in most cases. Regarding your issue, some programs, especially paid ones, do not allow themselves to be cloned and used on new hardware for security purposes, you may need to transfer licenses or keys over using software to ensure all programs work properly. This may be a part of why you are experiencing this behavior. If this does not seem to be the case or you have any questions or concerns, please reach out to one of our Technical Advisors, and we'd be happy to help. We are available 24 hours a day, 5 days a week, at www.startech.com/chat or 1-800-265-1844. Thank you,
(

2

stars)
Don't use with a PC
By:
robbiederbyuk
on

06/23/2018
As a stand alone copier / eraser it works fine, but it does not work properly when connected via USB 3.0. The drive(s) randomly disconnect and reconnect, whether they are being used or not. Very annoying if you're trying to move or copy files. You are risking your files if you use the move function.
Comment
Helpful?
Yes -

0
No -

3
Report
(

4

stars)
Nice product but solid red LED...
By:
Chris G
on

03/21/2018
You MUST power on the unit EMPTY. Then insert the source hard drive, then insert the destination hard drive. Lastly push the clone button on the front for 5 to 10 seconds until the front LEDs activate. This exact procedure is not listed/clear in the manual
Comment
Helpful?
Yes -

10
No -

5
Report
By:
Scott7802
on

11/30/2018
Just got this and will not clone to a brand new drive. Took the new drive, formatted it, tried again. Still shows that duplication can't start. No idea why
Helpful?
Yes -

0
No -

0
Report
(

5

stars)
Worked as Desribed
By:
duplicatoraide
on

09/07/2017
The duplicator worked exactly as advertised. We have duplicated over 100 drives with this device and have not had any issues. Great value and great product overall!
Comment
Helpful?
Yes -

1
No -

0
Report
(

1

star)
50/50 product
By:
commtech
on

07/19/2017
This cloner has about a 50 percent success rate. There are much better cloning docks available, but they cost more. I would not purchase this again.
Comment
Helpful?
Yes -

0
No -

1
Report
Response from StarTech.com:
Brian, Customer Support
on 7/21/2017 11:47:10 AM
Hi, Thanks for your feedback and review. We are sorry for any inconvenience you encountered with this drive duplicator and wanted to offer some assistance. Did any of the drives have bad sectors or other operational issues? StarTech.com duplicators may not work with failing or damaged drives. If the duplicator encounters a corrupt or unreadable sector, the duplication halts and fails. We hope this helps and should you have any further questions of concerns please get in touch with our Technical Advisors by clicking "Support" at the top of our website. Thank you.
(

5

stars)
Worked as advertised
By:
Kodeman
on

12/10/2016
We are a small IT tech shop and in the past we've utilized cloning software with a SATA adapter to clone Windows OS. But, we found ourselves stuck when trying to clone server OS, it just wouldn't work. So we purchased this unit after talking to the people here and was pleasantly surprised when after doing a Windows 8 clone we didn't have to go in and initialize the MBR to get it to work. It booted right up. We did the Windows 2012 R2 Essential clone and worked as advertised. We are very happy that we made this purchase and will continue to use this instead.of the cloning software.
Comment
Helpful?
Yes -

0
No -

0
Report
(

4

stars)
Easy enough to use, manual no troubleshooting
I bought this to clone hard drives for a school computer lab. I have cloned almost 40 drives with no problem. Now, all of a sudden, the product won't clone. In the middle of a clone the LEDs went from the flashing amber to Off-Solid Red-Off-Off. I ejected the destination drive, turned off, turned back on and LEDs showed Off-Solid Amber-Off-Solid Amber. I now cannot get the product to clone or perform any other function. Have had product less than one week.
Comment
Helpful?
Yes -

20
No -

7
Report
(

5

stars)
Great Product
By:
Intruder85
on

04/20/2014
I have three laptops. I use this to clone the hard drives about once a month. I then put the newly cloned drive in till the next cloning then switch again. I recently got a bad virus on one laptop that prevented boot up. Put in the clone (lost a couple weeks data-my fault) and was up again. Cloned over the bad disk and had 2 good again. This works great if it is easy to remove the hard drive from the laptop. However I have a 10 inch mini that requires major surgery to get the disk out. I have not figured out how to clone when you can't get the disk out of the laptop and use the provided cable. Instructions lacking in this area.
Comment
Helpful?
Yes -

7
No -

1
Report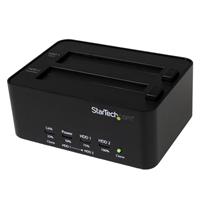 USB 3.0 SATA Hard Drive Duplicator & Eraser Dock - Standalone 2.5/3.5in HDD & SSD Eraser and Cloner
Product ID: SATDOCK2REU3