StarTech.com
Mini USB Bluetooth 4.0 Adapter - 50m (165ft) Class 1 EDR Wireless Dongle
Add Bluetooth 4.0 capabilities to a laptop or desktop computer through USB
Bluetooth® 4.0 LE compliant Bluetooth Smart Ready transceiver
Class 1 device with 50m (165ft) effective range
Support for Enhanced Data Rate (EDR) with data transfer rates up to 3 Mbps
View More
Low power consumption
Ultra-compact form factor
Backward compatible with Bluetooth v3.0, 2.0, 1.2 and 1.1 devices
Power / Linking / Standby LED indicator
Same Day Shipping
on in-stock items from USA if ordered by 5pm ET*
Details
* Product appearance and specifications are subject to change without notice.
* Same day shipping is only available for orders shipping within the United States.
Mini USB Bluetooth 4.0 Adapter - 50m (165ft) Class 1 EDR Wireless Dongle
Customer Reviews
3.4

(

7

reviews)


3.4

out of 5 stars
Tell us what you think of this product.

Need a little help getting started? Check out our review guidelines.
(

1

star)
Drivers don't work
By:
fix your product
on

10/16/2019
I purchased this, it's relatively pricey, but something I wanted regardless. but according to this item, which I purchased, I don't have the proper licensing to use this device, that I purchased. And apperantlly its a common issue as well, unacceptable.
Comment
Helpful?
Yes -

0
No -

0
Report
Response from StarTech.com:
Matt, Customer Support
on 10/18/2019 4:37:37 PM
We always try to ensure our customers have exceptional experiences with us and our products and we apologize that you are not satisfied with our USBBT1EDR4. If you're receiving this error after installing drivers for the adapter from a CD, we recommend uninstalling the drivers as this adapter is native in Windows and should work without any extra software or drivers being installed. We'd be happy to help you get this working if you require any assistance. You can contact us directly at www.startech.com/support where our Technical Advisors are available 24 hours a day, 5 days a week to provide support.
(

2

stars)
Manual Driver install
Windows 10 couldn't find the proper drivers for the adapter and Startech didn't have driver download for product on website. I had to use the CD. The CD installer failed to install the drivers for the adapter and I had to use device manager to point to the CD to install the drivers.
Comment
Helpful?
Yes -

5
No -

0
Report
Response from StarTech.com:
Matt, Technical Support
on 5/10/2019 1:56:58 PM
Thank you for your review, we're sorry to hear our USBBT1EDR4 proved difficult to install on your computer. We do expect this adapter to install automatically in Windows 10. Should you have any issues with this adapter in the future, we have Technical Advisors available 24 hours a day, 5 days a week to provide support. We can be reached using the contact information at the top of the webpage.
(

2

stars)
Key get more than 30 feets
I bought this 2 days ago to connect my headphones to my computer and I can't get further than 30 feets. I tought maybe it was my headphones so I tried with my phone and it's the samething. someone wrote that it was unidirectional so I tried to align the "signal" with me. Same results. I used a usb extender... tought maybe it was the issue so I removed it. same thing. I tried to put the dongle higher so it wouldn't cause interference with my computer... same result. For now, I'm a bit disapointed of the product. It says 165 feets... I know it's probably on a straight line with nothing in between... but 30 feets... well not far...
Comment
Helpful?
Yes -

0
No -

2
Report
By:
Di9ital
on

02/08/2018
You have to have two class 1 bluetooth devices in order to achieve the complete range.
Helpful?
Yes -

0
No -

0
Report
(

5

stars)
Works perfectly with my Mac Pro Tower (Mid-2012)
By:
WBCilliers
on

03/26/2017
I bought the Bose QC35 wireless headphones and could not connect to my older Mac Pro. Turns out the Bose QC35 required Bluetooth 4.x, and the Mac Pro has Bluetooth 2.1. So I bought this adapter and it worked like a charm. I can now connect to my iPhone 6S and switch to the Mac Pro easily.
Comment
Helpful?
Yes -

2
No -

0
Report
(

5

stars)
Excellent Device
This is a very good product. The driver software is very comprehensive and reliable. A big advantage is that it supports wake up from sleep function for keyboard/mouse devices. This is the first adaptor I have come across which includes this function. So far have not found any disadvantages or problems.
Comment
Helpful?
Yes -

1
No -

1
Report
(

4

stars)
a few surprises
By:
allthunbs
on

01/17/2016
we defined a requirement for a small computer and purchased an ASRock BeeBox n3000. this design lacks substantial punch when it comes to distance for the built-in Bluetooth. the beebox is attached to a 42" 1080p TV as the primary display. since this TV could be used with a sickbed, it was determined that a Bluetooth keyboard and mouse were desirable. the distance was beyond the capabilities of the BeeBox. I purchased this dongle specifically to handle the distance problem and it works as intended. there are a few things that have proven desirable, the driver software installs a second bluetooth control panel in the computer. this allows you to use speaker support close to the computer and keyboard and mouse further from the computer. there is also another complication. the dongle is directional. make sure you test the directionality of the dongle before fixing your installation. I can find no documentation that indicates what the radiation pattern is. this is good for personal security but not so good when you want to cover a wide area, i.e. a large back yard with a working gazebo. I hope this helps.
Comment
Helpful?
Yes -

1
No -

2
Report
(

5

stars)
USBBT1EDR4 is a very good product.
By:
BigMacPoppa
on

04/10/2015
Mini USB Bluetooth® 4.0 Adapter is a fantastic product! Better working range than other Bluetooth receivers/transmitters. Works great with Sony MDR-10R after checking ALL of the configuration for USBBT1EDR4. You MUST install ONLY the last version of the CSR Harmony software; if you have an older version installed, you MUST uninstall the older version first. The new version unfortunately does not include drivers for all of the older transmitters and you can't have more than one version installed at the same time. I highly recommend this product.
Comment
Helpful?
Yes -

0
No -

5
Report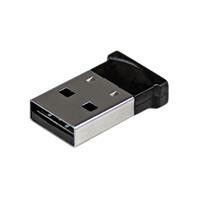 Mini USB Bluetooth 4.0 Adapter - 50m (165ft) Class 1 EDR Wireless Dongle
Product ID: USBBT1EDR4