Can't find the product you need? Our support team is standing by to help you find the right solution or recommend replacement products. Click
here
for live chat.
StarTech.com
2 Port Dual DVI USB KVM Switch with Audio & USB 2.0 Hub
Share a keyboard, mouse and dual DVI displays/monitors between 2 multimedia computers
Front panel push-buttons and Hot-key functions for easy switching
Supports resolutions up to 1920x1200 (DVI-Digital)
USB 2.0 hub for peripheral sharing (Thumb drives, external hard drives, web cams, etc.)
View More
Audible tone confirms port switching
Combined or independent switching of audio ports
EDID retention - eliminates hassle when switching between computers as the KVM "remembers" monitor settings
Supports all USB-capable operating systems (Windows 98e/SE/ME/2000/XP/Vista/7, Linux, Mac OS, etc.)
TMDS compliant to support DDC2B emulation and HDCP for digital contents protection
Status LED display for easy port status monitoring
Same Day Shipping
on in-stock items from USA if ordered by 5pm ET*
Details
* Product appearance and specifications are subject to change without notice.
* Same day shipping is only available for orders shipping within the United States.
2 Port Dual DVI USB KVM Switch with Audio & USB 2.0 Hub
Customer Reviews
3.2

(

13

reviews)


3.2

out of 5 stars
Tell us what you think of this product.

Need a little help getting started? Check out our review guidelines.
(

4

stars)
Reliable solid KVM
Works perfectly just wish there was a way to silence the beep every time you change inputs.
Comment
Helpful?
Yes -

0
No -

0
Report
(

5

stars)
Works as Advertised
By:
pndjrpauln
on

07/06/2019
If you know what you are doing, it is easy to set up and operate. Used this model for nearly a year. No issues.
Comment
Helpful?
Yes -

0
No -

0
Report
(

2

stars)
Still bad Quality Control
By:
CWilliams
on

06/05/2019
Worked for about 2 days, and roughly 30 switches before Port 1 stopped working entirely. StarTech is one of the only companies to make this type of KVM, so it's unfortunate they're our only option. Get your stuff together StarTech. Your QC seriously needs to step it up.
Comment
Helpful?
Yes -

1
No -

0
Report
Response from StarTech.com:
Matt, Customer Support
on 6/6/2019 1:17:40 PM
We're sorry to hear our SV231DD2DUA stopped working after 2 days. We stand behind our products and would like to make this right for you. The SV231DD2DUA has a 3-year warranty with lifetime technical support and we have reached out to you at the provided email address to look into this further with you.
(

3

stars)
Problems with Wireless Mouse and Keyboard
By:
rainman
on

09/13/2018
Just got this switch up and running but my Logitech Keyboard/mouse K330/M215 suffers delays unless on the desk 1' away from switch. When I use the devices from the keyboard drawer maybe 2' away I get delays.
Comment
Helpful?
Yes -

0
No -

0
Report
Response from StarTech.com:
Brian, Customer Support
on 9/14/2018 3:27:03 PM
Thanks for sharing this feedback. We recommend using a standard wired mouse and keyboard with our KVM switches. The two USB hub ports on this KVM switch can be used with wireless, gaming or Apple mice and keyboards. Just keep in mind, hotkey switching will not work in that situation.
(

5

stars)
Well-built KVM
By:
andrewxs11
on

06/29/2018
When working with multiple PCs, a KVM moves from a nice-to-have to an essential piece of equipment. This KVM packs an incredible amount of ports and functionality into a very compact size. I used to have it out front where I could reach the (Switching) button, but once I got used to the hot-key switching, it's now hidden in behind the machines, keeping my work area clean and uncluttered with cables. The resolution on the monitors is excellent and response time to switch back and forth is fast and smooth. Setup was easy once I planned where all my cables were going, and I recommend tightening all the screws for the DVI cables to the back of the KVM as you attach them. Trying to do so afterwards can be very tricky! I received this product in exchange for an unbiased review
Comment
Helpful?
Yes -

0
No -

0
Report
(

4

stars)
So far very impressed with this KVM.
By:
ShawnO_3
on

06/20/2018
It works as promised. I was able to connect both my systems with ease and though I have only had it a short while it seems like a solid KVM switch. I did have some issues with one of the keyboards I connected but it may have been the age of the keyboard rather than the KVM. There was an intermittent occasional delay when switching computers that required turning the monitor off then on, but that appears to have cleared up on its own. Overall very happy with the results. I received this product in exchange for an unbiased review.
Comment
Helpful?
Yes -

0
No -

0
Report
(

4

stars)
Solid and Reliable KVM Switch
By:
NickD_CA49
on

06/20/2018
I have been testing this KVM switch with several PC's and peripherals without any issues. The KVM switch comes in a large box almost the size of 500 sheet stack of paper. The switch itself is heavy for its size which I compare to almost the same size/weight of a brick. It comes with a power adaptor that has ends for multiple countries. There were no other cables in the box other than the power cable. All cables from the PC or to the devices need to be purchased separately. The devices is not very attractive looking and is made of thick black metal. I am sure I could hit it with a hammer and nothing would happen to the device. The KVM switch works very reliably and quickly. Pressing the "Select" button to change between devices happens within seconds. The lights on the front indicate which computer is selected (red light) and which computer has USB connected and working (green light). I experienced an issue with my wireless keyboard/mouse adaptor, where if I used either of the ports labeled keyboard/mouse on the KVM switch, then both the keyboard and mouse would stop working in a minute or two. Once I connected to a generic USB port, then the wireless keyboard/mouse kept working as long as I needed. The KVM switch only appears to have USB 2.0, which hasn't been an issue so far for me. Solid KVM switch that feels like it is from the 90's and still working strong. Other than issue with keyboard/mouse USB ports, this KVM switch works great. I received this product in exchange for an unbiased review.
Comment
Helpful?
Yes -

0
No -

1
Report
(

5

stars)
2 port DVI USB KVM w/ Audio
There is a lot packed into this box. It delivers great resolution and audio with push button connectivity. As always StarTech makes sure you have the right connection for your power source. This product does not include all of the connection cables so you just can just purchase what ever lengths you need.
Comment
Helpful?
Yes -

0
No -

0
Report
(

1

star)
USB ports for KBD and Mouse doesn't work
I have very basic US 104(?) KBD and simple optical mouse. My kbd is able to connect to the PC through this switch, but mouse cannot. However, during reboot, my KBD doesn't work and I have to unplug my KBD from the switch and plug in to the PC directly. This is unacceptable for a switch box! I am thinking of returning it and getting a different brand switch.
Comment
Helpful?
Yes -

1
No -

0
Report
Response from StarTech.com:
Sam, Customer Support
on 5/15/2018 5:04:17 PM
Thank you for your review of SV231DD2DUA. We're sorry for the trouble you've had with it We stand behind our products, and this KVM switch is covered under a 3-year warranty with free lifetime technical support. We recommend contacting us directly so that we can find out the problem and get your setup working as quickly as possible. You can reach our Technical Advisors 24 hours a day, 5 days a week, at 1-800 265-1844 or www.startech.com/chat.
(

1

star)
Do not buy this kvm.
By:
Bérenger Brillante
on

12/09/2017
It was working fine at the very begining, for a month. It blinked every now and then for 2 weeks, and then at my first job with 2 computers, right after the return limit expired, it became unworkable. Continuous blinking screen (only one always the same even after switching cables), then the switching button failed. I don't even have the red light anymore. Now with the two PC plugged, I can see one channel, with one blinking screen... and I can't access the other PC at all. And of course I used the tutorial to connect it. Several times. But nothing changed. I just want my money back. 262.99$ is a lot of money for a piece of nothingness.
Comment
Helpful?
Yes -

3
No -

0
Report
Response from StarTech.com:
Sam, Customer Service
on 12/11/2017 11:11:18 AM
Thank you for sharing your feedback on our SV231DD2DUA. We are very sorry to hear about the issues you've run into after your return period expired. Have you spoken to our Technical Advisors about this? They may be able to offer a solutions for you, and if in the event you received a faulty KVM switch, they can also assist you with sending a replacement. Sam StarTech.com Support
(

1

star)
Would give it no stars if that were an option
By:
Leddhedd
on

06/24/2017
Hotkey switching failed after two weeks. Switch randomly beeps and then blanks both screens every few minutes. Absolutely zero engagement from tech support. Lousy product with lousy support = do not buy this item.
Comment
Helpful?
Yes -

32
No -

0
Report
Response from StarTech.com:
Brian, Customer Support
on 6/26/2017 1:24:37 PM
Thank you for providing us with your feedback on the SV231DD2DUA. We appreciate your time and would like to assist. The problem may be resolved by disconnecting all cables and power from the KVM for 1 minute, then following our setup procedure. https://www.startech.com/faq/kvm-switches-setup If the issue persists, please reach out to us using our support page: https://www.startech.com/support Thank you.
(

1

star)
Absolute Garbage
By:
Joe Therrien
on

03/22/2017
I've had this for about six months, and it's gotten progressively worse. After about a month, the hotkey switching stopped working. After six weeks, one of the sides started randomly dropping off line for 1 or 2 seconds, blanking the screens. Tried all new cables with no effect. Swapped the two computers side for side, problem stayed on the same side. This is an expensive accessory, and the product doesn't justify that cost.
Comment
Helpful?
Yes -

8
No -

0
Report
(

5

stars)
This works really well
I bought this about 3 months ago. Tech support were really helpful in terms of cables to purchase with it, although I discovered some interesting facts about the incompatibility of the various dVI cables and connectors during installation. Now have 2 PCs, with 2 Screens available on each, with a hot key to toggle. No problems so far, used every day, seems like an excellent well made product
Comment
Helpful?
Yes -

3
No -

0
Report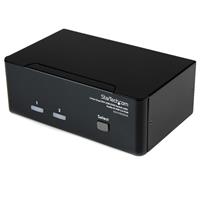 2 Port Dual DVI USB KVM Switch with Audio & USB 2.0 Hub
Product ID: SV231DD2DUA