Can't find the product you need? Our support team is standing by to help you find the right solution or recommend replacement products. Click
here
for live chat.
StarTech.com
4 Port Dual DVI USB KVM Switch with Audio & USB 2.0 Hub
Share a keyboard, mouse and dual DVI displays/monitors between 4 multimedia computers
Front panel push-buttons and Hot-key functions for easy switching
Supports resolutions up to 2048x1536 (Analog) and 1920x1200 (digital)
USB 2.0 hub for peripheral sharing (Thumb drives, external hard drives, web cams, etc.)
View More
Audible tone confirms port switching
Combined or independent switching of audio ports
EDID retention - eliminates hassle when switching between computers as the KVM "remembers" monitor settings
Supports all USB-capable operating systems (Windows 98e/SE/ME/2000/XP/Vista/7, Linux, Mac OS, etc.)
TMDS compliant to support DDC2B emulation and HDCP for digital contents protection
Status LED display for easy port status monitoring
* Product appearance and specifications are subject to change without notice.
* Same day shipping is only available for orders shipping within the United States.
4 Port Dual DVI USB KVM Switch with Audio & USB 2.0 Hub
Customer Reviews
3.8

(

5

reviews)


3.8

out of 5 stars
Tell us what you think of this product.

Need a little help getting started? Check out our review guidelines.
(

3

stars)
Keyboard / Mouse not usable in boot manager
By:
JackAndDiane
on

04/20/2020
I'm using this product with a laptop and a workstation. On my laptop there is a boot manager (GRUB2) with a 8 seconds delay. Unfortunately keyboard and mouse cannot be used (are dead) until an operating system is loaed. This makes it impossible to select the boot manager entries. To do so I have to open the laptop lid and use the laptops keyboard.
Comment
Helpful?
Yes -

0
No -

0
Report
Response from StarTech.com:
Matt, Customer Support
on 4/23/2020 3:26:23 PM
We're sorry to hear about the issues you're experiencing when using our SV431DD2DUA. Some laptops disable USB hubs or external USB keyboard and mouse until the operating system loads to allow the computer to boot quicker and you may be able to fix this issue by disabling quick-boot in the laptop BIOS. This may also be confirmed by verifying whether you have the same issue with the keyboard and mouse not working to open the workstation BIOS. We'd be happy to help look into this with you. If you require any assistance, please do not hesitate to contact us at www.startech.com/support where our Technical Advisors are available 24 hours a day, 5 days a week.
(

4

stars)
Stable but with two glitches
Ive used this kvm-switch for 1.5 years now and it has been stable and robust so far with two 24" screens and four computers. So I would recommend it but with a warning. One glitch is that both screens go black for 1-2 seconds as the switch gives off a little blipping sound. Ive read on a forum that faulty DVI-cables could be the reason but I have checked several times and the cables are perfect. So I still endure randomness of the screens going black and turning back on. Sometimes without a single turn-off during a whole day and sometimes 3-5 times an hour. I would be so grateful for a solution for this. The second glitch is that I have tried to use larger 27" screens recently that DON'T have DVI-ports and I tried using several different DVI-Displayport adapters and DVI-VGA adapters. There is no signal. I would REALLY REALLY appreciate a solution to this problem because without a solution that would mean that I cant use any screens that dont have DVI. Please help.
Comment
Helpful?
Yes -

1
No -

0
Report
Response from StarTech.com:
Matt, Customer Support
on 10/31/2019 2:10:47 PM
We pride ourselves on our high-quality standards and are sorry to hear about the glitches you're seeing when using our SV431DD2DUA. If you're seeing this on one specific port of the KVM switch, one quick test to confirm if there may be a problem with the switch or with something else in the setup is swapping the PC that's having the issue with another PC on the switch. With regard to the DisplayPort monitors, DisplayPort to DVI adapters tend to be uni-directional and do not work in the opposite direction and most adapters that are currently available tend to be made to connect DisplayPort computers to DVI monitors. Our DVI2DP2 should work to connect a DVI KVM switch to a DisplayPort monitor though. If you have any questions or require any assistance at all we'd be more than happy to help. You can contact us at www.startech.com/support where our Technical Advisors are available 24 hours a day, 5 days a week to provide support.
(

5

stars)
Love it
Had previous experience with a dual port DVI and VGA StarTech KVM and this one is just as good. Yes, the hot keys don't work with a wireless keyboard but I suspect that is more a function of the keyboard driver than the KVM switch, since the last unit I had also had a wireless keyboard and mouse and was flawless in its operations. It would be nice if the DVI connectors were just a smidgen (metric) further apart from one another, but these are minor issues that have nothing to do with the quality or the operation of the unit itself. I love the fact that this is a metal housing; makes it stay put and feels high quality.
Comment
Helpful?
Yes -

7
No -

0
Report
(

4

stars)
Mostly Happy with this unit
Works like it should for the most part. Can have USB keyboard and mouse installed and two other USB devices such as Headphones, usb drives, etc. and toggle them with or leave them when switching computers. This does work on both PC and Apple. Con 1 VGA signal converters (non-powered) do not work on the DVI ports on this. Con 2 I also bought a Kinesis keyboard FreeStyle2 for Mac (Model# KB800HMBUS) that has a split keyboard. It works horribly with this. When ever plugged into the keyboard port. If I use one of the non keyboard and mouse ports it works 100% fine but I cannot use the keyboard hotkeys to switch between computers. Also when using it on the keyboard port I have to type very, very, slowly or I get duplicate letters by pressing only 1 time and it will occasionally just stop working and I have to unplug it and plug it back in. Using a standard non split keyboard worked fine so must be some issue with the split keyboard (maybe not enough power or something). Sometimes swapping devices with my Logitech USB head phones does not pick up or swap 100% of the time.
Comment
Helpful?
Yes -

1
No -

0
Report
Response from StarTech.com:
David S., Customer Support
on 1/13/2015 11:23:20 AM
Hi Richii, Thanks for reviewing the SV431DD2DUA. Most DVI to VGA adapters should work with this KVM, but for best results when connecting and switching, we recommend using DVI connections. If you'd like to use VGA monitors and/or PCs in conjunction with a KVM, our SV431DDVDUA may be a better solution for you. Regarding keyboards, it's always best to use a standard wired device. Using wireless, specialty or Mac keyboards on a KVM can cause undesired results, due to differences in their circuitry and design. You're correct that connecting this type of keyboard to the hub ports will work, but as you mentioned, you'll lose the ability to switch to different computers via the hotkeys. The issues experienced with your USB headphones may be related to lag on the USB ports on the connected PCs. A few suggestions we could offer would be to try updating the USB chipset drivers for the PCs connected and also disable USB power saving for the USB ports on any PCs you have connected to the switch. Please get in touch with us if you would assistance with any of the above – We've opened a support ticket for you under case # 303-176524, should you need it.
(

3

stars)
Good but one main flaw
By:
bdaboy22
on

11/08/2014
This is a good dual monitor DVI switch but with one main flaw. The DVI ports are very close to each other. If you have existing cables, you will more than likely need to take a knife to them and trim down so they will fit next to each other. To the engineers: Since this device is too small for a 1U rack, why not make it 10mm wider so the ports can have some room between them?
Comment
Helpful?
Yes -

8
No -

2
Report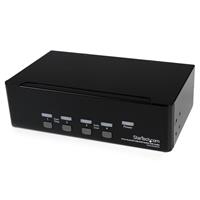 4 Port Dual DVI USB KVM Switch with Audio & USB 2.0 Hub
Product ID: SV431DD2DUA