StarTech.com
KVM Console to USB 2.0 Portable Laptop Crash Cart Adapter
Turn any laptop into a console for headless servers, PCs, ATMs, kiosks and more
Very small footprint with integrated KVM cables
Self-powered – draws its power from the server USB connections
Multi-platform support USB and PS/2 to the server or KVM (PS/2 for Keyboard Only)
View More
LED indicators for USB link, Host Video link, and Host Keyboard/Mouse Link
Manual video adjustments to control the picture position, sharpness and image noise for optimal performance settings
Snapshot feature allows you to capture screen shots of your server, error messages, and activity
Pre-loaded special key commands
Keyboard emulation support for USB, PS/2 and SUN systems
Auto image centering adjustment for 4x3 images on a wide screen display
Automatic video scaling when resizing the viewing pane from the console PC (laptop) for immediate, automatic compatibility
Manual video override adjustments allows it to work with legacy and industrial devices where other portable consoles do not
True USB mouse synchronization ensures accurate navigation of the connected server
Same Day Shipping
on in-stock items from USA if ordered by 5pm ET*
Details
* Product appearance and specifications are subject to change without notice.
* Same day shipping is only available for orders shipping within the United States.
KVM Console to USB 2.0 Portable Laptop Crash Cart Adapter
Customer Reviews
3.6

(

10

reviews)


3.6

out of 5 stars
Tell us what you think of this product.

Need a little help getting started? Check out our review guidelines.
(

2

stars)
No longer works with OS X 10.13 and above
By:
grumpquat
on

11/07/2018
This expensive product used to work great with OS X and now it requires multiple restarts of the application with every session. It's barely functional now.
Comment
Helpful?
Yes -

0
No -

1
Report
Response from StarTech.com:
Stefan , Customer Support
on 11/7/2018 4:36:02 PM
Thank you for reviewing the NOTEONS01. We apologize for any trouble this caused you. The NOTECONS01 is fully supported on MacOS 10.6 up to the latest 10.14, so this is not normal behavior. We recommend uninstalling the software currently on your Mac, and reinstalling using the latest drivers found here: https://www.startech.com/NOTECONS01#dnlds If you encounter any difficulties or have any additional questions, please contact our Technical Advisors at +1 (800) 265-1844 or www.startech.com/chat. We are available 24 hours a day 5 days a week to offer support.
(

3

stars)
Problems with Windows 10
By:
gmolitor
on

09/12/2018
Hello, the adapter worked very well whilst Windows 7 was installed on my Notebook. But since I've been migrated to Windows 10 the NoteCons01 Adapter isn't working properly anymore even I am using the latest driver software for this kind of the Adapter. So as soon as a Output Screen coming from the connected Device is changing, the Adapter Software needs to be restarted to get awareness of this change. Otherwise the output of the Card Adapter is frozen and not synced with the Device Output.
Comment
Helpful?
Yes -

1
No -

0
Report
Response from StarTech.com:
Sam, Customer Support
on 9/12/2018 1:16:10 PM
Thank you for your feedback on NOTECONS01. We apologize for the problems you've had since migrating to Windows 10. It's possible that some of the files or dependencies for NOTECONS01's software were modified during the migration to Windows 10. We recommend uninstalling the currently installed software and reinstalling the latest version of the software available on NOTECONS01's product page. If you find you're still having any issues or if you need any assistance with reinstalling the software, please reach out to our Technical Advisors at 1-800-265-1844 or www.startech.com/chat. We're available 24 hours a day, 5 days a week, to provide support.
(

3

stars)
No longer works with my iOS devices
By:
SecEng1
on

08/20/2018
Somewhere along the way this is no longer consistently working for my iOS devices. I am not sure if its the iOS upgrades or the unit is failing but finding help is not a trivial task. When I originally got this years ago it was pretty solid but no longer the case.
Comment
Helpful?
Yes -

1
No -

0
Report
Response from StarTech.com:
Nick, Customer Support
on 8/21/2018 2:51:49 PM
Thank you for your review, we're sorry to hear that our product isn't working as consistently as it used to for you. This performance is not expected, and we recommend contacting us directly so that one of our Technical Advisors can look into this and get you back up and running as quickly as possible. www.startech.com/support
(

2

stars)
Works in Windows but not on High Sierra 10.13.6
By:
rokendo
on

08/02/2018
The KVM adapter works well when it works, however, had to get my employer to provide me with a Windows laptop since the adapter stopped working when they upgraded our Macbooks to High Sierra 10.13.3. The drivers state they support 10.13 but they do not work. My employer will not provide me with a new adapter (supposedly NOTESCON2 supposedly works with High Sierra) so I'm stuck between a rock and a hard place.
Comment
Helpful?
Yes -

4
No -

0
Report
(

5

stars)
Fantastic tool
By:
Computerboyrick
on

07/20/2018
I repair servers and in data centers and many client site this tool has saved me many hours of waiting. It was always important to watch the the server complete it post on power on. It is certainly worth it.
Comment
Helpful?
Yes -

0
No -

0
Report
(

4

stars)
Excellent Crash Cart But...
I love this adapter, but would like to see better copy and paste options.
Comment
Helpful?
Yes -

0
No -

0
Report
(

2

stars)
App does not seem to want to
By:
EdBartra
on

10/11/2017
Overpriced, but handy if you don't have access to physical console crash carts and travel. Invest in cheap kvm cables to protect pins on this device as they will eventually get damaged from constant plugging and unplugging. App does not seem to support Mac OS High Sierra, but work in Sierra.
Comment
Helpful?
Yes -

0
No -

0
Report
Response from StarTech.com:
Malcolm, Customer Support
on 10/11/2017 2:42:40 PM
Thank you for taking time to review our NOTECONS01. Unfortunately, we only officially support Mac OS 10.6 to 10.9 with that model of unit. We do have a newer version, the NOTECONS02, that has been tested up to macOS High Sierra (10.13) using the latest drivers/software on our website.
Response from StarTech.com:
Malcolm, Customer Support
on 6/7/2018 5:10:57 PM
--- Update: June 6, 2018 --- New drivers for the NOTECONS01 have been posted to our Support page, currently adding support up to macOS 10.13 (High Sierra). For the latest OS Compatibility information, please refer to the Technical Specifications tab on our product page.
(

5

stars)
Best gadget for IT field technician
This device is one of the best gadgets I've ever bought. I used to connect to servers using standard monitor, mouse and keyboard. No more messing with vga/power cables to get monitor working. This device saved me already lots of time that I would otherwise waste on finding, connecting and moving monitor.
Comment
Helpful?
Yes -

1
No -

0
Report
(

5

stars)
Does exactly what it says
By:
kurbycar32
on

08/06/2015
I bought this a few months ago to help with repairing offline servers. Now I don't have to worry about the KVM, keyboard, monitor or mouse work (or are missing) at the remote site. This also works with Windows 10
Comment
Helpful?
Yes -

3
No -

0
Report
(

5

stars)
Gets the job done, and well.
I have been planning on buying this since it was announced and only recently got to it. I have worked in the field for 15 years and consider this (conceptually) to be pretty much the most useful thing in a toolkit after a Phillips screwdriver. The device works really well, I have used it both under Mac OSX 10.9 and Windows 7 at this time, it assists me both in the server room, and at my desk. No longer do I require a dedicated spare Keyboard/Mouse/Monitor at my desk, nor do I need to worry about connecting to our servers that do not have KVM functionality. I have run into a single issue with the device which I suspect is a limitation of Apple hardware, I was unable to activate the boot menu on a Mac Mini using the host, I ended up plugging a keyboard in to trigger the event, still using the NOTECONS01 for Monitor access. For me this was not a deal breaker at all (I did try several things and settings adjustments without success). If you are a technician that plans on using this in the field extensively I would recommend packing a DVI to VGA, as well as a MiniDP to VGA (active) and MiniDP to DP adapter. This will ensure you can connect the device to any display output you are likely to encounter in the field. If you are thinking this will be an invaluable tool for working in the field/datacenter, you will be happy with this products performance.
Comment
Helpful?
Yes -

12
No -

0
Report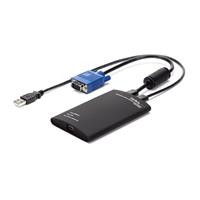 KVM Console to USB 2.0 Portable Laptop Crash Cart Adapter
Product ID: NOTECONS01