×
Are you in the United States?
Visit our U.S.A. & International site for relevant pricing, distribution and product availability information.
Go to StarTech.com
USB 3.0 4K Ultra HD Video Adapters
For users wanting the highest performance from a USB 3.0 Display Adapter with the ability to support the latest 4K Ultra HD displays or projectors.
Enhanced performance ideal for HD video playback and demanding applications that require dedicated hardware processing.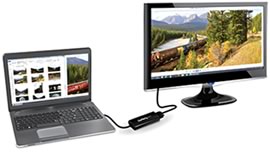 2 Results

USB32DP4K
USB 3.0 External Video & Graphics Card | Multi-Monitor | USB-Powered | Supports Mac & Windows®
1600+ In stock

In stock
CA: 44 | US: 1556
In stock
Learn More

USB32HD4K
USB 3.0 External Video & Graphics Card | Multi-Monitor | USB-Powered | Supports Mac & Windows®
18+ In stock

In stock
CA: 18 | US: 0
In stock