StarTech.com
Sit-Stand Desk Converter - Large 35" Work Surface
Work in comfort and enhance productivity, by turning your desk into a spacious sit-stand workspace
Convert your desk or table into a comfortable sit-stand workstation
Lever-controlled pneumatic spring for easy height adjustment (max. height adjustment range: 15.7")
Compatible with many StarTech.com grommet-mounted single and dual monitor arms, including: ARMDUAL, ARMPIVOT, and ARMSLIM (sold separately)
View More
Straight up and down movement, provides a stable workstation with a small footprint
Supports two monitors (up to 24") or one monitor (up to 30")
Large work surface (35.4" x 20.9") with weight capacity of 28 lb. (12.7 kg)
Place your display/s on the workstation or use the grommet hole and provided hardware to mount a monitor arm
Comes fully assembled
Large keyboard tray (26.8" x 10.4") with weight capacity of: 5 lb. (2.3 kg)
Minimum footprint: 35.4" (900 mm) x 24.5" (622 mm)
Adjustable tension with counterbalance feature
Integrated cable management
* Product appearance and specifications are subject to change without notice.
* Same day shipping is only available for orders shipping within the United States.
Sit-Stand Desk Converter - Large 35" Work Surface
Customer Reviews
4.9

(

8

reviews)


4.9

out of 5 stars
Tell us what you think of this product.

Need a little help getting started? Check out our review guidelines.
(

5

stars)
Solid and Smooth!
By:
ShawnO_07
on

10/16/2018
This Sit-Stand Desk Converter come pre-assembled and feels very solid and secure. Even with several monitors and a laptop it feels very stable. Changing heights is easy and smooth and requires little effort thanks to the hydrolics. Fits most desk surfaces and the rubber feet keep it in perfectly in place. My kids even use it on the floor without a desk when they use their laptops or draw while watching TV. I received this product in exchange for an unbiased review.
Comment
Helpful?
Yes -

0
No -

0
Report
(

5

stars)
Perfect!
This has an elegant, sturdy design and is big enough to fit multiple monitors and my laptop all on the surface. Once you get some gear setup it's incredibly easy to move and down manually and the locking mechanism locks tight with no play in the system. The combination of the weight of the unit and the rubberized feet make it very sturdy and I have no fear of this moving on its own. The keyboard tray could be a little bigger but it does allow enough room for a keyboard and mouse together. It also has a convenient hole in the top for cable management which is important for a desk that is moving up and down. By far the best thing about this though was that there was zero assembly required. It ships as a fully assembled unit. I received this product in exchange for an unbiased review.
Comment
Helpful?
Yes -

0
No -

0
Report
(

5

stars)
Sit, Stand, Zero install.
By:
Andrew11
on

07/30/2018
This is the sit-stand solution I have been waiting for. No complicated setup or install, just a nice big work surface that I can put any height I want, anywhere I want! Like I mentioned, it arrives fully assembled in a very big box (I recommend 2 people to unpack it) so set-up takes virtually no time at all. Cable management is easy with a hole at the back of the work-surface, which can also be used to mount a pole for monitor stands. The motion of the assembly is smooth and even, and the entire assembly is SUPER stable. Even with 2 monitors (I used 22 inch) this Stand just took it in stride. My only concern with the entire unit was the length of the keyboard/mouse shelf; if you have a large ergonomic keyboard, there may not be room beside it for a full-sized mouse-pad. The only caveat here is that the keyboard shelf has extra mounting holes so that it can be removed and shifted forward to give you a little more room. Bottom line, if you want a sit-stand solution with zero installation for 2 monitors, this is what you need! I received this product in exchange for an unbiased review
Comment
Helpful?
Yes -

0
No -

0
Report
(

5

stars)
Excellent Sit-Stand Desk Converter
By:
hubj2576
on

07/30/2018
I have been in the AV/IT Integration space for over 30 years. I found this unit easy to setup and use. The pneumatic arm provides smooth and effortless movement. To raise or lower the platform, you need only one touch of the pneumatic lever. The large 35" wide work surface, provides an abundance of setup options, which can support up to two monitors. The unit installs quickly and is built with both durability and aesthetics in mind. What is Included: 1 - Sit-Stand Workstation 1 - Small Hex Key 1 - Large Hex Key 1 - Clamp Plate 1 - M10 x 50mm Bolt 1 - ³/₈ - 16 x 50mm Bolt 1 - Instruction Manual Note: "I received this product in exchange for an unbiased review."
Comment
Helpful?
Yes -

0
No -

0
Report
(

5

stars)
Lots of Space, Strong and Easy to Use
By:
NickD_CA51
on

07/18/2018
I have used this sit-stand desk for many weeks and have not had any problems with it. The sit-stand desk came in a very large and heavy box. The delivery driver had a hard time bringing it to my front door. The box could have easily fit an unassembled coffee table or chair in it. There was nothing to assemble, just open up the box and put it on the desk. The sit-stand desk moves very easily with two hands both up and down. It has a lot of weight to it so it doesn't come off the desk when you lift it all the way up. You can position the height of the desk at any interval and releasing the handle locks it into position. Whatever height I set the lift to, I can lean my body weight on it and it will not budge. The rubber feet keep it from moving around the top of the desk while I lean on it. There is a grommet on the top to pass cables through but there is no cable management so everything just dangles from the bottom of the desk instead of over the back. (The only difference between the ARMSTSL and ARMSTSLG, is that the "G" must be for the grommet.) The sit-stand desk comes with a torque wrench to adjust the pressure needed to move it up and down. I found that I did not need to adjust the tension after I put my monitor, wireless keyboard and mouse on it. Without any weight on the sit-stand desk I had to lean on it a bit while holding the handle to move it down (no issues once things were on it). The keyboard tray can be adjusted about 1.5" outward, which was helpful as the top of the keyboard is not visible when the tray is back all the way. My only complaint with the sit-stand desk is the keyboard tray could be more adjustable. You can only have it in two positions (in or out) by moving 12 screws. And why does it have 12 screws when only 2 or 4 could have been used as it sits on a ledge? This sit-stand desk left is awesome, well built and very solid. It could have a more flexible keyboard tray, but this doesn't matter because it is so well built. I received this product in exchange for an unbiased review.
Comment
Helpful?
Yes -

0
No -

0
Report
(

5

stars)
Sturdy Product!!!
This sit and stand desk comes out of the box ready to use. It only has one lever that allows a smooth up and down motion. It makes it easy to adjust to the perfect height.
Comment
Helpful?
Yes -

0
No -

0
Report
(

4

stars)
Nice option for those who want to stand
By:
macphoto1970_03
on

07/08/2018
I really like the idea of this product. Take your existing desk and add this to the top and voila instant sit stand......well as long as your desktop is large enough and no obstructions around. My particular use for this was not too successful on the first desk i tried this on. It was not a fault of the product but the desk had a curved top so it was not 100% sitting on the desk. Not such a great idea so i tried my other desk an it worked perfectly. The unit requires no assembly and the unit has enough weight that it is not moving easily on the desktop surface. The unit allow for fairly easy movement to raise and lower and I had no issues getting this to a proper height for myself. The unit feels solid in construction and I do not see any real flaws with it. Overall i would say this is a nice unit. I would recommend this if you have a desk that you can just set this on and go. Overall a very good product and with a single monitor it works without issue. I received this product in exchange for an unbiased review.
Comment
Helpful?
Yes -

0
No -

0
Report
(

5

stars)
Sit-Stand Desk
Want to get healthy? Stand instead of sitting at your desk. I love this product. It comes out of the box with no assembly required. It is very sturdy, looks professional and the one lever action to change it from a sit to a stand option is simple to use. The only thing I would warn you about is that there is a 28lb table top weight limit on this device so since I use dual monitors I had to order the StarTech ARMDual monitor stand to reduce my weight load within limits so that it would work correctly
Comment
Helpful?
Yes -

0
No -

0
Report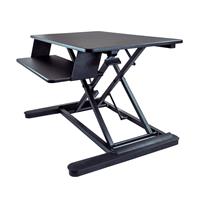 Sit-Stand Desk Converter - Large 35" Work Surface
Product ID: ARMSTSLG