StarTech.com
Full-Motion TV Wall Mount
Flat-Screen TV Mount | Steel | For 32" to 70" Displays
Save space with this flat-screen TV wall mount for 32" to 70" TVs (fits curved TVs, with compatible VESA mount)
Full-motion capability with arm extension up to 20.4" (517 mm)
Maximum viewing flexibility with a dual-arm design and +90 /-90 degree swivel
View More
Easy tilt adjustment (tilts +5 /-8 degrees)
Freely tilts +5° / -8° for easy angle adjustment
Heavy-duty steel mount for TVs up to 99 lb. (45 kg)
* Product appearance and specifications are subject to change without notice.
* Same day shipping is only available for orders shipping within the United States.
Full-Motion TV Wall Mount
Customer Reviews
4.1

(

7

reviews)


4.1

out of 5 stars
Tell us what you think of this product.

Need a little help getting started? Check out our review guidelines.
(

5

stars)
You can feel the quality of this mount!
By:
scottgosse416
on

05/16/2017
I had a 70" tv mounted to the wall with a slim mount but we noticed we could not easily access the back of the tv for the inputs. I then swapped it for the FPWARTB2 and when I first felt the mount it just felt like quality. It was sturdy and I knew it was strong enough to mount a 70" LED. Being VESA compliant I knew it was going to work and we are glad with how smooth it moves. All the screws required were included in the box and installation was under 15 minutes. *I received this product for free in exchange for an honest and unbiased review.
Comment
Helpful?
Yes -

0
No -

0
Report
(

5

stars)
Flat Screen TV Wall Mount
Very sturdy piece of hardware. We mounted a 55in TV on this bracket and it was easy to mount and could handle the TV without any issues. The hinges works well.
Comment
Helpful?
Yes -

0
No -

0
Report
(

3

stars)
Great Mount with Poor Installation
By:
NickD_CA11
on

04/22/2017
I have used this wall mount bracket for a few weeks with my 32" TV. It works very well and smoothly. The mount comes in a box the size of a 24" LCD computer monitor but weights more. The instructions are provided but aren't the easiest to figure out. The instructions provide no recommendations on securing the mount to the wall. If you are concerned about this falling off of your wall you will need a contractor to help install it. The mount only has specific screw holes for the wall and doesn't provide flexibility on installation if you are trying to align with wall studs. The decorative covers are difficult to detach and re-attach to the mount as it took some prying time to remove without breaking them. The mount itself is heavy enough that you will need two people to install it (one to hold it while the other secures it in place). Using the TV on the mount is very nice. The TV can easy swivel in all left and right directions. You can pull the TV away from the wall as well as around a corner if mounted properly. It will push back mostly against the wall in the outmost left or right positions. This allows for a lot of flexibility. There is minimal vertical tilting direction and can be tightened when in the correct position. So far I the only issues I had were with installation and have not had any problems with using the mount. I received this product in exchange for an unbiased review.
Comment
Helpful?
Yes -

3
No -

0
Report
(

4

stars)
Good Product - Sturdy and Well Built
By:
ABThompsons
on

04/13/2017
I replaced our projector in our conference room with a 50" tv and this wall mount. I love the range of motion this mount has which allows a presenter to move or point the TV in many different ways. The mount was very sturdy and I had no worries when shifting and turning the mount. If I had to say one bad thing I would say that the cable management or lack thereof wasn't ideal. We managed to make it work though. I received this product in exchange for an unbiased review.
Comment
Helpful?
Yes -

0
No -

0
Report
(

3

stars)
Heavy Duty Bracket - Cable management not so great
By:
Macphoto
on

04/05/2017
Looking at the overall build of this unit you can tell that it is a good solid and heavy duty mount. I have installed many TV's over the years and can truly say this a better mount build wise then some others on the market. Installation was easy, and the overall movement of the unit was good and smooth. The tv feels secure and this is a really important feature. My tv is a bit older and thicker then some of the new Tv's on the market and I could still get a very good angle on the mount to view from a side chair. I had a bit of an issue mounting the mount to my tv as the position of the holes on my tv are not on as flat of a surface as some others. I would say the biggest downfall of the mount is the lack of cable management. Cables tend to get in the way to get it flush to the wall and you need some slack to get the movement which can lead to bunches of cables. Overall a solid mount and trustworthy to mount your tv! The mount includes everything you need to get going and the supplied instructions are adequate I received this product in exchange for an unbiased review.
Comment
Helpful?
Yes -

0
No -

0
Report
(

5

stars)
By:
James123
on

03/27/2017
I have been in the technology business for over 35 years and for the past 20+ years I have been asked to provide unbiased reviews of various products from both the AV and IT world. In review of this product I have found that the device is simple to put together and once installed the articulation mechanism is effortless and smooth. My only negative with the design and with most Flat screen mounting brackets is that there is an assumption that all studs are 16" on center and I have found that in some areas of the country, interior walls can also be 24" on center. In the box: -Wall Mount -2 Vertical Brackets -2 Horizontal Brackets -Assembly Kit -Mounting Kit -Instruction Manual In summation, solid product, easy to install and effortless to adjust. I received this product in exchange for an unbiased review.
Comment
Helpful?
Yes -

0
No -

0
Report
(

4

stars)
Small footprint, easy moving mount
I wanted a mount for my living room TV that allowed for some extreme angle adjustment so we can see it from the dining room as well as the living room. This mount does the trick in the end. First impressions were of a solidly built, clean looking mount. Very heavy and sturdy. It's narrower at the wall side than other mounts I've installed, which is great but also doesn't give a lot of option for placement while ensuring you're mounting directly to the studs. I've mounted 6 large screen TV's before this one, and they are always fraught with some issue midway through the job. In this case I found where I wanted to mount didn't cover any studs, so I was going to have to use drywall anchors. After I found the precise, level position for the 6 holes, drilled and inserted the anchors that came in the box, the matching screws were in fact not a match. They just didn't hold in the anchors. So now I had 6 anchors and no screws in the wall. After a late night trip to a hardware store, I found a better drywall anchor system, pulled out the plugs and proceeded to finish the job. Lesson here is, make sure you have everything you need before you start and don't rely on the wall mounting hardware included in the box. I'm pretty sure they advise in the manual that they don't include mounting hardware for every situation, but I really thought what was included would work. I didn't love the TV side of the mount either. It was much more complicated than other mounts I've used, and putting the TV on the wall part of the mount required two people and was a bit tricky with the small bolts that had to be screwed in the hold it in place. Other mounts I've used allowed one person to just lift and hang the TV on the rail and then lock it all in place. Once everything was installed I found that the movement was quite easy and allowed the TV to go out far enough for our 50" slim bezel TV to almost turn 90 degrees which is impressive (it's about 70-75 degrees I think). Cable management is not bad, but I find with my cabling it still gets a bit bunched up when you push the tv flat against the wall. Also I wish the TV went closer to the wall. With some adjustment of the cabling it might go another inch. Overall I'm happy with this mount. It's solid, moves well and gives great range of positioning. I received this product in exchange for an unbiased review.
Comment
Helpful?
Yes -

3
No -

1
Report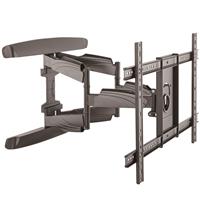 Full-Motion TV Wall Mount
Product ID: FPWARTB2