×
Are you in the United States?
Visit our U.S.A. & International site for relevant pricing, distribution and product availability information.
Go to StarTech.com
StarTech.com
Anti-Fatigue Mat for Standing Desks - Active Standing Desk Mat
Non-Flat Ergonomic Floor Mat | 26" x 29"| Cushioned 3D Topography| Textured Massage Bar
Encourage movement when standing, with this ergonomic anti-fatigue mat with calculated topography
Premium 3D features include a textured massage bar, teardrop flex center and raised side panels
Flexible thick cushioning made of polyurethane foam to add comfort while standing
View More
Large anti-fatigue mat: 26" x 29" (66 x 74 cm)
Slide it into place with just one foot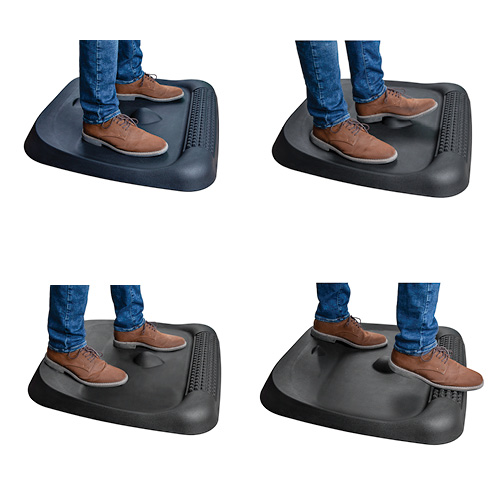 Our bodies were made to move. That's why this anti-fatigue mat for standing desks and sit-stand workstations was ergonomically designed to inspire active standing. The non-flat standing desk mat combines cushioned comfort with a calculated topography to encourage varied movement and multiple stances, helping to reduce fatigue and enhance your comfort.
Move and Stretch While You Work
The contoured anti-fatigue mat is designed to encourage you to move freely while standing. Unlike a typical flat mat, this stand-up desk mat features a thick cushioned terrain with premium 3D features that make it easy to vary your movement while you work.
Change Your Position Often
Do calf stretches, core balancing or comforting foot massages using the 2.6" (66.8 mm) high textured massage bar. Stretch your ankles and legs or massage your arches with the teardrop flex center. Vary your stance using the raised side panels. The standing desk mat makes it easy to stay active while working.
Re-position the Mat with Ease
Slide the mat out from under your desk, or re-position it with one foot, using the heel grip.
Large Surface for Versatile Use
The large anti-fatigue floor mat gives you ample space for movement and fits a wide range of foot sizes.
Durable Performance
Made of polyurethane foam, the stand-up desk mat provides thick cushioning for maximum comfort and durability. The mat surface is easy to clean.

STSMATC is backed by a StarTech.com 2-year warranty and free lifetime technical support.
Please note:
Since this mat is not flat, it may present the risk of tripping or injury. It is intended for use with low or flat-heeled shoes, and not for use with high heels.
Applications
Work in comfort at your standing desk or sit-stand workstation
Ideal during periods of standing at your desk or counter, in the office or home office
Technical Specifications
Warranty Information
Warranty
2 Years
Performance
Contoured 3D Topography
Textured Massage Bar, Teardrop Flex Center, and Raised Side Panels.
Physical Characteristics
Color
Black
Product Height
2.8 in [70 mm]
Product Length
25.8 in [655 mm]
Product Width
28.7 in [730 mm]
Weight of Product
120 oz [3400 g]
Packaging Information
Package Height
3.3 in [85 mm]
Package Length
29.7 in [755 mm]
Package Width
27 in [685 mm]
Shipping (Package) Weight
9.3 lb [4.2 kg]
What's in the Box
Included in Package
1 - Anti-Fatigue Mat
1 - Quick-Start Guide
Compliance and Safety
Safety Measures
If product has an exposed circuit board, do not touch the product under power.
If Class 1 Laser Product. Laser radiation is present when the system is open.
Wiring terminations should not be made with the product and/or electric lines under power.
Product installation and/or mounting should be completed by a certified professional as per the local safety and building code guidelines.
Cables (including power and charging cables) should be placed and routed to avoid creating electric, tripping or safety hazards.
* Product appearance and specifications are subject to change without notice.