×
Are you in the United States?
Visit our U.S.A. & International site for relevant pricing, distribution and product availability information.
Go to StarTech.com
USB 2.0 Video Adapters
Our comprehensive range of USB 2.0 Video Adapters offers cost-effective solutions for adding dual monitor or multi-monitor capability to a computer, through the simplicity and convenience of a USB connection.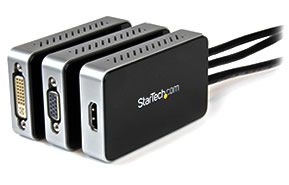 2 Results

USB2VGAE3
USB 2.0 External Video & Graphics Card | Multi-Monitor | USB-Powered | Supports Windows®
USB2VGAPRO2
USB 2.0 External Video & Graphics Card | Multi-Monitor | USB-Powered | Supports Mac & Windows®