April 01, 2011
Backup your data and fulfil your need for warm breakfast pastries with the SATDOCKTOAST4 from StarTech.com!
StarTech.com, Cloud Nine, April 1st, 2011: StarTech.com, the world's leading provider of hard-to-find connectivity parts has announced the introduction of the SATDOCKTOAST4, a dual-use four port 3.5inch SATA dock and breakfast pastry toaster. Driven by the need for high speed transfer of large volumes of data, being able to have 4 SATA drives engaged in the dock at one time means users can now back up and move data like never before!
Additionally, with the drive connected to a USBp port, users can warm a wide variety of breakfast pastries such as Pop Tarts®, toast, bagels and crumpets, though the device is compatible with other types of legacy pastries as well.
The SATDOCKTOAST4 features SuperSpeed USB 3.0 connectivity (also compatible with USB 2.0) with data transfer rates up to 5Gbps (10x faster than USB 2.0) or eSATA with Port Multiplier connectivity up to 3Gbps. This docking station provides fast connectivity to all 4 drives simultaneously from a single connection.
The SATDOCKTOAST4 is able to warm your pastry of choice in under 2 minutes (subject to manufacturers cooking guidelines. Caution is advised however as the filling may be hot.)
StarTech.com Product Manager Avril Bobo said "This may be our hardest-to-find product yet and represents a major breakthrough in the highly competitive data/pastry market. Utilising USB 3.0 and USBp means that StarTech.com is able to establish an industry leading position where breakfast and data merge in the market sphere. Being able to keep an employee at his desk, working and eating, has been the Holy Grail for data management for some time now."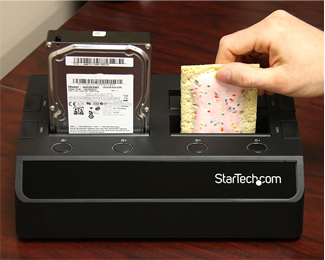 For those who strictly require data transfer capabilities without toasting, StarTech.com offers a wide selection of hard drive docks and hard drive duplicators. More information can be found at www.startech.com.