StarTech.com
HDMI over CAT5 HDBaseT Extender - Power over Cable - Ultra HD 4K
Extend HDMI® up to 230ft (70m) over a single CAT5e/6 cable with Power over Cable to Receiver
Extend video where power outlets are limited with power over cable that powers both the transmitter and receiver using a single power source at either side of the connection
Maintains astonishing picture quality up to 115 ft. (35 m) away, with support for UltraHD 4K over non-proprietary CAT5e or CAT6 cabling
Also supports HD video resolutions such as 1920x1200 or 1080p at distances up to 230 ft. (70m)
View More
Hassle-free, professional installation with included mounting brackets, and full video extension over one CAT5 cable
70m (230ft) maximum Cat5 cable distance
No software/drivers required
Mounting Hardware Included
Dolby® TrueHD, DTS-HD MA Audio
* Product appearance and specifications are subject to change without notice.
* Same day shipping is only available for orders shipping within the United States.
HDMI over CAT5 HDBaseT Extender - Power over Cable - Ultra HD 4K
Customer Reviews
4

(

8

reviews)


4

out of 5 stars
Tell us what you think of this product.

Need a little help getting started? Check out our review guidelines.
(

5

stars)
Nice Picture
By:
EdDyP123
on

09/29/2017
I often like to show family members videos and pictures of our vacation and the kids from the computer on the TV. We also like to watch a lot of streamed content as well. My TV is not a smart TV so I can't stream content to it from my computer. I often have to copy everything to a USB stick and plug that into my TV. This eliminates that by being able to hook my computer from across the room to my TV as a monitor and watch media content on my TV from my computer without having to move it. Picture is clear without any degradation. The two units are small enough to tuck away out of sight. Did what I needed it to do. I received this product in exchange for an unbiased review.
Comment
Helpful?
Yes -

0
No -

0
Report
(

4

stars)
Great product with affordable price
By:
djLuislatino
on

04/01/2017
I got this adapter from Startech to test, and I'm using it now for about 2 months, and it is great. It responds very well and no freezing; it does the job, and I recommend it. Disclaimer : "I received this product in exchange for an unbiased review."
Comment
Helpful?
Yes -

0
No -

0
Report
(

5

stars)
HDMI over Ethernet
We tested the device over 100' of cable with great results. The picture quality appears to be flawless and the fact that it only requires power on one end is definitely plus. Highly recommended! The small converters on each end are easy to hide and it was a simple install.
Comment
Helpful?
Yes -

0
No -

0
Report
(

5

stars)
HDMI over network cable that works!
By:
ScottG416
on

01/14/2017
I was tasked with having users mirror their laptop on a tv (after the built was complete) without software and I have found the answer. A facility had just finished a renovation and the tv was mounted, power was installed and network drops were in place but no thought had gone into how to utilize the boardroom to its full potential. After much discussion with endusers and management the most cost effective way would be to use an HDMI extender without any software installation required (since most laptops are locked down these days). With cables plugged in (HDMI and CAT5/6) all is left for the user to do is to plug in HDMI to their laptop and we now have the laptop screen on the tv. Another great product from Startech.com. I received this product in exchange for an unbiased review.
Comment
Helpful?
Yes -

0
No -

0
Report
(

4

stars)
Very solid product for the AV professional
I have been using this product for a few weeks now to send HDMI signal over Ethernet and so far so good. I have used this with several devices and TVs/projectors with no problems. (Computer, Laptop, Tablet, Xbox 360, Xbox One S, Android boxes, Nintendo Classic, 1080p TV, 4k TV, 720p Projector, through surround sound Receivers, etc.) This package comes with everything except the HDMI cables (mounting brackets, grounding wires, screws, short Ethernet cable, power connectors with ends for different countries, etc.). The instructions provided are very simple and don't offer much information other than the basics. For example, grounding wires were provided but it's not clear which applications they would be required for. This product worked well without the grounding wires connected. I suppose I would connect the grounding wires in a more demanding environment with a permanent installation. For now I like that they can easily be moved. The mounting brackets are universal and can be setup in several different ways allowing very flexible installation of the boxes. I like that you can apply power to either the receiver or the transmitter and it will power both ends (only one power supply is needed). The devices are made very solid with metal. They were shockingly heavy and seem very durable. I suspect these will be able to survive quite a few drops and bumps. After about 20 minutes of use, both the receiver and transmitter got very hot. I was nervous that I would not be able to touch them soon. After a few more hours of use they remained "very hot" but I could still pick them up and hold them if needed. The temperature worries me so I will keep and eye on them. My only wish is that it have an IR return option like similar products so the source device could be controlled from the receiver. The lack of IR return and the worrisome heat this device make are why I gave this a Good rating instead of Excellent rating. So far I am happy with this product and will continue to use it often. I received this product in exchange for an unbiased review.
Comment
Helpful?
Yes -

6
No -

0
Report
(

4

stars)
HDMI Over Cat 5e/6 Made Easy
By:
James H
on

01/03/2017
I have been in the technology business for over 35 years and for the past 20+ years I have been asked to provide unbiased reviews of various products from both the AV and IT world. In review of this product I have found that it works up to 1920x1080 resolution which is common for TV viewing in 16:9 format, with the accompanying audio The ease of use was well thought through, simply plug in the source and display and connect over Cat5e and the unit does the rest. When testing this unit at 4K Resolution 3840 × 2160 or UHDTV, I noticed a very slight bit of pixelation during fast motion, that distance was at 100'. My only negative would be that I could not get this product to perform ARC (Audio Return Channel), so I it will not be a solution for a Smart Hub/ Audio Return sound. In the box: -HDMI over Cat5e/6 Transmitter -HDMI over Cat5e/6 Receiver -Universal Power Adapter (NA/UK/EU) Mounting Bracket Kit Cat5e Cable -Instruction Manual In summation, solid product, easy to install, set up and use. I received this product in exchange for an unbiased review.
Comment
Helpful?
Yes -

0
No -

0
Report
(

4

stars)
Great build quality, not the best instructions
By:
Macphoto1970
on

12/27/2016
So tested this unit and first thing I will say is the construction quality is great. Parts seem to be of excellent quality. Nice that the power adapter has multiple heads for different countries and power supplies. The brackets included are of excellent quality. Now trying to set this up was a bit of a challenge for someone who has never attempted. I was testing over a 50ft cat 5e cable, from my windows pc running windows 10 to a samsung smart tv one floor up. Now the setup appears easy. Connect the receiver connect the transmitter, cable in the middle and go...well not so easy...I found I would get a red light on one of the receivers and blue light on the other. The instructions are not clear really at what to do or what this means so by trial and error I tested. I switched the source (the computer) to a blu-ray and used the supplied cat5 cable and voila it worked. great picture etc. Now I did some research and maybe it was an issue with my cat 5e cable. they provide some green grounding wires but the instructions do not make it clear as to what we are to do with them. and the instructions talk about grounded cat5e cables etc. As a novice with this..I am not sure if that is my whole issue. Do I use these grounding cables into a power outlet? still not sure. The item itself does work and does display and excellent picture. Once my cabling issue was solved all seemed to work very well. I am impress with the quality of the picture and I like the fact that only one power cord is needed as I find too many items need power behind my tv and this made for one less power cord! Overall it is an excellent product just a few more troubleshooting tips in the user manual and on Startech.com would be helpful "I received this product in exchange for an unbiased review."
Comment
Helpful?
Yes -

0
No -

0
Report
(

1

star)
Does not work on my redeliver
Bought this specifically for my 4k TV which is being connected by the latest onkyo receiver... Connected, and everything perfectly fine for 2 days... For some reason it just shows no signal on my TV now... The lights are blue so the connection should work, but it doesn't. Seems like I wasted 300 bucks on this and got no way to run my ht system
Comment
Helpful?
Yes -

1
No -

7
Report
Response from StarTech.com:
Barry, Customer Support
on 9/8/2016 10:41:06 AM
Hello, Thanks for sharing this feedback with us. It sounds like HDMI "handshake" between the connected devices is corrupted. The following steps will outline the EDID reset procedure for the ST121HDBTE and should be off assistance for you, or any others experience this issue. 1. Power down the Onkyo box (or other device) and TV, unplug the power cables, then unplug the extender. Disconnect all HDMI cables temporarily. 2. Wait 30 seconds with all devices disconnected. 3. Re-connect the power to the extender. 4. Re-connect the TVs and Onkyo box (or other). 5. Power the TVs back on. 6. Power the Onkyo (or other) receiver back on. As always, if this does not correct the issue, please contact our Technical Advisors by clicking the "Support" link at the top of our website. Thank You.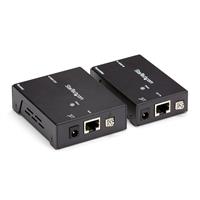 HDMI over CAT5 HDBaseT Extender - Power over Cable - Ultra HD 4K
Product ID: ST121HDBTE