StarTech.com
4 Port PCI Express 2.0 SATA III 6Gbps RAID Controller Card with HyperDuo SSD Tiering
Add 4 Internal SATA III (6Gbps) ports to a computer through a PCI Express x2 slot
Supports HyperDuo SSD auto-tiering
4 AHCI SATA III (6Gbps) ports through PCI Express x2
Fully compliant with SATA 3.0 specifications and backward compatible with SATA I/II (1.5/3.0Gbps) drives
View More
Supports hardware RAID 0, 1, and 1+0 modes configured through BIOS
Compliant with PCI Express 2.0 standards
Port Multiplier FIS-based and Command-based switching supported
Natively supported single chipset design
Simple HyperDuo configuration via card-BIOS level or intuitive GUI console (Windows® only)
Supports Native Command Queuing (NCQ) and ATA/ATAPI commands
Includes Low Profile/Half-Height installation bracket
Supports HDDs/SSDs/Optical/Blu-Ray drives
LED headers for HDD activity LED indicators
* Product appearance and specifications are subject to change without notice.
* Same day shipping is only available for orders shipping within the United States.
4 Port PCI Express 2.0 SATA III 6Gbps RAID Controller Card with HyperDuo SSD Tiering
Customer Reviews
3

(

11

reviews)


3

out of 5 stars
Tell us what you think of this product.

Need a little help getting started? Check out our review guidelines.
(

1

star)
Card not working in PCIe x16 slot
Trying to get this card working in a Dell Optiplex 3060 box. The motherboard has 3 PCIe x1 slots and 1 x16 slot. The manual stated that it will work in an x16 slot, but after installing the card and booting, the Dell logo pops up and just sits there. It has been like this for a hour and I cannot even enter BIOS. Apparently, your documentation isn't worth the paper it's printed on. The card is worth even less. I'll be returning it today unless I hear from support.
Comment
Helpful?
Yes -

0
No -

3
Report
Response from StarTech.com:
Matt, Customer Support
on 11/22/2019 4:27:43 PM
We apologize for the difficulties you've experienced with our PEXSAT34RH. This card uses a PCI Express x2 connector and is compatible with any slot that's x2 or lager. If the slot in the computer works with other cards, but installing this is causing your computer to freeze when booting up, it could indicate that the card you received may be faulty. We'd be happy to look into this further with you. Please feel free to contact us directly at www.startech.com/support where our Technical Advisors are available 24 hours a day, 5 days a week to provide support.
(

5

stars)
Good choice for disk failure recovery.
I have bought 6 of these and used them for SuSe Linux Enterprise and OS/2 as the boot drive device using raid 1. They all have worked without any problems. The throughput is good but not as fast as not having a raid. I bought a backup controller that can replace an existing one if needed. Easy to configure (once you discover the CRTL-M to enter setup).
Comment
Helpful?
Yes -

0
No -

0
Report
(

1

star)
I have this card and the computer does not see it
By:
mxgirl75
on

06/25/2019
I bought this card hoping to allow me to hook up a couple more SATA devices. The system a Win 7 64 bit does not even see the card
Comment
Helpful?
Yes -

0
No -

0
Report
Response from StarTech.com:
Matt, Customer Support
on 6/27/2019 2:16:11 PM
We're sorry to hear that your computer isn't seeing our PEXSAT34RH. Moving the card to a second PCI Express slot in the PC or trying the card in a second computer may help fix the issue or help identify where the problem lies. We're happy to help get this card working and have reached out at the provided email address to assist you.
(

1

star)
Windows 10x64 Update 1809 problem
By:
1809problem
on

03/04/2019
Boot under 1809 possible, yet system significant slower than under 1803. Worst: my 4 RAID 10 HDD with the OS on it are shown as "removable drive". No proposals from MS & forums do the fix up-to-date.
Comment
Helpful?
Yes -

2
No -

0
Report
Response from StarTech.com:
Malcolm, Technical Support
on 3/7/2019 4:38:41 PM
We apologize the PEXSAT34RH isn't behaving as expected in Windows 10 1809, and we'd like to look into this further with you. We have Technical Support Advisors ready 24 hours, 5 days a week, to help with issues, so please reach out to us directly using the "Chat Live" option above, or for other options, visit: https://www.startech.com/support
(

5

stars)
Great functioning
By:
Barakna
on

01/02/2019
Hi! I like the product, but I have a question. How can I disable the hot swat function under windows 10 in single disc mode? I was able to disable it in windows 7 in Device Manager, but in win 10 I can't find this function.
Comment
Helpful?
Yes -

2
No -

0
Report
(

5

stars)
Effective! Fast as! wonderful. Amazing for Gamers.
By:
Adam2329
on

11/01/2018
Hello, recently purchased. Spiceworks poster. Used this recently in a Gaming PC build, 2x 970 evo 512GB with 1x 6TB WD Blue = up to 800mbps throughput from or to NVME System drive. I had initial issues with conflicts but I eventually got the card and my system working. copied my existing HDD to it, launched some games. Games like total War: Warhammer have gone down as much as less then a minute from a fresh boot not to mention No man's Sky which will load in about a minute. HyperDuo is simply, incredible. Needed this card as I had a small case and I really needed more space for games, two of my four sata MB headers were blocked by fans so I saw this card and was keen to try the HyperDuo feature.
Comment
Helpful?
Yes -

0
No -

0
Report
(

1

star)
Missing JBOD
As with a keke27, I too am unable to find a JBOD option using the "card bios" method for installation in a linux rig. Two disks are plugged in, and the only options are Raid1 and Raid0.
Comment
Helpful?
Yes -

4
No -

2
Report
Response from StarTech.com:
Brian, Customer Support
on 12/11/2018 5:57:23 PM
Thanks for sharing your feedback with us. There's actually no need to enter the card's BIOS to configure the drives for JBOD use. By default, they will function as independent drives. The BIOS only needs to be used if you wish to configure a HyperDuo or RAID.
(

5

stars)
Simple, functional, and fast.
By:
Nick0422
on

03/28/2017
I had to do very little to get this working. Installed in a Linux server, booted into the card BIOS, configured the RAID and done. It presented the drive to the OS as configured, and throughput was better than I expected (first time using a StarTech controller, so I WAS apprehensive) given the list price. The small size makes for it not getting in the way inside the case or obstructing airflow. I received this product in exchange for an unbiased review.
Comment
Helpful?
Yes -

1
No -

2
Report
(

3

stars)
Unstable work
By:
Andrey74
on

03/19/2017
Disks connected to the card are unstable. Speed first 450 MB / s Then drops to 100 MB / s. Mac OS 10.12.3
Comment
Helpful?
Yes -

3
No -

2
Report
Response from StarTech.com:
Brian, Customer Support
on 12/11/2018 6:08:33 PM
Hi Andrey, Drive performance can really vary at times - especially if writing lots of small files to your drive. Please try copying a single large file (ex 10 GB), if you're using a solid state drive connected to our card, it should perform much closer to 450 MB/s. Please contact our Support team if you'd like to take a closer look at the situation with us.
(

5

stars)
Great value
By:
DISCOTHEQUE
on

03/18/2017
Been using it for almost two years now and it's worked consistently good. Used it to connect an internal 4TB drive and my comp case's top HDD docking station, and it does better than expected at both (allows drive hot swapping without issues). Data transfer speeds are just as expected. Totally recommended.
Comment
Helpful?
Yes -

2
No -

0
Report
(

1

star)
Missing JBOD
On the Tech Specs tab it states that JBOD is supported. I bought this card solely for this purpose. It took me hours to figure out that JBOD is NOT supported. It seems to be an adequate card in general, but, for me, it was a waste of money and time.
Comment
Helpful?
Yes -

4
No -

8
Report
Response from StarTech.com:
Barry, Customer Support
on 2/13/2017 1:39:08 PM
Hello, Thanks for sharing this feedback with us. We wanted to ensure you that JBOD is indeed supported with this card. However, we are aware that JBOD is defined differently depending on where you look. We define JBOB as a set of disks that operate individually from each other. Whereas other sources cite JBOD as a set of disks that are spanned or concatenated together to function as one disk. We refer to the second as BIG, something this card cannot do. We would suggest speaking with our technical advisors if you would to discuss this further. Thank you.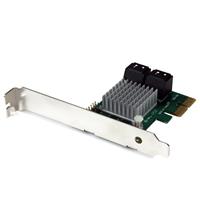 4 Port PCI Express 2.0 SATA III 6Gbps RAID Controller Card with HyperDuo SSD Tiering
Product ID: PEXSAT34RH