StarTech.com
2-Slot USB 3.0 SD Card Reader with UASP - SD 4.0, UHS II
USB SD Card Reader | USB 3.0 | SD™, SDHC™, SDXC™ | TAA Compliant | Portable
Save time and access two SD cards simultaneously with this USB 3.0 SD card reader
Experience fast read/write speeds with USB 3.0 (5Gbps) on each slot
70% faster transfer speeds with UASP support, when connected to a UASP compatible host
View More
Perform high-speed file transfers: card reader supports SD 4.0, UHS-II and bus speeds up to 312MB/s
Edit your photos, videos and presentations anywhere you go with this dual SD card reader
Same Day Shipping
on in-stock items from USA if ordered by 5pm ET*
Details
* Product appearance and specifications are subject to change without notice.
* Same day shipping is only available for orders shipping within the United States.
2-Slot USB 3.0 SD Card Reader with UASP - SD 4.0, UHS II
Customer Reviews
4.9

(

9

reviews)


4.9

out of 5 stars
Tell us what you think of this product.

Need a little help getting started? Check out our review guidelines.
(

5

stars)
Another Perfect item
By:
Bill Ryan
on

09/14/2017
I need to point out, I received this item in exchange for an impartial review. That said, I have several usage scenarios this solves. One is cheap storage. I have a Cloud Hub that lets you use USB Drives. Using a 128 GB card, you can expand things another 128 GB with this item. If you do, I'd suggest using high end cards b/c this reader can handle quite a bit of volume. The other one I use is for cases where I need two cards. One common one is upgradig my Tails Linux instances which this does a tremendous job of. If privacy is a big deal to you, and you use Tails, this is your friend - it makes things a lot cleaner and quicker when scheduled upgrades happen. A similar issue comes up with Synchronizing cards which this device is perfectly suited to. Perfectly! And with a short batch script you can easily synchronize your cards, and then copy a backup image to the hard drive. One other thiing you can do with this which I really like is double your throughput in copying. If you use SSD drives in particular or even faster hard drives, you can double the speed (well, double as long as you have the capacity, the drive speed with dictate if there's a bottleneck) to get data off of the cards and onto your hard drive. I do quite a bit of Drone based photography which major impetus for the first one I got (cloud storage was the second).After flying drones all day, getting the data to the hard drive takes 1/2 as long with this one. Very useufl. It's very lightweight, so much so it almost doesn't feel real. But the case is firm, well built and everything fits snugly That helps tremendously b/c with an item like you, you'll likely remove and re-insert it regularly so a snug fit is critical. And it has that. Everything, everything about this model is rock solid, does what you want it to and does so easily and intuitively. You won't even need 5 secnds to figure out how to operate it for instance. Well done from start to finish
Comment
Helpful?
Yes -

0
No -

0
Report
(

5

stars)
Transfers much faster than other adapters
By:
ABThompsons
on

06/19/2017
Fast. This adapter was able to transfer much faster than other adapters I've used. I have a lot of vacation photos on many different SD cards and this adapter made it extremely easy to transfer them all to my computer. While one was transferring, I was able to remove and insert another in the other slot. The plastic enclosure is solid and well made. If I had one gripe, it would be that the USB cable is very short. Best used for Laptops I'm thinking. I received this product in exchange for an unbiased review.
Comment
Helpful?
Yes -

0
No -

0
Report
(

5

stars)
Small and easy to use
I use this product to copy 2 SD cards to a computer at once or to copy the contents of one SD card to the other directly. The speeds are fast and the enclosure is small and lightweight and easy to carry around in a laptop bag. The enclosure feels solid and the cable tucks into itself. Great little product and works as intended. I received this product in exchange for an unbiased review.
Comment
Helpful?
Yes -

0
No -

0
Report
(

5

stars)
Perfect for Photographers!
By:
Andrew11
on

06/15/2017
This is a great adapter for anyone who routinely fights with multiple SD cards, trying to move, copy, or backup files or pictures. The USB cable tucks neatly into the edge of the unit and it takes virtually no space in a camera or laptop bag. Transferring is fast and the unit feels solid when inserting and removing SD Cards. I received this product in exchange for an unbiased review
Comment
Helpful?
Yes -

0
No -

0
Report
(

4

stars)
Nice
I used this for imaging and it worked great. Data transfer was fast. The plastic enclosure seems tough enough.
Comment
Helpful?
Yes -

0
No -

0
Report
(

5

stars)
Quick and easy to use
By:
NickD_CA16
on

06/02/2017
I have used this dual-slot SD card reader with different computers and SD cards for a few weeks now. The card reader comes in a small box about the size of one third of my keyboard. The card reader itself is very small, about the size of a credit card but only slightly thicker than a USB port. The reader is made of plastic, very light and almost feels empty. The USB cable on the reader is only 2 inches long and wraps around to store within itself. I wish the cable was longer so I could sit the reader on top of my tower computer rather than have it just hang there in the air. This reader makes copying SD cards between each other very quick and easy. I can also quickly copy data from many cards by getting multiple going at the same time and swapping the completed ones. Very fast operation and easy to use with a variety of cards, I will keep using this device for all my SD card needs. I received this product in exchange for an unbiased review.
Comment
Helpful?
Yes -

0
No -

0
Report
(

5

stars)
Small , fast, easy to use
By:
Macphot1970
on

05/28/2017
I have been using Digital Cameras since the beginning and I have always found the need for fast and quality card readers. The Startech 2SD4FCRU3 is a good example of a simple and fast SD card reader. The simple connected cable unfolds from its slot and attaches easily to my laptop. On my Mac it appears as mounted disks when the cards are inserted and the transfer speeds from the card to the system appear to be quick and simple. The only issue with this card reader I could see would be the chance that the cable gets worn after long periods of use then it could cause a problem. Only time will tell. But for simple, fast and easy to use this is a nice little card reader I received this product in exchange for an unbiased review
Comment
Helpful?
Yes -

0
No -

0
Report
(

5

stars)
Excellent Product - Well worth the purchase!!
By:
Henry Westbrook
on

05/25/2017
Note: I received this product in exchange for an unbiased review. This product arrived quickly after selecting it for a review. It is well made, light and easy to carry in your pocket or bag (aka with SD cards inserted). I selected this product to write a review primarily based on my needs (data storage on micro or sd cards). I have alot of cell phones, computers and other devices that make use of micro or SD technologies. It was fast becoming a pain to copy, delete or backup each of these cards or for that matter even keep track of what is on them. This product will not help with the tracking but it does help with the copying, deleting and backing up of data on these cards. Pretty much ever device these days uses these cards, cameras, security camers, cell phones, computers. These cards have become convenient and useful and keep getting bigger in capacity every day; which is why this dual slot device has been very handy. I am a MAC user first and foremost but secondly I am a Windows user and a Linux user. I ten to use whatever compute device is handy at any giving time. We all know that if your device can accept a micro or other size SD, you usually only have one and most device can be constrained by available USB or USB-C ports. I use a tool on the MAC called SDCLONE, which makes copies of SD cards and now it is even easier (no swaping of cards) as I can make copies and do backups of each of SD cards all in one convenient device. Granted this device works on all computers (mac, windows, linux) but does not copy with software but finder or explorer work just fine too. I like the extras available in other file managment tools. The device is a valid USB device so there should be no issues with connecting it to any computer you own. No worries. I did not find any SD adapters that did not work. We all know that the little read/write switch on some of these adapters can be somewhat tedious so make sure the switch is set properly. However this does allow a security feature in that, with the proper switch setting, you can go from read only to read/write. Depends on what you keep on the cards (pictures, music, other data). SD cards are great for sharing but are slower than normal storage. USB 3 is fast and allow for quick copies even of full cards; much better the USB 2.0 or USB 1.1. Please remember the SD cards will be slower than a internal physical drive - nature fo the beast. Some MACS and WINDOWS computers also may have SD card readers so you are getting more SD capabilities with the addition of the Dual Slot SD Card Reader. So far the only anomoly that I have found is that 1 Windows 10 Pro computer refused to read or recognize the cards inserted in the devices but this could be a problem with the computer and not the device. Other Windows 10 Pro devices read them ok as well as MAC and Linux (with appropriate drivers if necessary). It could also have been a card issue - some SD cards will be fine on some computers but then can be unrecognizable on others - might be firmware issue but certainly not the fault of this device. I am extremely pleased with this device and it has exceeded my expectations and usage parameters. Well done!! This has become a tool in my computer carry bag for sure. It is highly recommended to purchase if your usage needs are similar to mine. If you have need of a USB-C device, there is one available as well. Thanks again to StarTech for allowing me to review this product.
Comment
Helpful?
Yes -

0
No -

0
Report
(

5

stars)
Dual Slot SD Card Reader Made Easy
By:
Jim H123
on

05/19/2017
I have been in the technology business for over 35 years and for the past 20+ years I have been asked to provide unbiased reviews of various products from both the AV and IT world. In review of this product I have found that it supports all popular SD cards such as SDSC, SDHC and SDXC including UHS cards, and is backwards compatible with older SD card versions. By providing two separate slots and support for a wide range of SD cards, the dual card reader helps to overcome the challenges of working with multiple card readers to offload your files. In the box: -Dual Slot SD Card Reader -Quick Start Guide In summation, solid product, easy to use. I received this product in exchange for an unbiased review.
Comment
Helpful?
Yes -

0
No -

0
Report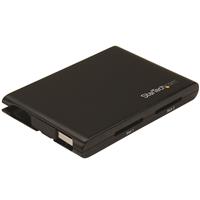 2-Slot USB 3.0 SD Card Reader with UASP - SD 4.0, UHS II
Product ID: 2SD4FCRU3