StarTech.com
USB to IDE SATA Standalone HDD Hard Drive Duplicator Dock
Clone any combination of 2.5in or 3.5in IDE or SATA hard drives
Sector-by-Sector drive duplication, including the HPA
Integrated LCD display for duplication progress and options menu
Compatible with both SATA (1.5/3.0/6.0 Gbps) and IDE (66/100/133 Mbps) drives
View More
Supports 2.5in or 3.5in form factor hard drives (HDD) or solid state drives (SSD)
Built-in quick drive erase function
Additional independent support functions: drive comparisons, pre-scanning drives and hardware self-diagnosis
Manually switchable between Duplicator and Docking Station modes.
Built in RAID 0, 1, and BIG functionality
Built-in protection against drive short circuiting
High-speed USB 2.0 host interface, with support for transfer rates up to 480Mbps
Package includes two 40pin to 44pin (3.5in to 2.5in)IDE adapters for mobile hard drive compatibility
* Product appearance and specifications are subject to change without notice.
* Same day shipping is only available for orders shipping within the United States.
USB to IDE SATA Standalone HDD Hard Drive Duplicator Dock
Customer Reviews
4.6

(

7

reviews)


4.6

out of 5 stars
Tell us what you think of this product.

Need a little help getting started? Check out our review guidelines.
(

5

stars)
Works Great for making EXACT Copies of Drives
By:
WW in SD
on

03/07/2019
I bought this in 2011 and have used it many times while working on and upgrading computers. It is indispensable for cloning HDDs or SSDs. I agree with another reviewer that this device is probably not the best for use in the forensic arena (yes, I am a forensic specialist also). But, for general fixing or upgrading computers and needing to clone drives it works like a charm. I have NEVER had it fail to clone a drive the way I needed it to (usually going from a smaller to larger drive and often from the old IDE to newer and larger SSD. It is not the fastest device, but it works very well and I use mine all the time. Small bench, not volume work. But I have tried a number of other products and cloning software that usually let me down in one way or another (not cloning the entire drive or operating system and/or boot sectors). This device has always come through for me. Never had a problem with it and it is fairly simple to operate. Never had to call customer service, yet (knock on wood)...
Comment
Helpful?
Yes -

1
No -

0
Report
(

2

stars)
By:
SomeoneHuman
on

11/28/2016
Lacks ability to generate a checksum. Lacks ability to create a .dd or any other image file. Maxes out at ata/66. Raid ability is interesting but I have not had a need to investigate, I am unsure if it is limited to two drives or four on raid mode but even if it can do four the need for IDE-SATA adapters would be likely. I find this device unsuitable for most digital forensics applications due to the lack of checksums and image files. You could use it as a USB adapter but there exist less costly devices with integrated wright blockers so even for this use its not well suited. Using it as a drive duplicator in the IT field could be problematic as it will duplicate slack space and deleted files, not all IT professionals may be aware of the intrinsic risks involved in doing so. It is also much slower than would a file system aware drive copier. On the plus side it will duplicate any drive regardless of file system (or lack there of). As far as quality of the design goes, the power plug is not very standard, would have been nice if it used a 12v only and had an integrated dc/dc buck converter built in allowing a regular barrel connector for power. Do not loose the power supply its a real pain to replace it. The power plug is somewhat prone to fall out so be mindful of that especially when copying a large drive, make sure there is no tension on the cord at all, get a freaking extension cord if you need to. The SATA connector forces you to place the drive circuit board down and have the drives plugged directly into the device so you have to be quite mindful of the surface you have everything on and nothing can shift while using SATA drives, the IDE uses cables which I find preferable. I would have preferred the device used SATA cables and an IDE-SATA power adapter instead of the awkward SATA docks that dangle off the sides. Most of my contemplates could probably be fixed with a firmware update but I doubt that will happen, My firmware seems to be from 2009 and I cant find any updates at all. I would really recommend most people pass over this device, the only real exception is if you think you want the raid features, again I did not test that and cant vouch for it.
Comment
Helpful?
Yes -

7
No -

3
Report
(

5

stars)
The device works great
The device did everything I needed it to and the customer was happy when I was able to save the PLC drives before they died of old age. Excellent product!
Comment
Helpful?
Yes -

3
No -

5
Report
(

5

stars)
Utile et fiable (useful and reliable)
By:
bvfrance
on

08/24/2015
French : Je suis développeur et pour effectuer mes sauvegardes, j'ai recours à cet appareil. Pour augmenter également les performances d'un système, je transfère les données vers un disque plus rapide. Je l'utilise aussi lorsqu'un disque dur d'un portable commence à être défaillant. Pour l'achat d'un disque dur et le temps de la copie, on retrouve pratiquement les performances initiales de l'ordinateur. English : I am a software developper and for backups I use this device. I also use it to improve performances by moving all data from a hard disk to a faster hard disk. I also use it for laptops when the hard disk is "tired". Thus, we recover initial performances.
Comment
Helpful?
Yes -

2
No -

0
Report
(

5

stars)
Great support!
Bought this,worked great first time then had a power supply issue.Made a call to support and to make a long story short,everyone a startech went out of their way to resolve the issue.Great people to deal with.Thanks to them all.Will be doing buissness with them again.Thanks to them all!
Comment
Helpful?
Yes -

2
No -

0
Report
(

5

stars)
Excellent poduct with "Outstanding" support.
By:
fuzzyface
on

02/02/2015
I had an issues with the unit I had been using for about 2 years. I went online and opened a chat session with tech support. I received Outstanding support and was able to resolve the problem with a technician in about 10 minutes.
Comment
Helpful?
Yes -

2
No -

0
Report
(

5

stars)
A real workhorse
By:
Rockeiro
on

03/08/2014
I have duplicated hundreds of disks and duplicated EIDE to SATA to SSD and used it as a dock to my PC.
Comment
Helpful?
Yes -

5
No -

8
Report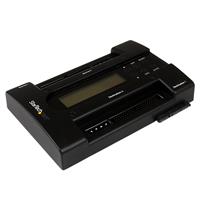 USB to IDE SATA Standalone HDD Hard Drive Duplicator Dock
Product ID: UNIDUPDOCK