DisplayPort

StarTech University offers computer enthusiasts and IT professionals a chance to learn more about new technologies and innovations in the IT world. Take some time to review the material, then pass the exam to earn your printable certificate for each course.
Course 5: DisplayPort
Chapter 2: DisplayPort Features
DisplayPort is an all-in-one audio/video cable, which consolidates internal and external connection methods in order to reduce device complexity, provide support for cross industry applications and provide performance scalability.
The port itself is roughly the size and shape of a USB 2.0 port. The cable contains two congruent end pieces that are designed to provide a simple insertion, and some DisplayPort cables feature latches that eliminate slippage to ensure a snug, secure connection with host devices.
In application, the DisplayPort standard is designed to support 10 Gigabits per second forward link channel throughput, greater than 10-bit color depth and 120Hz refresh support. Four 'lanes' are used to transmit resolutions up to 2560×1600 @ 60 Hz (WQXGA). These superior capabilities ensure future media content is no longer restricted by hardware transmission capability.
DisplayPort is designed to include legacy digital support to and from DisplayPort components, enabling support for transmitting signals of older technology. This makes legacy support for previous technologies such as DVI, VGA, HDMI, and LVDS as easy as buying and attaching the required DisplayPort adapters.
Much like DVI and HDMI cables, DisplayPort also features High-bandwidth Digital Content Protection (HDCP) support, which is a built-in form of digital copyright protection designed to authenticate devices, encrypt data, and revoke permission to compromised devices.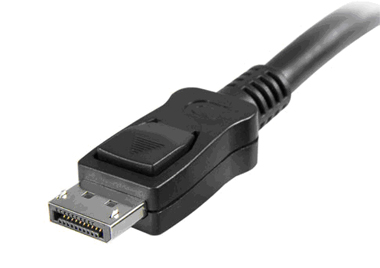 DisplayPort cable with latches