×
Are you in the United States?
Visit our U.S.A. & International site for relevant pricing, distribution and product availability information.
Go to StarTech.com
A Message to our Customers and Partners,
We remain committed to ensuring you receive the support and products you need to keep your business connected during this critical time.
As the safety of customers and employees is our top priority, onsite order pick-ups and product returns will not be available at StarTech.com locations until further notice.
Products can be shipped through regular freight services and RMAs can be processed using our
online form
. Please note, as a result of COVID-19 impacts to our business, delays in shipment could be possible at this time.
You can learn more about how StarTech.com is dealing with COVID-19 by visiting this
page
.
USB-C: The next generation of Connectivity is here.

LEARN MORE
Thunderbolt 3
The USB-C that does it all
More speed.
More pixels.
More possibilities.
LEARN MORE

Find the connectivity part you need in 2 easy steps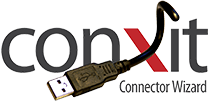 Try it!
Same Day Shipping
Same Day Shipping on in-stock items from Canada if ordered by 5pm ET*
Free shipping
Free shipping on orders over $500.00*
Lifetime Technical Support
Lifetime technical support on most of our products Additional Details*