You are about to be transferred to our European e-commerce site
To complete your purchase you will be transferred to our EU website, which has an even greater....
Mounting Screws, Cage Nuts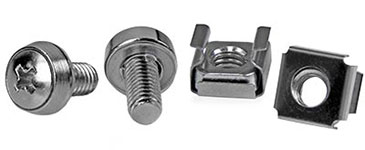 Mounting Screws and Cage Nuts
One of the main reasons you take such care to rack-mount your expensive equipment is to ensure security. But how often do you think about the inexpensive mounting equipment that's holding your expensive rack-mount equipment in place?
Our line of high-quality mounting screws and cage nuts ensures that your expensive rack-mountable equipment is always installed securely in your rack. Plus, we offer a variety of colors, threads and quantities, to ensure you'll always have enough of the right screws at the right time.
For our complete Mounting Screws and Cage Nuts selection, please visit our European site.
Viewing 1 to 10 of 28 Results